Nuts.com Grows Like Crazy
How an 80-year-old family business built a niche for itself online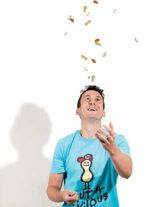 Sol Braverman founded Newark Nut in 1929. Seventy years later his grandson Jeff, then a freshman at the University of Pennsylvania, hired a friend to build a website for the family nut shop at nutsonline.com. When the site went live, the business was overwhelmed with orders. "My dad told me, 'Turn that damn thing off,' " Braverman says. Jeff, 33, worked briefly at Blackstone postgraduation, then joined the nut company in 2003. Two years later, the city of Newark bulldozed the shop to make room for a hockey arena, and the Bravermans moved the business online. A new challenge emerged—standing out in a market that has attracted local health food stores, specialty chains, and megaretailers:
"The real competitor for every online business is Amazon. People want free shipping on $20 orders. That's really tough for us. You can negotiate on the cost side with UPS and FedEx, or maybe you can look at raising your prices to build shipping in. In the end, we decided that we really needed to focus on building brand awareness."

"When I set up the first website, I had a very limited budget. I remember distinctly that nutsonline.com was my seventh choice. My first six choices were owned by porn sites. "
"I'd run into old friends, and they'd say, 'What's the name of your website again?' The turning point was when we provided Jordan almonds to the Rachael Ray Show and at the end of the show she said, 'I'd like to give a special thanks to Nuts.com.' At the time, the URL was owned by this guy in Guam who had bought up a lot of URLs and was just sitting on them."
"I offered $200,000 for the URL, and he turned me down flat. I finally said to him, 'What number gets this done?' It was a pretty healthy number. I thought, if I make my money back in 10 years, great, because I believe in this."

"We launched the new site in January 2012. As we were getting ready for the name change, we had a meeting with a design firm, Pentagram. This is a big-deal firm. We're a fun and quirky family business. I told them, 'We have these cartoon characters.' They said, 'We get it.' They ended up redrawing the characters, and they found a type person to build our Nutcase font. First we put it on our boxes. Now we're redoing our entire website."
"I've always shied away from wholesale distribution, because I figure anyone can do it. Now I'm thinking, 'Maybe I need to change my mind-set and sacrifice some margin.'"
"Now that we have our packaging right, I can see going into a big-box store or a convenience store. Maybe there are pop-up stores or airport shops we can get into. I'm thinking, 'Is there a way for us to really blitz this?' I think there is."
—As told to Patrick Clark
Before it's here, it's on the Bloomberg Terminal.
LEARN MORE