Nexon, Asia's 'Freemium' PC Game Pioneer, Gets More Mobile
Nexon's games have been doing "freemium" for years
by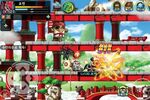 Although its name may not be familiar to many U.S. gamers, Nexon was once one of the most successful video game companies in Japan. Founded in South Korea in 1994, the company of 4,500 employees had the biggest initial public offering on the Tokyo Stock Exchange in 2011, thanks in large part to a stable of online games with tens of millions of players. Those titles include hack-and-slash hits such as MapleStory and Dungeon & Fighter as well as adaptations of franchises such as FIFA Soccer and the shooter game Counter-Strike. The excitement has since died down. Nexon was worth 472 billion yen (then about $6.1 billion) at the end of 2011, just after its $1.2 billion IPO; now its valuation is about 400 billion yen ($3.9 billion).
Nexon's business is in the same doldrums as the rest of the traditional video game industry, with players migrating by the millions from consoles and PCs to mobile devices. However, the company has a major advantage: Long before there were smartphones and tablets, it was practicing a strategy that has become the business model of games for smartphones and tablets. Over the past decade, its games not only have been free to play but also have consistently lured users into paying occasional small amounts for virtual weapons, clothing, and other goods.
That is precisely the "freemium" revenue model of mobile successes such as Candy Crush Saga and Clash of Clans. This year, Nexon began to migrate its biggest hits onto mobile devices; MapleStory, for example, becomes Pocket MapleStory. It has also started to recruit developers for new games designed to be played on the go, including some who used to turn up their noses at mobile. Yohei Ishii, chief executive officer of the year-old Brooklyn (N.Y.) startup Turbo Studios, says he used to think smartphones were "not a platform for real gaming," but in June Turbo partnered with Nexon to make an as-yet-untitled game that he wouldn't describe. "Serious gamers have changed their perspective on these devices," Ishii says.
In July, Nexon announced a teamup with Boss Key Productions, a Raleigh (N.C.) startup founded in April by prominent American gamemaker Cliff Bleszinski, whose credits include shooter games Unreal Tournament and Gears of War. It's a minor coup for Nexon, which has also been investing in startups led by former Zynga chief designer Brian Reynolds and COO John Schappert. They "wake up every day and all they think about is free-to-play gaming," Schappert says of Nexon. And as gamers shift to mobile, "we want to ride that wave." Nexon has disclosed nine partnerships with small Western developers run by industry veterans, typically deals to publish the games the smaller shops develop, and in several cases has taken minority equity stakes, though it wouldn't say how much.
That bet is already starting to pay off: On Aug. 14 the company announced that 23 percent of its second-quarter revenue came from mobile games, a 16 percent increase from the same period a year earlier, while its PC game revenue fell 3 percent. "Five years ago a game playable on a mobile device and on a PC were quite different," Nexon CEO Owen Mahoney says. "Two or three years from now, basically it becomes the same device."
Mahoney, 47, the first American to run Nexon, was named CEO in February after three-and-a-half years as CFO. Before that he spent a decade at U.S. game giant Electronic Arts, where he was senior vice president for corporate and business development. Mahoney, who frequently conducts meetings in Japanese, is counting on his years in Silicon Valley to help Nexon expand in the U.S. and other new markets.
Nexon still gets more than 90 percent of its revenue from China, Japan, and Korea. Despite the promise of mobile, its revenue for the second quarter was almost flat at 36.9 billion yen, and net profit plunged 64 percent to 4.1 billion yen. Perhaps its biggest immediate problem lies in China, which made up 41 percent of Nexon's revenue last year, and where gamers are starting to give up on the company's aging PC hit Dungeon & Fighter, which Nexon says accounts for most of its China revenue. "It's a tough situation," says Keiichi Yoneshima, an analyst with Barclays in Tokyo. For Nexon, he says, "the Chinese market is shrinking."
Mahoney says revenue will come once Nexon concentrates on producing mobile games that are fun to play. "We are in the art business," he says. "If you create an experience that makes people want to come back, then ultimately some of those people will want to buy items in the game."
Before it's here, it's on the Bloomberg Terminal.
LEARN MORE