pursuits
High-End Motorcycles Meet India's Mopeds
A motorcycle racing legend teams up with India's leading bikemaker
By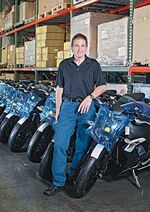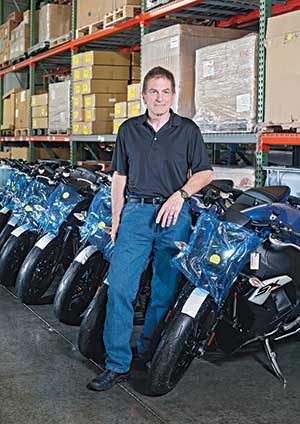 Workers at Erik Buell Racing have spent the past year building motorcycles for rich men who like to move fast. EBR's newest model, the 1190SX, went on sale in July for $16,995 and is a good choice for "someone who's looking to go 110 miles per hour on the racetrack," says Anthony Galimberti, co-owner of Big Boyz Toys, a motorcycle dealership in Marlboro, N.Y. Although the company is known for building powerful trophy bikes, two-thirds of EBR's 150 workers spend most of their time designing very different vehicles: inexpensive motorcycles and scooters for the Indian mass market, where low price and durability trump horsepower and sex appeal.
EBR embarked on its high-low approach to the global motorcycle market last summer, when New Delhi-based Hero MotoCorp, India's largest motorcycle maker, bought a 49 percent stake in the business for $25 million. The cash meant EBR, which was founded in 2009, could expand into a 70,000-square-foot factory in East Troy, Wis., and ramp up production of its new high-performance bikes.
It will take two to three years for his newest bikes to catch on with buyers, says company founder Erik Buell. In the meantime, his company can keep the lights on by billing its engineers out on consulting projects. Hero is its biggest client: Recent jobs include concepts for a hybrid scooter that tops out at 62 mph, a diesel work bike built to haul heavy loads, and other models Hero hopes will appeal to India's growing middle class. "If everyone who made some money bought a car, they'd have logjams on the roads," Buell says. "They're going to have a need for new engineering ideas."
Buell, 64, is motorcycle royalty in the U.S. He spent his 20s racing bikes on a nascent pro circuit, then went to work for Harley-Davidson as a test engineer in 1979. He started his own company, Buell Motorcycle, in 1983 in the outbuilding of a farm in Mukwonago, Wis., and quickly gained a reputation for innovative designs that helped professional racers speed to victory over bikes made by bigger manufacturers. Harley-Davidson, whose cruiser-style bikes are built for comfort on longer rides, took notice. It bought half of Buell Motorcycle in 1993 to go after the market for smaller cycles; it increased its stake to 98 percent in 2003.
When the financial crisis hit, U.S. motorcycle sales suffered, falling to 561,000 last year from 1.2 million bikes in 2006, according to the Motorcycle Industry Council, a trade group. Harley-Davidson discontinued the Buell Motorcycle line in 2009 to focus on its own business. "I will always be proud of America's little sports bike maker that took on the world," Buell told employees in a Web video at the time.
Indian customers are expected to buy 21.1 million motorcycles in 2016, according to market research firm Freedonia Group, compared with 1 million in the U.S. Buell met Hero Vice Chairman Pawan Munjal in February 2011 in a track-side suite at Nascar's Daytona 500. Hero had recently ended a quarter-century partnership with Honda Motor that allowed it to expand outside India, the world's second-biggest motorcycle market after China, and needed engineering talent. Munjal, whose company sells about 17,000 two-wheeled vehicles a day, asked Buell to consult on the design of an electric scooter. Two years and several projects later, Hero bought almost half of EBR.
Next summer, Hero will begin exporting four of its models to the U.S., with EBR acting as the sole distributor—the first time its motorcycles will be sold in the U.S. The bikes will arrive at a time when manufacturers, including Harley-Davidson and Polaris Industries' Indian Motorcycle, are showing interest in selling low-priced entry-level models. "If you can engage younger consumers now, you may be able to plug them into higher-end bikes later," says Jaime Katz, an analyst for Morningstar.
Buell says the Hero imports will include a scooter, high-mileage city bikes, and a lightweight sports bike. Prices could undercut Honda's CBR300R, which retails for under $5,000. Selling motorcycles to U.S. consumers at such low prices would be impossible without the Indian company's manufacturing know-how, Buell says. "The speed at which they produce high-quality bikes is shocking. They can deliver products that we would never be able to deliver."
— With assistance by Lee Wilson
Before it's here, it's on the Bloomberg Terminal.
LEARN MORE