Metromile Pitches Pay-as-You-Drive Auto Insurance
A San Francisco company pitches pay-as-you-drive insurance
By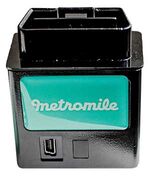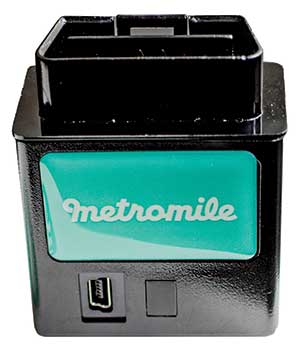 Greg Muender, a 27-year-old tech entrepreneur in San Diego, was constantly shopping for the best deal on car insurance. "I probably switched carriers five times or more" over five years, he says. "Insurance was a commodity to me." Working from home, Muender sometimes puts as few as 50 miles a month on his Infiniti G37. (His wife, Sara, sometimes drives her Mazda CX-5 more.) None of the available policies were ever really satisfying.
He switched once more when the startup Metromile began selling coverage in California in July. "Ahhhhh! @metromile arrived!" Muender tweeted. "So excited to save on insurance and make both of my cars connected!"
Metromile's pitch is straightforward: Your insurance premium should be based on exactly how much you drive. The more miles you put on your car, the more you pay, because the odds are higher you'll have a claim. Drive less, pay less.
Insurers have long asked policyholders to report mileage, but that information typically influences the bill only when drivers renew for another term. Metromile's new customers get the Metronome, a mileage-tracking device that plugs into a car's data port. The company uses the information to customize its rates.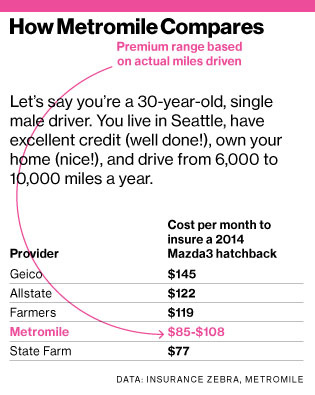 Executives at three-year-old Metromile hope word-of-mouth enthusiasm from people like Muender help make the company a household name. The insurance is available in four states—California, Illinois, Oregon, and Washington. Metromile acts as an agent, with the policies underwritten by National General Insurance Group.
Metromile has raised $14 million in venture capital, says Chief Executive Officer Dan Preston—about as much as Geico spends every five days on TV spots, billboards, and other advertising. "As a startup, we can't do Super Bowl ads," Preston says.
To set itself apart from much bigger rivals, Metromile markets itself as a service to manage the costs of owning a car. The GPS-equipped mileage-tracking gizmo sends alerts to a proprietary app on a customer's mobile phone if street sweeping is scheduled where her car is parked—helping users avoid parking tickets. (So far the company has sent 18,000 warnings to drivers in San Francisco and Chicago, the cities where the feature is offered.) Metromile also pulls information from a vehicle's data port to help drivers monitor fuel use and diagnose maintenance problems.
The company won't divulge how many people have signed up for coverage. But its concept of putting data in drivers' hands may be a fresh way to gain share in the $186 billion auto insurance market. Metromile Chairman David Friedberg has been successful bringing ideas to the industry. The ex-Google executive founded Climate Corp., a company that sells crop insurance. Monsanto bought it last year for about $930 million.
The insurance industry has seen its marketing costs climb much faster than policy sales. As consulting firm Bain wrote in a study this year, car insurers in the U.S. "must feel like Alice in Wonderland, running flat out with barely any forward motion."
Auto insurers "need to invest in wowing customers and not just merely satisfying them," says David Whelan, a partner in Bain's financial-services practice. Some big carriers have gotten the message. Progressive has a data-port device called Snapshot that gathers information on driving behavior to offer discounts. Allstate has several apps, including one that allows customers involved in minor traffic accidents to upload photos of the damage to adjusters to expedite the claims process.
None of that has the stick-it-to-the-man appeal of helping a customer avoid parking tickets. Friedberg sees Metromile providing more services to policyholders. Insurers could, for example, help drivers by suggesting ways to cut down on commuting time. "That's an entirely different relationship than being the guy you go to when things go wrong," he says.
Before it's here, it's on the Bloomberg Terminal.
LEARN MORE