business
An App for Finding the Perfect M&A Match
Advisers are using mobile tools to bring together buyers and sellers
By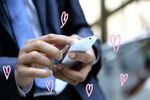 There are apps for dating, shopping, and hailing cabs. Now there are apps for matching companies for takeovers. Free applications created by MergersClub and Intralinks Holdings' DealNexus are attracting investment bankers and private equity firms looking for deals. They're especially useful for foraging in remote areas where advisers have few contacts, says Alfredo Arahuetes, dean of Comillas Pontifical University's business school in Madrid, where MergersClub is based. "It's like an online dating website," he says. "It can help bankers find the perfect match."
M&A advisers list potential sellers and buyers on the sites, and offer descriptions of their clients and what attributes they're looking for without identifying companies. The deals are typically small to midsize. DealNexus lists transactions of as much as $500 million in value, says Philip Whitchelo, the company's vice president for strategy and product marketing. Members of the site who want more information must pay for a premium service.
Enrique Quemada, chief executive officer of OnetoOne Corporate Finance, an advisory firm in Madrid, calls M&A apps like MergersClub an indispensable part of his job. "Once you start using it, you go nuts and it's hard to quit," he says. Since becoming a member of the site less than two years ago, he says his firm has been hired about 20 times to work on transactions, and he's completed two. He declines to name the companies involved.
MergersClub, started in 2012, says it has more than 4,750 members worldwide, including investment bankers from small advisory boutiques, large banks such as UBS and Bank of America, private equity funds, and corporate M&A departments. New York-based DealNexus, one of the biggest platforms, has about 10,000 members representing 6,000 institutions, from banks to private equity firms to lenders. Competitors include Axial Networks, Mergerdeals.com, and Dealgate.
The sites are especially useful because of their global reach, says Jonathan Rubin, a partner at Westbury Group, an investment bank for entrepreneurs based in Westport, Conn. "If I go to my client with a list of international buyers, that improves the credibility of my work," he says.
Some advisers are reluctant to admit a deal came about because of an online connection. "They don't want their clients to know that instead of searching actively for a buyer everywhere in the world they have just relied on an online platform and collected big success fees," says Manuel Letard, manager of MergersClub.
Fewer than 10 percent of MergersClub members have completed a deal because of the website, Letard says. Although the site's service is free, MergersClub is exploring adding premium options like those offered by DealNexus. "We need to start generating revenue. That's our biggest challenge now," Letard says.
One concern is the quality of some of the advisers who use deal-sharing sites, says Yoshiharu Ohi, founder and CEO of Japan-based investment advisory firm Global Business Consulting. He uses MergersClub about once a week. Members can misrepresent themselves. "Some advisers don't follow good ethics," says Ohi. "Minimal credentials should be there." DealNexus co-founder Anthony Hill says his site reviews every adviser who wants to join "to ensure the quality of the deals."
MergersClub requires a prospective buyer or seller to have more than €5 million ($6.7 million) in revenue or more than €500,000 in earnings before interest, taxes, depreciation, and amortization. Quemada says he's cautious when using MergersClub and looks at "the track record of advisers more closely, especially in emerging markets."
Long-term, he says, the sites help firms like his boost their reputation and relationship with clients. "A client asked me once for partners in South Africa, and I was able to find six," he says. "He was very impressed by my global network. Of course, he didn't know that MergersClub was the trick."
Before it's here, it's on the Bloomberg Terminal.
LEARN MORE