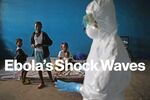 Sandi Sesay was promised three months' pay by his boss to stop coming to work. In fact, most of Sesay's colleagues at the Marampa iron-ore mine in Sierra Leone were offered much the same deal. The reason: to prevent the spread of Ebola. Two weeks later, Sesay, 29, a driver, says he has yet to see any of the money from his employer, Dawnus Construction, a contractor at the mine. "I am taking care of my mother, my sisters, and my wife and three children," he says at a gas station near his home. "How am I going to cope?"
Sesay's and Sierra Leone's prospects were bright before the worst-ever outbreak of the virus. The economy was expected to grow 14 percent this year, almost three times faster than the average for sub-Saharan Africa. In neighboring Liberia and Guinea, rich iron-ore deposits were luring billions of dollars in foreign investment and fueling growth.
Then, in December, the first case of Ebola appeared in Guinea. Its emergence at first was seen as a short-term outbreak with limited economic impact. The disease now threatens to cripple three economies with a combined gross domestic product of about $13 billion. Commodity companies are slowing production, and airlines are shutting routes. In Liberia, the government says the epidemic threatens to derail progress made since the end of the civil war in 2003. Sierra Leone has canceled its first sale of bonds open to foreigners.
More than 1,200 have already died in those three countries. Attempts to quarantine infected populations and contain the virus have paralyzed some companies and led to job losses. Sime Darby, the world's largest palm oil producer, has slowed output in Liberia, and Sifca Group, an Ivory Coast agribusiness, halted rubber production there. ArcelorMittal, the world's biggest steelmaker, postponed expansion plans at its mine in northern Liberia because contractors transferred some of their workers out of the country as a health precaution. In early June, after London Mining and African Minerals announced similar protective measures for their operations in Sierra Leone, their shares fell in London trading. Edmond Saidu, the agriculture officer in Sierra Leone's Kailahun District, says the disease has killed farmers on cocoa and peanut plantations and rice farms, leaving the crops to rot.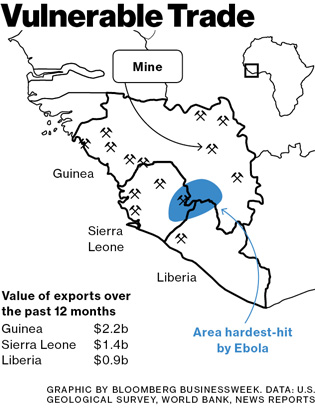 Africa's richest man, Nigerian cement magnate Aliko Dangote, has pulled some employees out of his plant in Liberia and says one percentage point of growth may be shaved off in the region this year. "It will be a great impact," he says. "But various governments are doing things to tackle the situation."
In Sierra Leone the government has sent hundreds of troops to cordon off the border. The quarantine, however, has made it almost impossible to get enough food to the capital, Freetown. Thousands of workers such as Sesay sit at home. (Richard Evans, a spokesman for mining contractor Dawnus, confirmed that a "large number" of staff had been furloughed with pay and says Sesay's complaint is the first he's heard of anyone not receiving money.) From Freetown's hilly streets overlooking the Gulf of Guinea, residents spend their days in their houses worrying about costs for food and fuel, which are rising despite government promises to crack down on price gougers.
Liberia has banned public gatherings and told nonessential civil servants to stay home. The government is even planning to close open-air markets, a measure that will probably push up prices in the capital, Monrovia. At the crowded Duala market in the city center, food seller Mary Kolubah says business has slowed. The wholesale shop where she buys bags of rice to resell in smaller, paper-wrapped quantities raised prices by 10 percent recently, she says. Nearby, meat seller Amadu Bah, 46, sits idle at his empty stall. Traders from Guinea and Sierra Leone cannot bring their cattle across the border region, the area hardest hit by the disease. "I'm out of business now," he says, "because selling cow meat is the only thing I've known since I was 25 years old."
This marks the first time the disease, identified in 1976 near the Ebola River in what is now the Democratic Republic of Congo, has killed anyone in West Africa. The virus struck just as the three countries were starting to bounce back from a past of violence and instability. Liberia is recovering from a civil war that spilled into neighbor Sierra Leone during the 1990s, leaving both economies ruined. In 2010, Guinea, the world's biggest bauxite exporter, held its first democratic elections since independence, following decades of erratic military rule. The health crisis has been compounded by a distrust of government rooted in the three countries' unstable past: Officials are still struggling to convince locals that Ebola exists and isn't a hoax.

The outbreak has exposed the limitations of the countries' health-care systems, which range from a scarcity of doctors and thermometers to medical workers neglecting basic hygiene such as hand washing. The official death tally may underestimate the outbreak, the United Nations' health agency said in early August. The UN's food aid agency says it will need to feed 5 percent of the population of the three countries in the coming months, because food supply routes have been disrupted. (Five people have also died of Ebola in Nigeria, but its government has so far managed to avoid a wider outbreak.)
Airlines are suspending flights to the region, even though the UN health agency says air travel is an unlikely method of transmitting the virus. Nigeria's Arik Air suspended flights to Liberia and Sierra Leone after a Liberian man traveled by plane to Lagos, Nigeria's largest city, and collapsed at the airport, fatally infecting health-care workers and an aide who came to pick him up. British Airways and Kenya Air Lines have also halted flights to Liberia and Sierra Leone, and Gulf carrier Emirates scrapped flights to Guinea. Korean Air Lines on Aug. 14 canceled flights to Kenya's capital of Nairobi, a regional hub located thousands of miles away from West Africa.
The crisis is debilitating, says Lansana Gberie, a political analyst in Sierra Leone, "not just because international flights are canceled and movement of people is restricted because of the quarantine moves. There's also a disabling psychological atmosphere that isn't conducive to productivity."
Fatmata Edna Njai, a hotel receptionist in Freetown, says she was dumbfounded when her employer handed her an envelope with the equivalent of a third of her monthly salary two weeks ago and told her to stay away until Ebola is contained. Even though the hotel wasn't getting any customers, Njai was told she hadn't lost her job. She stays with her son, parents, and three other relatives inside their apartment most of the day, but she's run out of money. "I'm praying and fasting, so that God will provide me a job," she says.
Before it's here, it's on the Bloomberg Terminal.
LEARN MORE