China's Skyrocketing (Pet) Population
Bejeweled leashes fly in the face of Maoist rhetoric
Christina Larson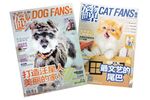 During a stint in the U.S. Army, Dennis Schenk worked alongside canine rescue units in the aftermath of a hurricane. He fell in love with dogs and decided he wanted to make them his career. He eventually got certified as a dog trainer by the International Association of Canine Professionals and the International Association of Animal Behavior Consultants and in 2009 moved to China. Now he's flown around the country by clients who pay him 500 yuan ($81) an hour to train their dogs to come and sit, and to treat them—the pets, not owners—for anxiety and aggression.
Cat and dog lovers are a relatively new breed in China. Up until the 1980s, keeping pet dogs was illegal in Beijing, because pets were considered to be a bourgeois affectation. Restrictions were loosened in the 1990s and early 2000s. (A height limit on dogs is still in place.) By 2012 the city had more than 1 million registered pet dogs, now served by more than 300 pet hospitals, according to the Beijing Small Animal Veterinary Association. China has become the third-largest pet market in the world, after the U.S. and Brazil, according to Euromonitor International, and is home to 27 million dogs and 11 million cats.
Maoist rhetoric hasn't disappeared entirely. In early August the Communist Party-run People's Daily ran an editorial decrying pet ownership as a "crude and ludicrous imitation [of a] Western lifestyle"—and argued that uncollected sidewalk poop disrupts "social peace and harmony." In some cities, unwanted puppies are dumped on the street and become strays. The local press has reported cases of auxiliary police officers beating strays to death.
In 2012, Chinese pet owners spent 7.84 billion yuan on animal care. Euromonitor predicts that figure will rise 64 percent, to 12.9 billion yuan, by 2017. Silas Chen, 28, recently enrolled his 10-month-old Samoyed in a canine training program. "I need to know how to communicate with the dog, how to manage his daily routine," the Beijing resident says. "The dog's nature is innocent: If he has behavior problems, it's the owner's fault." Another potential benefit to taking his puppy on daily strolls: catching women's attention. "He is much more handsome than me."
Noble Pets, a boutique in Beijing's upscale Sanlitun neighborhood, carries mostly imported pet foods from Japan, South Korea, the U.S., Canada, and New Zealand. Store manager Chen Zhiyi, who sports pink-framed Ray-Ban glasses, says his customers worry about food safety and that many shoppers avoid Chinese brands. Other popular items include imported leather collars from South Korea (380 yuan) and handcrafted bejeweled leashes (1,992 yuan). Upstairs is a pet photography studio, with prices for a set of prints going for as much as 2,580 yuan. "Photographing pets is more challenging than photographing people; you need someone who understands the breed and how to control and calm the dog," Chen says.
Debates over the role and treatment of animals continue to mark a fault line between old and new attitudes. The southern city of Yulin holds an annual dog-eating festival on the summer solstice that in recent years has raised an outcry from people who would rather cuddle dogs than cook them. Advocates at Hong Kong-based nonprofit Animals Asia have questioned the festival's legality, and young Chinese celebrities have taken up the pro-pet cause on social media. "I do not eat dog meat, and I strongly oppose eating dog meat," Chinese actress Yang Mi, 27, star of the hit movie The Breakup Guru, tweeted on Tencent Weibo. "Canine loyalty is unequaled. I treat my dog as a friend."
Before it's here, it's on the Bloomberg Terminal.
LEARN MORE