business
Redeveloping New York Factories Into Small Business Hubs
Acumen redevelops warehouses into homes for small businesses
By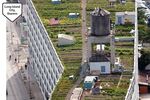 When furniture designer Kristen Wentrcek moved her business into a shuttered Pfizer plant in Brooklyn, N.Y., she changed the light bulbs herself and used power tools to rip out a bank of metal pill cabinets. There were missing ceiling tiles, and a light flickered in the hallway. "It was like moving into a weird old library," she says. "The bathrooms are clean, but the place isn't super-refined."
Wentrcek's landlord, Acumen Capital Partners, specializes in bringing new life to old, offbeat commercial properties in New York City's outer boroughs. The business was founded in 2007 by longtime Queens real estate developer Jeffrey Rosenblum and his business partner, Ashish Dua, who met 10 years ago while managing investments for real estate firm Time Equities.
Acumen bought the Pfizer plant, once used to make Viagra and Lipitor, for $26 million in 2011 after raising $10 million from private investors. The firm kept costs down by making minimal changes to the property—luring small-business owners such as Wentrcek with short-term leases, low rents, and permission to renovate the spaces as they pleased; tenants say everything from laboratories to janitor's closets were fair game. Several local food manufacturers have leased space—drawn by its freight elevators and a massive cafeteria kitchen. Movie studios seeking industrial backdrops have rented unleased sections of the building, and parts of The Amazing Spider-Man 2 were filmed there. The result is a hodgepodge of small companies. In one area, the smell of brewing kombucha, a fermented tea that originated in East Asia, seeps into a hallway. In another, a team of Orthodox Jews runs a consumer electronics business.
Acumen is aiming for double-digit returns on the Pfizer building after at least five years of ownership. Rosenblum and Dua, both New York natives, are about to sell the firm's first big investment. RXR Realty, an aggressive buyer of New York City offices after the financial crisis, is in contract to acquire a former Standard Motor Products manufacturing facility in Long Island City from Acumen for $110 million, about double what the firm paid for and invested in the property since it was acquired in 2008. The former factory built in 1919 houses the Jim Henson Co. and a commercial rooftop farm run by Brooklyn Grange. What Acumen is "doing is really the future of small manufacturing," says Carlo Scissura, president of the Brooklyn Chamber of Commerce, who was chief of staff to the Brooklyn borough president when Acumen closed the Pfizer deal.
Rosenblum and Dua say they try to keep much of the existing structures intact because it's less disruptive to neighbors and communities. They're not, for example, razing old buildings to put up condos.
A few current and former tenants report that having Acumen as a landlord can be both a blessing and a curse. Rents at the Pfizer building started at about $15 per square foot in late 2011 and have risen to more than $20, according to Acumen. The increase threatens to displace some of the original tenants that signed shorter leases, some tenants say. Others have expressed concern about investing heavily in renovations and losing their investment should they be priced out of their spaces or forced to leave.
"You walk into a space that's yours to build out. In some ways it's a great opportunity, but it's also a very expensive situation when the building itself isn't covering that much," says Erin Zimmer, a spokeswoman for Good Eggs, a San Francisco-based online delivery service for locally produced foods that has its New York office in the Pfizer building. The company will soon move into a warehouse in the Bushwick neighborhood of Brooklyn to accommodate growth. Zimmer says the space is a better deal with a longer lease. Wentrcek, the furniture designer, also plans to move out soon. She describes the Pfizer building as "a stepping stone type of rental space." Acumen says the average short-term lease at the building is 12 months; it has offered leases as short as a month.
A standard commercial lease for a small business is five years, according to Sam Chandan, a real estate professor at the Wharton School. Industrial repurposing projects can also be risky for the landlord, he says. Some of the short leases in the Pfizer building are a sign of a high degree of churn—something property managers typically prefer to avoid, he says. Acumen says most of the Pfizer building leases are from two to five years.
Long before this sort of redevelopment became popular, Rosenblum spent 10 years repurposing spaces for Schuman Properties, one of Long Island City's largest real estate owners at that time. In 1992 he turned a Queens Chevrolet dealership into a row of shops with a fitness center. He purchased a Long Island City-based silk factory in 2004 and broke it into units for lease to smaller commercial tenants.
Dua says the recent runup in property prices in New York has for the moment put an end to shopping for another outer borough property. The firm is considering buildings in Chicago and Philadelphia. "We love New York. We are both lifelong New Yorkers, but we're just two guys competing against the biggest of the big," Dua says. "We can only survive in New York when everyone else isn't so bullish."
Before it's here, it's on the Bloomberg Terminal.
LEARN MORE