Zhou Is Butt of Online Jokes as China Allows Mirth Over His Fate
David Tweed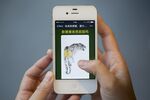 Brave enough to touch the tiger's butt?
That's the challenge in a game featuring the image of a tiger on Tencent Holdings Ltd.'s WeChat messaging app regaling users since a corruption investigation into retired security chief Zhou Yongkang was announced July 29. Zhou is the highest-level official to fall in China's bid to sweep away both "tigers and flies" in an anti-graft campaign.
The mere fact that WeChat's almost 400 million users can access the game reflects how discussion of Zhou's fate is no longer taboo, and may even be encouraged, as the Communist Party builds support for a case against him. The game highlights the shifting censorship landscape in China where leaders and sensitive topics may be off limits to ridicule for years -- until they're not.
"It's OK if you play the game with Zhou Yongkang, but when the characters start to change, and someone figures out a way to swap it and gets someone else's name on there that they don't want to get after, that's when they will end the game," said David Zweig, a professor of political science at Hong Kong University of Science and Technology.
The risk is that budding online humorists may crack jokes publicly about China's current leaders, who remain off limits. So do retired ones -- earlier this month, web users circulated jokes that a giant inflatable yellow toad at a Beijing park bore an uncanny resemblance to former President Jiang Zemin, and one even photoshopped a pair of thick black glasses like Jiang's onto an image of the animal.
The official Xinhua News Agency later deleted a picture of the toad from its website, while comments about its likeness to Jiang were also removed, according to the Daily Telegraph.
Cartoon Tiger
WeChat users are invited to touch the yellow-glowing butt of the black-and-white tiger to access Zhou's web of corruption.
Tapping on the tiger prompts a choice of four virtual playing cards with the names of Zhou's spheres of influence: the oil industry, where he once led state-owned China National Petroleum Corp.; Sichuan province, where he served as party secretary; internal security; and his family.
Selecting a card, gamers may test their knowledge of Zhou's network of company executives, government officials, military personnel and family connections. The right answers wins the accolade, "You're a tiger-beating hero."
The game is also available on Tencent's QQ mobile messaging service. Chen Liming, a spokeswoman for Tencent Holdings Ltd., didn't immediately respond to an e-mail seeking comment.
Deleted Content
In the past, Tencent has acknowledged deleting content that's considered illegal under Chinese law such as spam, pornography and messages promoting violence.
The government earlier vowed to crack down on "bad or harmful" information spread via WeChat and other messaging apps, part of a broader campaign to tighten Internet controls. Web users can now be jailed for as much as three years for comments deemed defamatory.
Zhou's downfall appeared certain earlier this year when even state media speculated over the timing of a probe.
"This announcement was embraced with applause from the public, but without surprise," the state-run Global Times said in an editorial on July 30, after the Zhou probe was made public. "Zhou's case still deserves to receive a lot of attention as follow-up details are revealed."
Before it's here, it's on the Bloomberg Terminal.
LEARN MORE