China Snares Biggest Tiger Yet With Probe of Zhou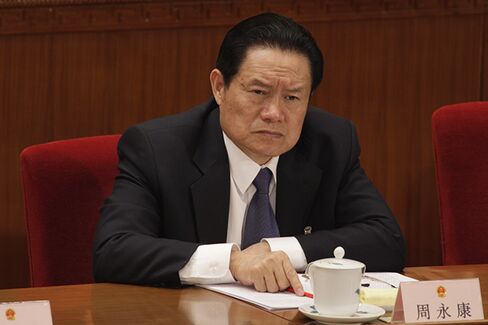 China's ruling Communist Party announced an investigation into former security czar Zhou Yongkang, escalating an 18-month campaign against graft with the highest level corruption probe of its 65 years in power.
A member of the party's most powerful Politburo Standing Committee until November, 2012, Zhou had not been seen in public since October. He was an ally of Bo Xilai, the ex-Chongqing party secretary who was convicted of bribery and abuse of power and sentenced to life behind bars last year.
The move, announced via the state-run Xinhua News Agency, represents a tightening grip on power by President Xi Jinping, who took over the Communist Party in the leadership change-over that saw Zhou, 71, retire, and consolidated control over the military and a panel on economic reforms. It marks Xi's boldest move yet in an anti-graft campaign that's nabbed dozens of regional cadres, ex-military officers, employees at state-owned enterprises and senior ministers.
"If they can stabilize the whole situation that would give the ruling party new blood, a new lease of life," said Ding Xueliang, a professor of political economy at the Hong Kong University of Science and Technology. "If one of the most powerful leaders like Zhou Yongkang can be punished in that way, watch out. That will definitely reinforce the current leadership and political system."
Cultural Revolution
The probe by China's anti-corruption watchdog was also announced in a single sentence on China Central Television's evening broadcast. Zhou is the first standing committee member subject to such an investigation, although two were purged in the aftermath of the Cultural Revolution by Chairman Mao Zedong.
A subsequent announcement showed Xi had cleared the decks for the party's biggest annual leadership conclave. CCTV said Xi had led a Politburo meeting where the party's central committee meeting was set for October. The October meeting, known as the fourth plenum, will discuss pushing forward rules of law needed to realize modern governance, CCTV said.
The investigation of Zhou shows the party's "courage and resolution" and ends "a myth among many people that senior leaders are regarded to be immune from the party discipline regulation and the country's law enforcement," the official Xinhua said in an editorial yesterday.
'Kiss of Death'
Being probed for corruption in China is basically the same as being convicted, Kerry Brown, executive director of the University of Sydney's China Studies Centre said on Bloomberg TV.
"The announcement yesterday from the Xinhua News Agency was that he was under investigation, but that's the kiss of death," he said. "Basically, there is no way back from that."
Since Xi came to power Chinese authorities have targeted "tigers and flies" in a bid to root out corruption. Among them have been several people with connections to Zhou and China's oil industry, where Zhou spent three decades and rose to lead state-owned China National Petroleum Corp. in the 1990s.
Jiang Jiemin, previously CNPC's chairman, was removed as head of the commission overseeing state-owned companies after the government on Sept. 1 said he was under investigation.
Days before Jiang was ousted, four other CNPC executives were removed. Other arrests happened in Sichuan, where Zhou served as Communist Party Secretary -- the southwestern Chinese province's top post -- from 1999 to 2002, according to his official biography.
PetroChina Gains
Shares in PetroChina Co., the traded unit of CNPC, rose as much as 4.5 percent in Shanghai today, the biggest advance in almost five months, on expectations that scrutiny of the company would now ease with the announcement of the probe. Shares rose 3.3 percent to 8.06 yuan at 12 p.m. in Shanghai.
Zhou Bin, Zhou's son, was also arrested for running an illegal business enterprise, Caijing magazine reported yesterday, citing people it did not identify. Zhou Bin had built a business empire worth "hundreds of millions" of yuan with interests in oil, hydropower and tourism and was detained around the end of last year, the magazine said.
Getting rid of this "tiger" doesn't mean the anti-corruption drive is over, a commentary posted on the website of the party's People's Daily newspaper said after the announcement on Zhou.
"No matter how big the tiger, as long as it commits evil and violates party discipline, it won't be able to escape the cage," the commentary said.
Tiger Day
The announcement of the Zhou investigation was made on International Tiger Day, a commemoration began in 2010 to support tiger conservation. Less than an hour after the probe was made public, Xinhua made that link and posted three pictures on its mobile website of caged tigers. "The number of wild tigers dwindled to less than 3,500 from about 100,000 in the past century," the post says.
Speculation that Zhou was in political jeopardy began in 2012, before Xi took the top spot in the party. Zhou appeared with Bo at a March 8, 2012 meeting at Beijing's Great Hall of the People and praised Bo's achievements. A week later, Bo was removed from his post.
Prior to yesterday's announcement, the clearest public signal that Zhou was in trouble came this March, when the government-controlled Global Times newspaper published an article citing revelations that "people close to Zhou Yongkang were allegedly involved in corruption."
"It seems that the investigation into Zhou hasn't concluded yet," the article said.
Police Force
Zhou oversaw hundreds of thousands of police and paramilitary forces with an annual budget of more than $100 billion as the top official for the "stability maintenance" program, ensuring the thousands of strikes, riots and other disturbances around China each year didn't become organized challenges to Communist rule.
"Zhou Yongkang was the ninth member of the standing committee, the most junior member of the top inner circle," said Jean-Pierre Cabestan, a political science professor at Hong Kong Baptist University. "On the one hand it unifies, and people will need to toe the line even more than before and be more disciplined. Yet at the same time it underscores how corrupt and rotten the system is."
Zhou was born in 1942 and is from Wuxi, a city in eastern Jiangsu province. He joined the party in 1964 on the eve of the Cultural Revolution while studying at the Beijing Petroleum Institute, now called the China University of Petroleum.
Energy Industry
Zhou began his career in the energy industry when he went to work in 1967 as an apprentice and technician at the Daqing oilfield in the northeastern Heilongjiang province, taking successively higher posts in the industry until he served in the top job at CNPC from 1996 to 1998, according to his biography.
He later served as minister of land and resources and Sichuan party secretary before joining the Politburo in 2002 as minister of public security. He was one of nine men on the standing committee from 2007 until he stepped down as part of the leadership transition.
"The announcement only shows that's the end of Zhou's fate, which was much speculated upon, but not the end of the political struggle" said Zhang Lifan, a Beijing-based historian who previously worked at the Chinese Academy of Social Sciences. "There's plenty of the show left to watch."