Portable Drinks: Five Tasty Innovations
Legitimately tasty innovations for upcoming outdoor drinking events
Evan S. Benn
Liqs
Premade shots are for college kids, but this New York company plans to woo adult drinkers with premium liquor and flavors such as Tequila Cinnamon Orange and Vodka Lychee Grapefruit. The drinks were created by co-founder Harley Bauer, who made his money off the cupcake trend as a co-founder of Crumbs Bake Shop. Liqs, which was started with $400,000, plans to sell 10,000 cases by yearend. Try: The Vodka Cucumber Lime, fresh and not too boozy. Perfect for: The back nine. $9.99 for a three-pack.
Dos Equis Dos-A-Rita
Parent company Heineken introduced the Dos-A-Rita shortly before Cinco de Mayo in 2013 to compete with Anheuser-Busch InBev's Bud Light Lime-A-Rita, a margarita-flavored malt beverage created in 2012. Dos Equis says the brew sells well—though it trailed the 500,000 barrels of Lime-A-Rita sold so far by InBev, which introduced several spinoffs (Straw-Ber-Rita, Mang-O-Rita, and so on) this year. The Dos-A-Rita is less cloying; it's sweetened with agave and uses crisp Mexican lager as a base. Try: The cute 8-oz. can. Perfect for: Corporate grillouts. $2.69 for a 24-oz. can.
Stack Wine
Created during an MBA course at the University of California at Irvine, Stack Wine stands out less for its wine than what it comes in: a 750ml bottle split into four single-serving tumblers that lock together for schlepping, then snap apart at your destination. No corkscrew required for the shatterproof, hard plastic glasses; just pull back the lid. And no need to finish an entire bottle right away. As for taste? The California-harvested reds and whites are more palatable than the delivery mechanism suggests. Try: The dry, melony pinot grigio. Perfect for: Park picnicking. $11 for a stack.
Public House
Boxed wine now makes up almost 7 percent of the North American market, according to data compiled by Bloomberg. This New York company, founded by three friends who worked in finance, advertising, and film production, improved upon the trend by packaging the equivalent of four bottles of cabernet sauvignon or sauvignon blanc with a stack of 10 heavily branded plastic cups in an equally logo-laden box. The "bladder," as the founders call the bag inside, keeps wine fresh for six weeks. Try: The unfussy white. Perfect for: Off-sites with clients. $38 for one box.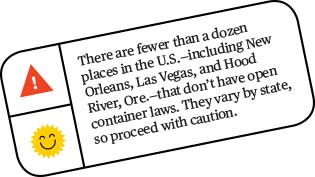 Friends Fun Wine in a Can
Chief Executive Officer Joe Peleg says cans are in. The Florida-based company reported sales of $1 million last year, and he expects his business to grow tenfold over the next year. He's tapped The Real Housewives of Miami star Marysol Patton to be his brand ambassador. The slim cans pack 150 calories and 6 percent alcohol by volume—half as much as most wine—into sweet flavors such as Peach or Strawberry Moscato. Try: The less fruity Original White Sangria. Perfect for: Unwinding with your Kindle. $3 for a can.