Making Cars and Pajamas Smart
Jasper's software allows machines big and small to talk to each other
By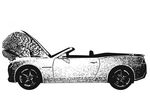 Jahangir Mohammed was driving to Lake Tahoe in 2004 when his car engine failed, leaving him stranded for three hours. While he waited for a tow truck, the engineer wondered why cars didn't come equipped with software that alerted their drivers to impending malfunctions and directed them to a nearby garage for repairs.
Mohammed's lightbulb moment led him to start Jasper Technology that same year. The Mountain View (Calif.) company's cloud-based software enables machine-to-machine (M2M) communications. Using Jasper, Coca-Cola's vending machines inform the drinkmaker when they are running out of sodas, and Nissan Motor's cars send out tracking signals if stolen. "When things are connected, they become a service," says Mohammed. "Jasper's software allows companies to manage and monetize those services."
Software that lets one device talk to another is critical to building a so-called Internet of Things, a term that didn't exist 10 years ago when Mohammed dreamed up his company, says Godfrey Chua, an analyst at Infonetics Research, which specializes in telecommunications. "They've been ahead of the curve," he says. "They're among the survivors of the machine-to-machine connection industry, which grew from being a niche business thanks to the ubiquitous and cheaper mobile technology."
Jasper now has more than 1,000 clients, including multinationals such as General Electric, Starbucks, Heineken, and Sony. Among its customers are also startups such as Exmovere Holdings. The Alexandria (Va.) company has developed pajamas that can take a child's biometric readings and text them to a cell phone using Jasper's technology so, for example, a parent at a business dinner could check whether a child's fever has come down. The product, called Exmobaby, was launched in China last year, has won regulatory approval in the European Union, and is under review in the U.S., says David Bychkov, the company's co-founder and chief executive officer.
Business "skyrocketed," according to Mohammed, after the company altered its business model five years ago. That's when it stopped marketing directly to enterprises and began distributing its software through partnerships with mobile operators. Since 2009, Jasper has inked 19 partnerships with mobile carriers, including AT&T in the U.S., Spain's Telefónica, Norway's Telenor, Mexico's America Móvil, and NTT DoCoMo in Japan. In June, General Motors will roll out a service that uses a Jasper and AT&T combo to turn its cars into Wi-Fi hotspots capable of supporting up to seven mobile devices. Passengers in the vehicle will be able to stream video or music without using up their carrier's data plan, and voice directions from a smartphone's GPS app could be piped through the car's speakers. "I am very excited because except for bringing the phone inside your car, devices so far have not been as connected with vehicles," says Tim Nixon, chief technology officer of GM's Global Connected Consumer unit. Both GM and AT&T declined to say how they will split revenue from the data plan offering, which will start at $5 a day.
Mohammed says Jasper's new relationships have helped his company's revenue soar by 100 percent in each of the past two years, and he predicts sales are on track to double again in 2014. (He will not provide dollar figures.) Jasper's founder eventually wants to take his company public but wouldn't specify when.
Jasper's competitors include Swedish network equipment maker Ericsson and U.K. mobile operator Vodafone. Jasper's partner AT&T has also developed its own M2M platform and offers its clients a choice between the two technologies. "Our platform doesn't offer as many choices as Jasper, such as constant innovation and a control center with real-time capability to turn on and off a vehicle [remotely with a cell phone]," says Glenn Lurie, president for emerging enterprises and partnerships at AT&T.
Since it was founded, Jasper has raised $205 million in financing from venture capital firms Sequoia Capital and Benchmark, as well as Singapore's sovereign wealth fund, Temasek Holdings. The latest round of funding, announced in mid-April, valued the company at $1.4 billion. Sequoia partner Timothy Lee says his firm has no problem taking long-term bets as long as they're game-changing, like Jasper. "We are still in the early days of the Internet of Things, and much of its potential across industries is still to come," he says. "Every electronic product will be intelligent, connected to the cloud, and will interact with other machines."