Yellen Wants to Put People Back to Work
The Fed chair says the U.S. can create more jobs without inflation
By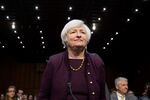 The year was 1999, the unemployment rate was 4.3 percent, and President Bill Clinton's top economic adviser had a message for economists gathered at Yale University: Tight labor markets, in which the demand for workers is high, are beneficial for blacks, Hispanics, and male high school dropouts.
The speaker was Janet Yellen, and she brings the same focus on the disadvantaged to her new job as chair of the Federal Reserve. During a ceremony after she took office, she said the jobless rate represents "millions of individuals who are eager to work." Every position that's created "lifts this burden for someone who is better equipped to be a good parent, to build a stronger community." In her first 100 days as the Fed's new boss, Yellen has amplified the central bank's full-employment goal. She's talked about the need for reducing the broadest measures of unemployment, such as the long-term jobless and people who work only part time.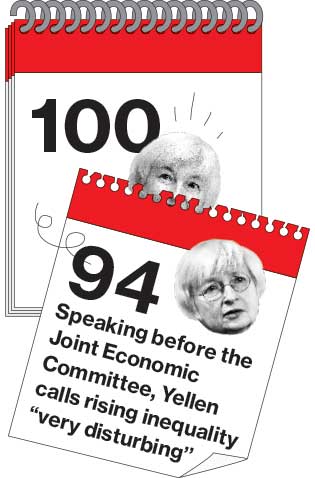 "This is a huge change, a new definition," says Allen Sinai, co-founder and chief executive officer of Decision Economics in New York, who's known five Fed chairs in a Wall Street career spanning 40 years. "Yellen will be aggressive in the pursuit of full employment more broadly defined." Yet as the Fed winds down the biggest stimulus campaign in its 100-year history, investors worry about what Michael Hanson, U.S. senior economist for Bank of America in New York, calls Yellen's "high-wire act." On the one hand, Yellen wants labor markets to run hot to pull workers back in. Yet she has no tolerance for inflation exceeding the Fed's 2 percent target. What she described as a "strong commitment" to low inflation won her applause at an April 16 meeting of the Economic Club of New York. "There is some unprecedented tension there," Hanson says.
Yellen's jobs focus suits a period of slow growth, high unemployment, and widening disparities in income, a trend she described as "very disturbing" in May 7 testimony to the Joint Economic Committee of Congress. "She is trying to get more people engaged" in the workforce, says Diane Swonk, chief economist at Mesirow Financial Holdings. "It gets to the heart of what she thinks is important: inclusion."
At the March 18-19 meeting of the Federal Open Market Committee (FOMC), which sets rates, Yellen dropped a pledge made by predecessor Ben Bernanke to hike the benchmark rate if unemployment dropped to 6.5 percent and inflation was forecast to be no more than 2.5 percent. She made the decision after the jobless rate was poised to fall below 6.5 percent this year, which it did in April, even as other labor indicators continued to show weakness. "The committee has never felt that the unemployment rate is a sufficient statistic for the labor market," she said at the press conference following the meeting. With Yellen in charge and the 6.5 percent threshold for raising rates gone, the committee opted to maintain the go-slow approach that Bernanke started. He pushed the cost of overnight loans among banks close to zero in December 2008 and kept it there through the rest of his tenure.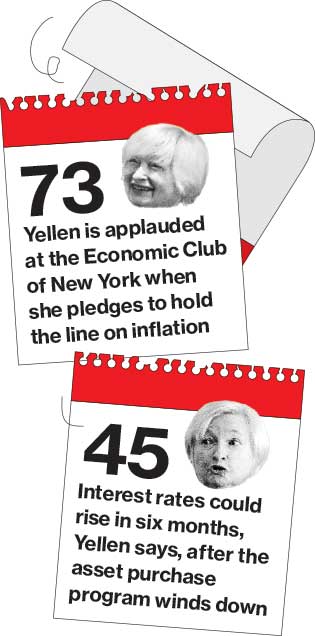 Yellen can afford to be patient. Inflation has run below the Fed's 2 percent goal for almost two years. Unemployment at 6.3 percent in April is "elevated," she told the Joint Economic Committee of Congress. Her hunch is that better wages and job prospects will pull back in people who have left the labor force. That increase in job seekers should slow the decline in unemployment. The FOMC forecasts the benchmark lending rate at the end of 2016 at just 2.25 percent. Such a low forecast backs Yellen's view that the jobless rate understates how much slack there is in the labor market. If she's right, the point where strong demand for workers pushes up both wages and inflation may not show up as fast as expected.
That slack can be illustrated, in part, by the shrinking share of the working-age population either holding a job or looking for one. The so-called participation rate fell to 62.8 percent in April, matching the lowest reading ever in 1978. Part of the drop reflects workers retiring, "but I think some of it is because of a weak economy," Yellen told the Joint Economic Committee. "That's more slack, and that's what we're looking at and trying to judge."
In a March 31 speech in Chicago that resembled a presidential state-of-the-union address in its use of real-life anecdotes, Yellen told the stories of three people who had trouble finding work. She didn't mention that two had criminal records, exposing the Fed to criticism for "poor staff work or poor judgment," in the words of Republican strategist Stuart Roy, founder of Strategic Action Public Affairs in Alexandria, Va. But Yellen knew of the felony convictions and decided to keep the people in her speech anyway. Yellen "has gone to great lengths—some would say extremes—to put a face on unemployment," says Mesirow's Swonk. "She understands it is not just numbers; it is the reality of what people see."
BOTTOM LINE -
The bottom line: Yellen studies the broadest gauges of unemployment to guide her in figuring out the slack in the labor markets.
Before it's here, it's on the Bloomberg Terminal.
LEARN MORE