Why Won't the Government Let You Eat Superfish?
Grows faster, eats less, makes people madder. Will genetically modified salmon ever reach the dinner table?
By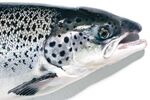 Prince Edward Island is Anne of Green Gables country, a pastoral wonderland on the east coast of Canada. It is a Technicolor quilt of clapboard houses and potato fields where each year thousands of tourists buy straw hats with Anne's two red braids sewn into them. It does not look like the kind of place where a risky experiment might be taking place. But that changes when, on a wintry March morning, you arrive at the AquaBounty Technologies facility on Fortune Bay. A chain link fence surrounds the perimeter, and signs warn would-be trespassers that they are being watched by eight motion-activated video cameras.This fish hatchery is like no other. It's run by a man who, with his white mustache, blue eyes, and reddened face, looks like he could run a candy store in a Jimmy Stewart movie. "Greenpeace parachuted in here once," AquaBounty Chief Executive Officer Ronald Stotish says, standing just outside the building. "They stayed long enough for the TV cameras to film them."
Inside, Stotish, 65, slips medical booties over his loafers and sloshes through a brownish puddle of disinfectant. After instructing a visitor to do the same, he signs his name on a clipboard and enters a low-ceilinged room with rows of green circular tanks, each about the size of a washing machine, linked together by a maze of white PVC piping. They are all filled with clouds of small, silvery fish, but Stotish wants to start our tour at the beginning. In a room off to the side, he points out shelves slotted with gray trays, numeric codes scribbled on them with a Sharpie. We slide one out and lift a fine screen to see thousands of pink eggs with pinprick eyes bobbing in the water.
The product of $78 million of research and development, these may be the world's most valuable fish eggs. The AquAdvantage fish is a variation of Atlantic salmon, genetically modified to grow to market size in two years rather than three. That means money for salmon farmers, who sell about $12 billion worth of salmon every year. More important, it could relieve pressure on the environmentally taxing process of fish farming, an industry that has doubled in size in the last decade. But the prospect of an engineered fish entering our food supply and, potentially, escaping into the ocean and wiping out wild fish has caused environmental groups to launch a merciless political and public-relations assault on the company.
AquaBounty has been fighting to bring AquAdvantage to market since 1993, two years after the company was founded, but it has yet to get approval from the U.S. Food and Drug Administration. In December 2012 the FDA, in its draft environmental assessment, which is considered the last step before approval, wrote that the salmon was safe to eat and poses no threat to the environment. The agency has made no further announcements over the past year and a half, despite having received more than 37,000 public comments, including letters from 12 U.S. senators and 20 congressmen who felt the process has been inadequate. "We will be moving forward in a deliberate, science-driven way," FDA Commissioner Margaret Hamburg told a Senate committee in March. In the meantime, AquaBounty has dumped 62 tons of edible salmon into landfills in Panama, where a test facility has been raising its eggs to grow to full size.
"I'm not sure if notoriety or awareness is the right word," says Stotish, a veteran of the pharmaceutical industry with a Ph.D. in biochemistry. "For a small, 14-person company, we are famous beyond what we would like to be." Opponents of genetically modified food have been so successful in their campaigns that it's unclear whether anyone will ever buy the fish should it get approved. To date 65 supermarkets, including Safeway and Trader Joe's, along with seven seafood companies and restaurants, have signed a pledge not to carry it. "We don't want Prince Edward Island to be known around the world as the home of the Frankenfish," says Leo Broderick, a retired schoolteacher on the island who traveled to an FDA meeting in Maryland to campaign against the salmon's approval.
AquaBounty says it's doing its best to make sure that no modified salmon escape. Unlike typical hatcheries, which have open troughs for recirculating water, water that goes through this facility is filtered and screened four times and flushed through a chlorine disk before it is released into the ocean. To protect the company's intellectual property and calm environmentalists who fear the fish could establish a breeding population in the wild, AquaBounty says it will distribute only sterile female eggs for rearing. They produce these eggs with the help of neomales, fish that are born female but have been exposed to a hormone causing them to develop as males and produce sperm. But because neomales have two X chromosomes and females also have two X chromosomes, breeding the two makes their offspring female. Prior to leaving the facility, the fertilized eggs are treated with a burst of high pressure, a process with a 99.8 percent sterilization rate.
The breeders are in the tanks on the first floor of the facility waiting for their daily meal. Stotish approaches a tank for a closer look; a fish breaches the surface and sends a ripple of water crashing down onto the concrete floor. Stotish jumps back, laughing. "They're getting feisty!" he says. Behind the mesh, burly-looking female fish, each with the hooked snout characteristic of a male, orbit the tank's core, a roiling centrifuge of scale and fin, waiting to get out.

 
 
Salmon is the third most popular seafood in the U.S. after shrimp and canned tuna, according to the National Marine Fisheries Service (NMFS). Americans eat approximately 300,000 tons each year, but only a third of that demand is met by five wild-caught species native to the Pacific. The other two-thirds, about $1.7 billion worth, comes from farmed Atlantic salmon, a distantly related species that is raised in floating cages off the coasts of Canada, Chile, Norway, and Scotland. U.S. salmon farms, primarily in Maine and Washington State, accounted for just 20,000 tons in 2012, valued at $130 million, according to the NMFS. The industry's major players include the publicly traded Marine Harvest in Norway and Cooke Aquaculture in Canada, which has an estimated $570 million in annual revenue. (Wild Atlantic salmon are endangered and are no longer commercially harvested in the U.S. or Canada.)
Raising salmon at sea isn't so different from raising livestock on land and, as currently constituted, can be just as environmentally hazardous. In every available nook of Canada's Bay of Fundy, near the Maine border, more than 5 million salmon are raised in cages each year, amounting to about 60 percent of Canada's total production. Salmon may be known for their pink flesh and omega-3 fatty acids, but they don't produce either of those on their own. The rosy pigments derive from eating crustaceans such as krill, and the heart-healthy oils come from eating smaller fish, such as menhaden and anchovies. As wild stocks of these forage fish have declined, salmon farms increasingly are formulating their feed with soy and other plants, but fish oil remains a limiting factor. Growing a single pound of farmed salmon requires catching up to three pounds of forage fish on the open ocean; the fish meal can make up half the operating cost of a salmon farm.

The high densities of salmon in sea pens also make them susceptible to such diseases as infectious salmon anemia and sea lice, which feed on their flesh. Consequently, companies in some regions make heavy use of pesticides and antibiotics. Last year, Cooke agreed to pay a $490,000 fine after an illegal pesticide it applied was linked to hundreds of dead and dying lobsters. The Monterey Bay Aquarium's Seafood Watch maintains a list of sustainable choices and warns customers to avoid most farmed Atlantic salmon in favor of wild Pacific salmon.
Facing such scrutiny, salmon farmers have tried to distance themselves from AquaBounty. The International Salmon Farmers Association and the Canadian Aquaculture Industry Alliance have issued statements in opposition to GM salmon. "There is a reason why the industry has not embraced this," says Nell Halse, the spokesperson for Cooke. "We want to maintain the trust we have with our customers." Says Stotish: "I think there is room for everybody."
 
 
In November 1989, scientists at Memorial University of Newfoundland injected two genes into the pea-size eggs of an Atlantic salmon. Atlantic salmon eggs have an eight-month lag time before they begin growing, and the scientists wanted to see if they could accelerate the process. The first bit of genetic code they inserted replicated the growth hormone from the chinook salmon, the largest species of Pacific salmon. The second gene, which came from an eel-like creature known as the ocean pout, ensured that the salmon pumped out the growth hormone all year round. The strategy worked. Within eight months the AquAdvantage salmon grows to 500 grams, 10 times heavier than a conventional salmon. By the time it reaches market size, about 3 kilograms (6 pounds), it will have consumed about 25 percent less feed than conventional salmon. Salmon farmers could save as much as 25¢ per pound of fish they produce, which is significant considering that their profits average less than $1 per pound.
Stotish argues that the lower cost of rearing AquAdvantage salmon will allow farmers to shift to land-based tanks, where the environmental impact of farming can be controlled and contained. If approved, the eggs would be produced on Prince Edward Island and air-freighted in coolers to AquaBounty's second facility in the highlands of Panama for rearing. The company opened in Panama, says Stotish, because it was cheaper, fish could grow year-round, and they wouldn't survive the warm waters if they escaped. (Also, the chief operating officer was married to a Panamanian woman.) One day, Stotish hopes, independent fish farmers could also raise them in tanks minutes from restaurants and grocery stores in New York City or other metropolitan areas, cutting down on shipping costs.
Steven Summerfelt, an engineer with the Conservation Fund's Freshwater Institute, agrees that AquaBounty's salmon could make land-based salmon farms cost-effective if their numbers are correct. At an experimental facility in Shepherdstown, W.Va., he raises and sells 20 tons of salmon each year without using any antibiotics or pesticides. To him, genetic modification makes sense. "How else are we going to feed the world in 50 to 100 years?" he asks.

The FDA delay has weighed heavily on the company; on average it has been losing $5 million a year, and it has faced bankruptcy more than once. In November 2012 the synthetic biology company Intrexon bought a major stake in AquaBounty from Russian oligarch Kakha Bendukidze and rescued it with an 11th-hour cash infusion during a subsequent financing round. In March, Intrexon bought $10 million in new shares. AquaBounty, which is listed on the London Stock Exchange, is applying for a dual listing on Nasdaq.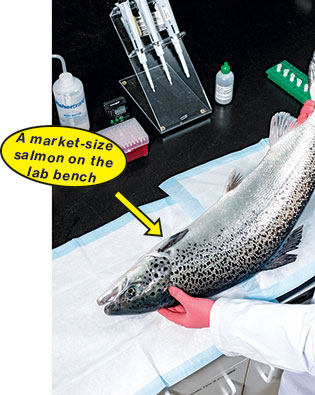 AquaBounty sought FDA approval in 1995, before guidelines for review had been established. It took a decade for the guidelines to be published and AquaBounty to submit the last of its studies. The FDA followed up with an unusual two-day public meeting on the salmon at the DoubleTree Hotel in Rockville, Md., where activists such as Broderick, the Prince Edward Island schoolteacher, urged the agency to reject its application.
In January 2013, with approval seemingly imminent, AquaBounty's foes regrouped for a new attack. The Center for Food Safety, an environmental organization, sent letters to grocers and restaurants, including the Ignite Restaurant Group, which owns Joe's Crab Shack and Romano's Macaroni Grill. The letter featured a mock nutritional label with a skull and crossbones on it, listing "1 AquAdvantage Frankenfish" that was "grown and processed in a top secret facility in Panama." According to the mock label, AquaBounty's salmon had fewer vitamins and minerals than normal salmon and fewer omega-3 fatty acids. Stotish says the organization cherry-picked its numbers from AquaBounty's FDA submission. For example, they chose to compare the omega-3s in AquAdvantage salmon to wild-caught Pacific salmon rather than conventional farmed Atlantic salmon, with which it is almost identical. Companies that vowed not to buy the salmon were included in a "guide to avoiding GM salmon" on the organization's website. Those that failed to respond were called out on the website. "They are bullies! They are terrorists!" says Stotish. "What they've done is fundamentally, scientifically wrong."
On May 8, Vermont Governor Peter Shumlin signed a bill making it the first state to require labeling of GM foods. Connecticut and Maine have passed bills requiring labeling if neighboring states do, and similar bills or ballot initiatives have been floated in 23 other states. Stotish has mixed feelings about whether labeling would help or hurt the salmon's prospects. He likes to think it might earn a premium as sustainable salmon, but labeling could backfire; consumers and companies who buy into the fish's benefits might not want to broadcast it. "It's hard for us to take a strong position," he says.
 
 
Just before noon, it's time for a taste test. A half-dozen AquaBounty employees file into the break room upstairs, where the hatchery manager has thrown a floral tablecloth over a folding table. She has arranged a spread of crackers, cream cheese, dill sauce, red onions, and capers, along with two foot-long salmon fillets still warm from the oven.
A well-known chef in Canada who asked not to be named, a supporter of local agriculture who has a TV show and a series of books, has prepared the salmon. One fillet has been rubbed and roasted with chili powder, and the other is encrusted with sesame seeds, mustard, and maple syrup. AquaBounty's molecular biologist slices into the flaky, buttery flesh, and the feast begins.
"Spicy!" an employee exclaims.
"I like the mustard seed one," says another.
Stotish turns to me. "Maybe only two dozen people in the world have eaten what you're eating," he says.
There is something a little off about the salmon hidden underneath the layer of pungent seasonings. Is it from raising salmon in tanks? Or is that the taste of a genetic anomaly buried deep in every cell? "It's still too fresh," says Jon Veinot, the assistant hatchery manager. Veinot harvested the fish the day before, and it hasn't had enough time to age. Even getting the pin bones out was a chore, he says.
The chef, however, is not available for tasting notes. He cooked the fish as a favor, but he doesn't want to be associated with it.
Before it's here, it's on the Bloomberg Terminal.
LEARN MORE