Alabama's Climate Change Deniers Refuse to Save the State
In Alabama, climate change naysayers resist spending money to thwart rising waters
By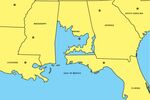 When Kevin Harrison warns Alabama lawmakers about rising seawater that government scientists project will swamp the state's bridges, ports, and highways in coming decades, he's careful to avoid the words "climate change." There are "naysayers about that particular topic," says Harrison, transportation director of the South Alabama Regional Planning Commission. Instead he points to weather models showing an increase in the frequency of hurricanes and floods but sidesteps the touchy subject of what causes them.
Even as the federal government's new National Climate Assessment cautions that storm surges may one day leave coastal communities such as Mobile under as much as 25 feet of water, state leaders persist in saying global warming is a sham and resist spending money to prepare for it. Trip Pittman, a Republican state senator who represents Baldwin County on the east side of Mobile Bay, calls federal research on climate change "bad science" and "fear-mongering." Spending millions based on such predictions doesn't make sense, he says. "What are the costs of us going on these crusades, these environmental crusades?" says Pittman. "We've elevated environmentalism into some kind of religion."
Mobile's ports support more than 127,000 jobs, many at companies such as shipbuilder Austal and jetmaker Airbus. Cargo cranes dominate the skyline downtown, where manicured parks and antebellum mansions lie in flood plains. Researchers with the U.S. Department of Transportation are conducting a study of the area, set to be finished this year, documenting the cost of inaction for highways, rail, and pipelines. On federal flood maps, areas including the port and Dauphin Island, a strip of vacation beachfront between the Gulf of Mexico and Mobile Bay, are shaded in red, indicating water in those areas is likely to rise waist-deep with increasing frequency over the next 85 years. "Several assets are highly vulnerable to multiple climate stressors," the Transportation Department's study found. The port areas flooded in almost every scenario.

Alabama is one of at least six coastal states, including Georgia, South Carolina, and Texas, and 18 nationwide that haven't adopted plans to cut carbon emissions or taken other steps to combat the effects of climate change, according to the U.S. Environmental Protection Agency. Other states have acted after natural disasters made rising water impossible to ignore. Last year, New York and New Jersey started programs to buy waterfront property damaged by Hurricane Sandy to serve as a "coastal buffer zone" against floods. Rick Scott, Florida's GOP governor, who's avoided talking about climate change, says his state has spent $130 million on coastal flood protection. In 2012, Louisiana's legislature approved a Coastal Master Plan, a set of infrastructure projects to gird the state, devastated by Hurricane Katrina in 2005, against storms.
None of these states formally cited global warming as the reason for the plans. Harrison hopes Alabama will follow their lead. Climate change skeptics could hold fast to their beliefs and still approve money to fortify the state against extreme weather no matter the cause. Policymakers need to "realize that this is a potential threat," he says.
It's unclear how Alabama can best protect itself from rising water, because the state hasn't authorized a study of possible solutions such as levees or storm water drainage systems. The Transportation Department study is expected to include recommendations. In the meantime, Harrison says he'll add millions of dollars to his next budget request to begin raising or reinforcing vulnerable bridges and roads.
That money may be hard to come by. As chairman of the state senate's education budget committee, Pittman directed money to the University of Alabama in Huntsville to fund research by John Christy, a climate scientist who has testified before Congress denouncing claims of man-made climate change. Christy, who is also Alabama's official climatologist, says it isn't worth fretting over. "We count the tornadoes, we count hurricanes," he says. "None of those are increasing. Floods are not increasing." Governor Robert Bentley, who didn't respond to requests for comment, hasn't taken a strong position on climate change, allowing the majority of legislators who deny it's a problem to take the lead on the issue.
Alabama's politicians can question the existence of climate change, but they won't be able to avoid its effects, says Ben Raines, executive director of Weeks Bay Foundation, a conservation group in Baldwin County. "People here are already dealing with a more extreme climate and with sea levels that are on the rise inundating properties more and more frequently," he says, citing flash flooding and tornadoes that ravaged the state in April. Politicians "are just going to have to deal with it, whether they like to or not." Tropical storms in 2009 and 2011 caused extensive damage. Since then, shoreline erosion and flooding have intensified.
Global warming "scares the heck out of me," says Tricia Kerr, a 30-year resident of Dauphin Island. "The island doesn't drain very well," she says while working at the Sand Box, a gift shop she owns. "The island is saturated." The Transportation Department study says surges from future hurricanes will submerge "nearly all" of the barrier island, where residents reach houses on stilts by a single two-lane road a few feet above sea level. About 50 miles east, April flooding washed out roads in Perdido Beach. Mayor Patsy Parker, a member of President Obama's State, Local, and Tribal Leaders Task Force on Climate Preparedness and Resilience, says she's starting to believe climate change is causing weather anomalies in her community of 598 residents, including a recent rainfall that produced a tidal flood of about six feet. "We have to pay attention now," she says.
Like Harrison, Parker says the biggest challenge is persuading lawmakers to spend money to prepare. Harrison says he'll ask the legislature to consider fortifying an inland bridge that the Transportation Department study flagged as vulnerable. He takes a guess at their answer. "Are they going to spend the extra probably $10 million to improve that bridge?" he says. "I don't think so."
BOTTOM LINE -
The bottom line: Despite flooding, Alabama officials won't pay to fortify bridges, saying climate change is a hoax.
Before it's here, it's on the Bloomberg Terminal.
LEARN MORE