Modesty Is the New Abercrombie
The retailer tries to lure teens with less nudity and more black
by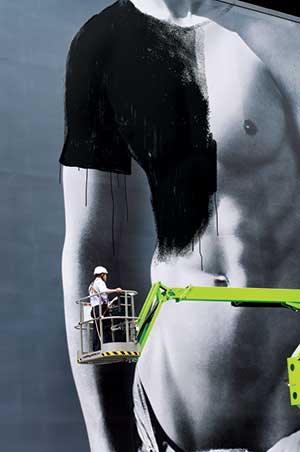 Subtlety has never been Abercrombie & Fitch's thing. It is corporate policy to spray perfume in stores. Scantily clad greeters stand out front beckoning passersby. Pop music blasts through the aisles, and the clothes are just as loud. The 1,006-store clothing chain hewed to this formula throughout 2013, a year when there was plenty of drama on the management side of the business. As sales dipped—along with those of much of the retail industry—and the stock price fell, hedge fund Engaged Capital pushed for the ouster of Abercrombie's longtime chairman and chief executive officer, Mike Jeffries.
Jeffries emerged from the storm still in control of the company, albeit without the chairman title and 72 percent of his compensation. But while he was distracted, something went missing from his stores: teens.
Teens, who spend $30 billion a year in the U.S., matter a lot to retailers. They love to shop, but how they do it has been changing. Malls, home to most of Abercrombie's U.S. stores, used to be a great place for teens to hang out. Now they're hanging out online, chatting with their pals on phones and laptops, the perfect perch from which to keep up with galloping changes in fashion trends.
Speed isn't a specialty at what the retail industry calls the three A's—teen apparel retailers Abercrombie, American Eagle Outfitters, and Aéropostale. The A's stuck with the same products, marketing, and store design for too long, and each saw sales decline in the last fiscal year, ended Feb. 1 for all three, after gains the year before. Abercrombie's sales fell 8.7 percent to $4.1 billion; American Eagle saw a decrease of 4.9 percent to $3.3 billion; and Aéropostale had a drop of 12.4 percent to $2.09 billion. The share prices of all three fell at least 30 percent in 2013, even as the Standard & Poor's 500 Retailing Index gained 44 percent. Sales are expected to continue to drop through the first half of this year, according to analyst estimates. Sales at American Eagle stores open at least a year and online sales declined 10 percent in the first quarter of this year, worse than the 7.8 percent drop analysts had estimated, and the company will close 150 stores over the next three years.
Benefiting from teens' fickle taste are so-called fast-fashion stores, including H&M and Forever 21, that specialize in quickly rotating merchandise and selling it at low prices. And online, retailers like JackThreads, which offers brand-name apparel and accessories at steep discounts, and Nasty Gal, which has a cult following on social media, are pulling teens away.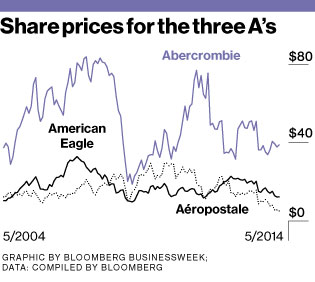 Jeffries, 69, is on a campaign to win teens back, part of a plan unveiled last November to bump up sales. Abercrombie "is targeted to its customer, its customer is changing, and we're ready to change with her and him," Jeffries says. In a bold shift, Abercrombie will cut the perfume spritzes by 25 percent. The clothes are going back on previously near-naked models. Trying to broaden its appeal, the company is introducing larger sizes, including a "classic fit" T-shirt for men that's looser than the brand's standard muscle shirt. The latest designs will feature a new color: black.
Abercrombie is also forming partnerships with other brands. A line of Keds sneakers for its younger-skewing Hollister stores comes in many of the brand's signature prints, including some with its seagull logo. "They're radical changes for Abercrombie, but for everybody else they're kind of retail 101," says Dorothy Lakner, a New York-based analyst at Topeka Capital Markets.
Lighting at Abercrombie and Hollister will be turned up, as the volume of the music comes down. The heavy shutters on the windows have been removed from 240 Abercrombie stores. At its headquarters in New Albany, Ohio, full-size models of stores are used to test layouts and displays before they're rolled out at its U.S. locations.
The company is cutting back on the number of those U.S. stores and looking to international growth in the next year. It closed 62 U.S. stores in its last fiscal year and plans to close as many as 70 more this year, but will open 16 locations abroad. Abercrombie has 163 stores in 20 countries outside the U.S., including China, Japan, and the United Arab Emirates. International sales at stores open at least a year fell 19 percent last fiscal year. The goal is for international sales to account for 50 percent of total sales, according to a March filing.
In the quarter ended on Feb. 1, 25 percent of Abercrombie's sales came from the Internet. More merchandise and better customer outreach will boost that number, says Billy May, group vice president for direct-to-consumer, digital, and customer marketing.
The retailer is turning to social media to update its image, working with fashion bloggers and teens with huge followings on Instagram to incorporate Abercrombie products into their posts. The company itself posts more than 300 times a week to social media sites. Craig Brommers, senior vice president for marketing, says the rate of customer engagement for Hollister—through likes, comments, or shares—has increased fourfold since January. "Today the science is increasingly, 'How do you stand out in someone's social media feed? How do you stand out in someone's endless aisle? How do you stand out in someone's saturated retail market?' " Brommers says.
The company is planning for a future after Jeffries. The retailer in December said it will hire two presidents to run the separate brands, a move that will free Jeffries to focus more on long-term strategy. "Right now, I'm just very consumed with … working with the board and this management team to execute against the company's long-range strategy," he says. "Success of the company over time is absolutely my primary motive today."
If Abercrombie can gain traction with new generations of teens, the turnaround effort could succeed, says Stephanie Wissink, an analyst at Piper Jaffray. But, she says, there's "still a lot of speculation" about whether the company can rebuild its customer base.
Analysts expect Abercrombie to keep cutting the number of stores if its efforts fail to catch on. The retailer could find itself a target for private equity, says Simeon Siegel, an analyst at Nomura Securities. "You have depressed margins, you have in theory a changing management team, and you have a lot of cash," Siegel says. "One thing we do know is it's really hard to kill a retailer."
Before it's here, it's on the Bloomberg Terminal.
LEARN MORE