Helsinki's Uber for Buses Is Stuck in First Gear
Finland's quasi-public Kutsuplus isn't nearing a profit
By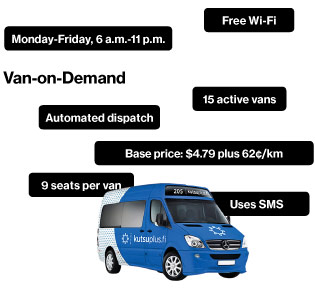 At a time when everyone wants to be the Uber of something, the public transportation authority in Helsinki, Finland, can lay a better claim than most. For more than a year, anyone with a smartphone has been able to hail a city-run van that will pick up passengers at the public bus stop of their choice and drop them off across town. Ajelo, a local tech startup, has developed the dispatch system, and the city manages the vehicles. That means Ajelo hasn't had to deal with the objections from local officials that Uber often faces, but the government's cooperation has brought its own frustrations.
Although ridesharing is nothing new, Helsinki's system, called Kutsuplus—Finnish for "call plus"—stands out for the scope of its ambition. Its fleet of vans roams the city while an algorithm fields calls that come in through an app. To add a new passenger, the system assesses which vehicles can handle it, then offers the passenger a choice of options within seconds. It also shows how long it would take to do the same trip using standard public transportation and offers the rider a call for a taxi.
Once the passenger makes a choice, the chosen van is given a new route to accommodate him. Routes are formed and reformed as the vans pick up riders along the way, a task too complicated for a human dispatcher to handle each time the phone rings. I just spent a week in Helsinki, and Kutsuplus trips were comparable to a cab in speed, and at about a quarter of the price. According to the city, only 1.1 percent of rides deliver passengers to their destinations more than 10 minutes after the estimated time. The vans also all have free Wi-Fi.
The Helsinki Regional Transport Authority, HSL, began running Kutsuplus in a private test in late 2012. The system opened to the public last spring. As with congestion pricing plans in London and Singapore, the goal is to get cars off the roads. With congestion pricing, drivers are charged if they enter the city's central business district. The shared buses are the carrot to that stick. "Instead of putting taxes to the driver, you offer something better," says Kari Rissanen, who runs the program for HSL.
In London, the mayor courted controversy by going whole hog on a congestion pricing plan despite significant opposition. Kutsuplus, by contrast, operates in relative obscurity almost two years after its initial test phase. Fifteen buses are running, and in total they handle 200 to 300 rides per day. Between trains, buses, trams, and ferries, Helsinki's public transportation provides about 1.2 million rides daily.
Teemu Sihvola, the founder of Ajelo, talks about the stubbornly small scale of his project with the exasperation of a man caught in traffic. "We need just one major city that is innovative enough to say, 'This is the system, and we are doing it,' like congestion pricing in London," he says. "It might be a missed opportunity in Helsinki."
HSL's plan is to have 100 vans operating by 2017, then as many as 2,000 by 2020. Rissanen says that on heavy days, Kutsuplus fares cover about 20 percent of the cost of the system, with the remaining 80 percent subsidized by the city budget. By his calculations, that ratio could be nearly reversed in four years, when 180 vans will be in operation. "If you did this right, I see no obstacle to this being profitable if we had 1,000 vehicles," says Rissanen. "This is still a pilot."
Rissanen's optimism aside, there do seem to be a number of obstacles. HSL has been loathe to promote the system heavily with so few vehicles on the road, which is clearly holding Kutsuplus back. While Uber's success is largely due to enthusiasm among affluent early adopters, many people in Helsinki's tech scene are only vaguely aware of Kutsuplus. The result is that the system ends up being more like Uber than it intended: The rides are supposed to be shared, but every time I used the service, I was the only person in the van. (Uber doesn't operate in Helsinki but is currently hiring in the city, hinting at a launch soon.)
Kutsuplus has a limited time to prove itself: The project is funded only through next fall. Ajelo feels it has proved its system works and is eager to ramp up faster. Sihvola seems hungry for validation, but the system's economics rely on scale. More vehicles would mean greater reach and quicker service, each of which would, in theory, lead to more riders. A van becomes more cost-effective as it fills up with paying passengers. "There are economies of scale when we have more vehicles in the system. That we haven't really proven in Kutsuplus," says Sihvola.
While Ajelo's business plan was always to serve both public and private clients, Sihvola says that the experience in Helsinki has focused the company increasingly on the private sector. Because HSL is a political entity, it has its own set of pressures and priorities. The authority asked Ajelo to build a system that allowed people to call for vans using SMS, because it was concerned about accessibility for people who don't have smartphones. The company did so grudgingly, even though it still has not built native apps for Android and iOS. About 3 percent of rides now originate from text messages.
Other potential features that intrigue Ajelo seem to be nonstarters. The company built its algorithms to allow clients to adjust to various goals. They could weigh convenience for the customers against the most efficient utilization of the fleet, decide to maximize revenue, or allow some drivers to opt out of driving to the airport. Experiments resembling Uber's surge pricing have not yet been explored.
Ajelo says it is now looking beyond Helsinki and is in talks with other potential clients it hopes to sign deals with before the end of the year. "Kutsuplus is how the technology is seen by HSL," says Sihvola. "But that is only one potential application."
Before it's here, it's on the Bloomberg Terminal.
LEARN MORE