Banamex Said to Snub Citigroup Oversight as Fraud Mounted
Dakin Campbell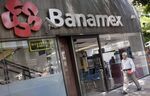 Efforts by Citigroup Inc. senior executives to tighten controls in Mexico were rebuffed by managers there for at least five years before the U.S. bank found the local unit had suffered a $400 million loan fraud last month, four people with direct knowledge of the matter said.
Employees at Grupo Financiero Banamex SA process some documents by hand instead of using modern information systems that make it easier to detect flawed loans, said another person. The people, who include current and former U.S. executives of Citigroup, requested anonymity because the matter isn't public.
Banamex, Mexico's second-largest lender, snubbed efforts to integrate systems with its New York-based parent and was slow to improve controls, technology and corporate governance, the four people said. The failures to act on requests from headquarters date from at least 2008 and created an atmosphere that may have allowed fraud to occur, one person said.
"We dispute assertions by anonymous sources peddling theories that the management team is somehow unaccountable or autonomous," Mark Costiglio, a Citigroup spokesman, said in an e-mailed statement, referring to the team in Mexico. "While Banamex is a subsidiary of Citi, it is absolutely subject to the same risk, control, anti-money laundering and technology standards and oversight which are required throughout the company."
Corporate Interference
Banamex, acquired in 2001, is the biggest unit in Citigroup's Latin America operations, which account for about 20 percent of total revenue. Profit at the subsidiary almost quintupled in the past decade, burnishing its reputation as well-managed and shielding the Mexico City-based bank from corporate interference, two former executives said.
The fraud allegations and a disclosure this week that Banamex USA received subpoenas in the U.S. related to money laundering now tarnish the unit's image. The probes also could put pressure on Citigroup co-President Manuel Medina-Mora, whose job includes oversight of Mexican operations, and Banamex Chief Executive Officer Javier Arrigunaga, 50.
Medina-Mora, 63, built his reputation as Banamex's chief from 1996 to 2004 and he's still chairman of the unit. Both men are on Citigroup's operating committee. The bank, ranked third by assets in the U.S., declined to make Medina-Mora and Arrigunaga available for interviews and they didn't respond to inquiries. Paulo Carreno, a Banamex spokesman, referred all inquiries to the press office in New York.
Public Disclosure
The Banamex affair became public on Feb. 28 when Citigroup reported that fraud on loans to a Mexican oil-services firm would cut last year's profit by $235 million. The discrepancy involved $585 million in loans to Oceanografia SA that were supposed to be backed by collateral, consisting of payments that Oceanografia expected from Petroleos Mexicanos, the state-owned oil producer known as Pemex. At least $400 million of the collateral can't be documented and more writedowns are possible, the bank said.
Invoices from Oceanografia processed by a bank employee were falsified to represent that Pemex had approved them, Citigroup CEO Michael Corbat said last week. The firm suspects at least one employee participated in the fraud, according to a person briefed on the lender's internal probe. Corbat, 53, called it a crime and vowed to punish those involved. The Mexican government seized Oceanografia.
Banamex operates Citigroup's biggest branch network with about 1,700 outlets, compared with fewer than 1,000 that its parent runs in the U.S.
New Director
Even as profit climbed at Banamex, managers in New York remained concerned that it lacked proper controls and governance, two people said. Top executives, including then-CEO Vikram Pandit, decided in mid-2012 to appoint people with stronger ties to the U.S. parent to Banamex's board, one person said. The failure to make that happen quickly highlights the limits of Citigroup's influence over the unit, the person said.
After Citigroup began investigating the loans to Oceanografia, Corbat announced in an internal memo last month that Citigroup Vice Chairman Michael Helfer would join the Banamex board. The memo said Helfer, 68, would retire from his Citigroup role this month.
"Hierarchies at a place like Citigroup only work to the extent personalities meld," said Thomas Obermaier, the bank's chief risk officer for global transaction services until 2009 and now CEO of a Pennsylvania consulting firm. The process must include "local respect and global respect going both ways," he said. Obermaier doesn't have direct knowledge of the situation at Banamex, he said.
Executive Fired
Citigroup's risk controls have raised questions from U.S. regulators in the past. "Reliance on manual processes that put additional pressures on controls is of particular concern," the Federal Reserve Bank of New York said in a 2008 review of the company, according to documents made public by the Financial Crisis Inquiry Commission.
Banamex managers cited local regulations, laws and cultural norms to explain why they didn't enact technology upgrades, one person said. One New York-based executive fired a Latin America subordinate about five years ago who couldn't get adequate information out of Banamex, according to a former manager with direct knowledge of the dismissal.
The unit's rising profit helped Medina-Mora climb the corporate ladder. After eight years as Banamex CEO, he was promoted to CEO for Latin America as well as Mexico. In 2008, he was named one of four regional consumer-banking heads with oversight of Latin America and became head of consumer banking for the Americas in 2010. He was appointed CEO for global consumer banking the following year and took on the additional title of co-president in January 2013.
Broadcasting, Tequila
Banamex's board includes directors who made fortunes in broadcast, mining and tequila. Among them are billionaire Emilio Azcarraga, 46, who controls Grupo Televisa SAB, Latin America's biggest broadcaster; German Larrea, 60, CEO of Grupo Mexico SAB, the world's seventh-largest copper producer; and Juan Beckmann, 74, CEO of tequila-maker Casa Cuervo SA. The honorary chairman is Alfredo Harp Helu, 69, a cousin of Carlos Slim Helu, the world's second-richest person.
Banamex could face fines if an investigation reveals that it lacked internal controls, Jaime Gonzalez, head of Mexico's securities and bank regulatory agency known as CNBV, said this week in an interview on Radio Formula.
The fraud disclosed last week isn't the first time Banamex was hurt by lax controls. The unit paid 1.3 million pesos, or about $100,000, for irregularities on account statements of products including credit cards during 2008 and 2009, according to a February 2010 posting on CNBV's website.
Faulty Procedures
In 2012, the Federal Deposit Insurance Corp. ordered Banamex USA to fix deficiencies in money-laundering controls. The following year the Federal Reserve said Citigroup "lacked effective systems of governance and internal controls to adequately oversee" subsidiaries with respect to money laundering.
Citigroup said this week that Banamex USA received grand jury and FDIC subpoenas citing the Bank Secrecy Act and federal anti-money-laundering requirements. The company is cooperating with authorities.
After the Fed's 2013 order, Molly Millerwise Meiners, a bank spokeswoman, said the lender had "made substantial progress" in strengthening its anti-money laundering controls and continued to "take the appropriate steps to address remaining requirements."
Human Element
Citigroup's Latin America operations also are among the last to begin integrating credit-card and retail systems with a common global platform, Medina-Mora said during a Nov. 12 investor conference, according to a transcript of his remarks.
"Implementation is well under way in Asia and in EMEA," he said, referring to Europe, the Middle East and Africa. "We have the front-end customer-facing implementation done in our North American branches, and we are preparing for Latin America."
Costiglio said Banamex is almost finished upgrading its automated teller machine technology and has started to move to Citigroup's global consumer banking platform, known as Rainbow.
Banamex must rely more on manual processes, according to one current Citigroup executive. The accounts-receivable department where the Oceanografia fraud happened is more dependent on humans to handle paperwork and check the validity of the hundreds of invoices used as collateral for loans, the executive said.
Accounts-receivable financing can and should be automated to prevent fraud, according to Brian Fox, a certified public accountant and founder of Confirmation.com, which helps lenders verify collateral.
"Receivables financing is over 100 years old," said Fox, who's based in Nashville, Tennessee. The best way to prevent fraud "is to have a technology process in place that your employees or the company you are lending money to can't circumvent."
Before it's here, it's on the Bloomberg Terminal.
LEARN MORE