Citigroup Reduces Profit for 2013 After Fraud at Mexico Unit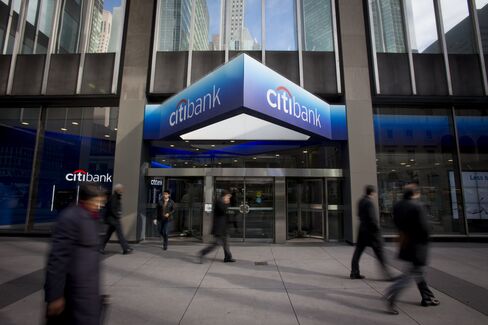 Citigroup Inc., the third-biggest U.S. lender, said it discovered fraud on loans to a Mexican oil-services company that forced the bank to lower last year's profit by $235 million.
The loans to Oceanografia SA were backed by payments from state-owned oil producer Petroleos Mexicanos, known as Pemex, Citigroup Chief Executive Officer Michael Corbat said in a memo to staff today. Invoices from Oceanografia processed by a bank employee were falsified to represent that Pemex had approved them, Corbat said, without explaining who was responsible. Citigroup suspects the employee participated in the fraud, according to a person briefed on the bank's internal probe.
"As much as $400 million was misappropriated throughout the course of the fraud," Corbat, 53, told employees of the New York-based bank. "The financial impact will lower our 2013 net income by approximately $235 million. The impact to our credibility is harder to calculate."
Citigroup, which operates in more than 100 countries and gets about 20 percent of revenue from Latin America, has stumbled in the region before. U.S. congressional investigators criticized the bank in 1998 for not questioning large money transfers by Raul Salinas de Gortari, the brother of Mexico's former president, and the bank suffered more than $2 billion in losses on Argentina's 2001 debt default. While Corbat has backed out of foreign markets with poor returns, he's focused on faster growth in nations including Mexico.
Compliance Breakdown
"It's really important that they get to the root of the problem here," Gerard Cassidy, an RBC Capital Markets analyst, said in a Bloomberg Radio interview. "They've got to make sure everyone has confidence that there's not a breakdown in their compliance area. That's the bigger issue."
Corbat said the situation was a "galling example" of what happens when employees fail to act with the highest ethical standards. The company believes it to be an "isolated incident," he said.
Mike Mayo, a bank analyst at CLSA Ltd., said that while the incident is a "black eye" for the bank, such losses were more common before Corbat took over in 2012.
"Last decade, for every $3 Citi made, they gave $1 back due to a risk mishap," Mayo said in an interview. "So under the prior period a mistake like this would be one of many, whereas under the current CEO, Mike Corbat, this type of instance is more unique."
Unverified Collateral
Mexico's anti-corruption agency banned Oceanografia on Feb. 11 from bidding on government contracts for 21 months after saying the Ciudad Del Carmen-based company violated agreements with Pemex. That prompted Citigroup to begin a review of its ties to Oceanografia, the bank said in a statement. After working with Pemex, Citigroup determined that only $185 million of the collateral backing $585 million of loans to Oceanografia could be verified, according to the statement.
The fraud allegations concern accounts-receivable financing, a common transaction used by manufacturers and other companies to get short-term cash. Typically, a bank lends money to the firm, which pledges the bills it has sent out to creditworthy customers as collateral.
Mexico Attorney General Jesus Murillo Karam said the country is taking control of Oceanografia to protect its operations and recoup any misappropriated funds.
Jorge Betancourt, head of investor relations for Oceanografia, said the company declined to comment.
Pemex Probe
The assets involved have been impounded, and "an investigation has begun," said a Pemex press official who asked not to be identified, citing company policy. The probe will cover more than 40 Oceanografia contracts with Pemex, the official said.
With the profit revisions, Citigroup's net income dropped to $13.7 billion for 2013, compared with the $13.9 billion previously reported. Tangible book value per share was $55.31, or 7 cents lower than initially reported, according to today's statement. The company said it will release a revised supplement with fourth-quarter financial data.
The $400 million shortfall will be charged to expenses in the transaction-services segment, according to the statement. The cost will be partly offset by taking back $40 million from variable compensation related to the Mexico unit, known as Banamex, the bank said.
The bank also has $33 million in loans to, or standby letters of credit issued on behalf of, Oceanografia, according to the statement. The lender is trying to determine whether any more of the funds involved are impaired and whether it can recover the losses, Citigroup said, adding that it's working with law-enforcement authorities in Mexico.
'Despicable Crime'
"There will be accountability for those who perpetrated this despicable crime and any employee who enabled it," Corbat said. "All will be held equally responsible and we will make sure that the punishment sends a crystal clear message about the consequences."
The losses come as regulators at the Federal Reserve conduct stress tests to determine whether the largest U.S. lenders can weather severe losses. If the Fed decides they can, the central bank will approve the capital plans that companies including Citigroup have submitted seeking permission to return capital to shareholders through share buybacks and dividends. The Fed will make its decision public in March.
Former CEO Vikram Pandit was ousted in October 2012 due in part to the Fed's decision earlier that year to reject his capital plan when the bank failed to meet minimum standards in a stress test. Corbat was named to replace him.
CEO Arrigunaga
Citigroup's Mexico unit, Banco Nacional de Mexico, or Banamex, is the nation's second-largest bank with almost 1,700 branches, according to its second-quarter securities filing. Javier Arrigunaga, a member of Citigroup's operating committee, is CEO for Grupo Financiero Banamex, the local holding company.
Oceanografia is requesting a 60-day extension to make a $19 million interest payment after a grace period expired Feb. 15, CEO Amado Yanez said earlier this month. The company, founded in 1968, hired Houlihan Lokey to oversee a restructuring of the 2015 bonds through a "collaborative process," Mike Niemann, a managing director at the law firm, said Feb. 24.
Citigroup fell 0.1 percent to $48.63 today in New York. The shares rose 16 percent in the past year, trailing the 28 percent advance of the 24-company KBW Bank Index.
Before it's here, it's on the Bloomberg Terminal.
LEARN MORE