Villa Baviera: Chile's Torture Colony Tourist Trap
In Chile, an isolated community once run by a Nazi named Paul Schäfer tries to remake itself as a German-themed resort
by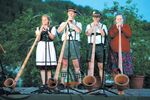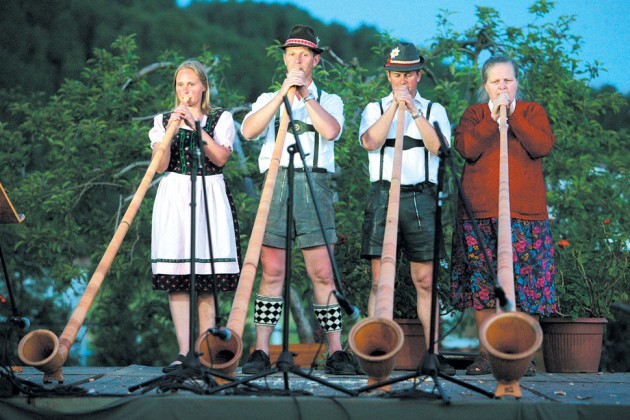 The easiest way to get to Villa Baviera, a resort in Chile's Andean foothills, starts with a four-hour train ride south from Santiago past small vineyards, villages of sun-faded stucco, and swaying windbreaks of Lombardy poplars. From the drowsy train station at Parral, you'll need to raise dust on about 12 more miles of loose gravel roads, one of which leads to a small guardhouse and a closed gate. My driver pulls up to the gate. A woman emerges from the guardhouse, checks my name on a list,and flashes him a smile. "They all know me," he says, "because every week I pick up a psychologist from Santiago at the train station and drive him here to work with the residents." I spot a lookout tower rising above the roadside trees. "That's from the old days," he explains. "To prevent escapees."

Not so long ago—before the construction of the luxury hotel, the Zippelhaus restaurant, the wedding tents, the playgrounds, the swimming pool, and the hot tubs—this 54-square-mile territory was known as Colonia Dignidad. Founded in 1961 by a group of German immigrants, the colony's publicized aim was to deliver Christian charity to the local communities who'd suffered through the strongest earthquake ever recorded, a magnitude 9.5 that killed more than 4,000 people. The colonists built their own hospital, staffed it with their own doctors, and provided free health care to thousands of Chileans. But the group's leader—a former Nazi nurse with a glass eye named Paul Schäfer—was fleeing a child molestation rap in West Germany. Safely ensconced in this remote alpine village, he spent the next three decades transforming the countryside, where pines and palms form unlikely alliances, into a place of terror. Schäfer controlled the 300 residents with absolute authority, railing against the corruption of the outside world. Children were separated from their parents and siblings and raised communally in groups of 6 to 15. Televisions, computers, and calendars were banned. Sex was forbidden without Schäfer's approval. If residents committed sins in thought or deed, they were required to confess them directly to Schäfer, who sometimes punished them with electric shocks.
In the 1970s, General Augusto Pinochet's military regime found Colonia Dignidad to be friendly territory, and Schäfer allowed the dictator's secret police to detain political dissidents on the property. Chile's National Commission for Truth and Reconciliation, which investigated the human-rights violations of Pinochet's government after he ceded power in 1990, concluded that an unknown number of political prisoners were tortured within the enclave and that some of the colony's residents participated in the abuses. Several witnesses, including a former military security agent, have testified that political executions were also carried out on the premises. Famed Nazi hunter Simon Wiesenthal was convinced that Josef Mengele, the "Angel of Death" who oversaw deranged medical experiments at Auschwitz, enjoyed temporary refuge in Colonia Dignidad before fleeing to Brazil, where he died under an assumed name in 1979.
In 1997 more than 300 Chilean police descended on Colonia Dignidad to apprehend Schäfer, who'd been accused of rampant child molestation by several former residents who had escaped. With the aid of the remaining colonists, Schäfer fled to Argentina. In 2005 he was caught and convicted of sexual abuse charges; he died in prison in 2010. Since then, more than 20 other colony elders have been convicted of aiding him in his abuses.
With so much historical baggage, the decision by the 120 or so remaining residents to bet their future on tourism might seem like an unlikely gamble at best, or, at worst, a tasteless exercise in amnesia. A few months after the 21-room Hotel Baviera was built in 2012, the families of Pinochet's victims posted pictures of disappeared relatives near the colony's gate. They also wrote a collective letter to President Sebastián Piñera, urging action: "How is it possible that the authorities in this country can treat the subject of tourism in the colony with so much moral turpitude? Why doesn't the German government propose a McDonald's at Auschwitz or Treblinka and make a concerted effort to help torturers and not their victims? Or are Chileans worth less than Poles, Russians, Jews, etc.?"
 
 
I ring the bell at the hotel's reception desk and check in for a three-day stay. In my room (flat-screen TV, Wi-Fi, rainfall showerhead), a collection of promotional materials full of pictures of blond-haired boys wearing lederhosen, men blowing alphorns, and dirndl-clad fräulein filling beer steins "guarantees tranquility" for tourists of all ages. "It hasn't been easy for the colony to reinvent itself, to regain its footing and face the future with confidence," a brochure states. "The past weighs heavily, and it's always knocking on the door of the new Villa Baviera."
The community's residents count themselves among Schäfer's victims. They say the tourism venture is an attempt to redeem a tainted landscape and transcend the unfavorable circumstances that fate dealt them. They embrace their German roots—so potentially sensitive, given Schäfer's Nazi past and the colony's ties to right-wing repression—as the resort's principal selling point.

Behind the hotel, on a man-made pond, a guest at the resort pedals a floating water bike and another skips stones from the bank. Children scramble over playground equipment and bounce on a giant, inflatable slide. A few hundred yards away, a path leads to the workshops that provided the residents with their livelihoods during the Schäfer years—a bakery, a dairy barn, a furniture workshop, and farm maintenance sheds. All those enterprises remain operational, but are unstaffed this weekend. Beyond the main compound lie fields of corn, oats, and wheat. Cows, horses, and alpaca graze in a meadow, which is backed by the jagged and snow-capped peaks of the Andes.
In the Zippelhaus restaurant, overhead lights are strung from deer antlers. About a dozen tourists eat sauerkraut and German sausages served by waitresses wearing lace-sleeved white shirts under black, square-cut dresses with red aprons. A mix of German classical, pop, and folk music drifts out of the mounted speakers.
A 37-year-old named Anna Schnellenkamp strides through the hall overseeing the lunch service. More than anyone else, she's responsible for opening the colony to the outside world. After Schäfer fled, a group of elders chose several younger residents to venture into Chilean society and study trades that might help the village survive. Schnellenkamp hoped she might be able to study nursing or pediatrics, but the choice wasn't hers. For more than a decade, the colony had operated a German-themed restaurant tent about two hours to the south, in a town called Bulnes, and the elders wanted to expand the business. Schnellenkamp was sent to study gastronomy at a college in Concepción. After earning her degree, she worked briefly at the Santiago Marriott Hotel. Around the time Schäfer was arrested in 2005, she returned to find a colony in crisis. Her friends greeted her in tears, telling her how desperate their lives had become. "They told me, 'You were able to leave, and we weren't, so things stayed exactly the same for us,' " she recalls. "So I said that if I ever had the chance to come back and help them, I would do it."
She reunited with her mother and father in the colony, forging a familial bond that had been prohibited during Schäfer's reign. "When the system changed, my mother, especially, did all she could to be with us and reclaim the family life she'd lost during all those years," Schnellenkamp says. Openness, it seemed to her, was the key to rising above the past. With the support of her mother and father, she organized a party in 2007 honoring Chile's independence day, opening the colony's gates to outsiders who wanted to celebrate with them. About 100 people showed up, enough of a turnout for Schnellenkamp to decide she would dedicate herself to transforming the colony into a tourist destination.

She marketed the scenic landscape and large tents as an ideal venue for catered events such as weddings. At first the occasional influx of visitors shocked many of the residents, who weren't accustomed to outsiders. "At the weddings, for example, there would sometimes be celebrations with cumbia music, which the residents considered atrocious," Schnellenkamp recalls. "They'd say, 'These people are bringing hell to us!' " Community resistance remained strong until 2009, when she helped organize the first Oktoberfest, which attracted hundreds of visitors from all over Chile and generated thousands of dollars in revenue. Shortly after, the residents of Villa Baviera took a vote to decide if tourism should be a priority; about 80 percent approved.
The hotel has been about 40 percent full on average since it was completed in May 2012, according to Santiago Fernandez, the colony's tourism director. During my visit, the hotel attracted about 15 guests each night, almost all from Chile. They line up at the breakfast buffet in the mornings and lounge by the pool in the afternoons. Some ride old-fashioned German bikes along the dirt roads; others hike the wooded hills.

Most of the clientele seem to be couples seeking a romantic getaway for a few days. Oscar Torres Rivera, 52, sips a Pilsener at a table in the Zippelhaus next to his girlfriend, Sulay Smith Bueno. She's from Bogotá, Colombia, and Rivera, who lives in Santiago, wanted to introduce her to Chile's countryside. He picked Villa Baviera after seeing a Groupon deal for a three-day package, complete with free use of the hot tubs. "In the cities, we're never in contact with nature," he explains.
"And it's so pretty here," Bueno adds. "This place invites you to fall in love with it." Rivera is familiar with the colony's past, but the intrusions of history aren't strong enough to ruin his vacation. "The people are so cordial," he says. "So gentle."
At sunset, when the mountains are reflected in a perfect inversion on the pond, it's possible to momentarily forget the colony's sinister associations and embrace the haven that residents like Schnellenkamp so desperately want it to become. She says her top priority for 2014 is to acknowledge the human-rights abuses that occurred there. Someday, she says, she hopes an onsite museum will honor the victims.
On the second day, I visit the "panoramic exercise room" in the old building connected to the hotel. It's a sunny space that houses stationary bikes and weight benches—and was once a central lookout station where Schäfer's security forces monitored the residents from on high. A fire pole, which they could rapidly descend to respond to any crisis, remains behind a wooden door.
Such disagreeable intrusions of history must be familiar to Schnellenkamp. One afternoon early last year, six of the colony's elderly male residents were handcuffed by Chilean authorities, outfitted in yellow bulletproof vests, and escorted to prison. One of the men was Kurt Schnellenkamp, Anna's 86-year-old father, who was once Schäfer's head of security. He's now serving a five-year prison sentence for complicity in crimes that included sexual abuse and child rape.
 
 
The limitations Schäfer put on sex and marriage resulted in a generational imbalance. There are lots of elderly residents and children younger than 15, born after Schäfer left and marriages were finally allowed, but very few adults from the ages of 20 to 50.

Walking through the residential zone, a cluster of one-story housing units that resembles a small and aging public housing project, Erika Tymm recounts her life in the colony. She arrived at age 2 with her parents in 1961, and her youth is a raw memory. She and the other children were forced to pick up rocks in the fields from sunup to sundown. If any of them misbehaved, she said, they might disappear for several days of corrective discipline. After Schäfer fled, she married another resident who'd come to the colony as a child on the same boat from Germany. "My husband underwent electroshock four times," she says.
Now her husband is in prison, another of the men convicted of helping Schäfer abduct the children he sexually abused. She maintains that her husband is innocent—a victim, like everyone who grew up here. "It brings tears to my eyes to think about our childhoods," she says. "My husband was the only person in the world I could talk to about this sort of thing. Now I see a specialist."
Another resident, Rudiger Schmidtke, struggles to convey the shock of discovering that Schäfer, a man he had idolized, had been so villainous. "For a lot of people, me included, we almost took our own lives," he says. "We had told him our most intimate thoughts. It was difficult to believe."
Schmidtke, 58, shows me a promotional DVD produced in 1994, before Schäfer fled. It painted the colony as a utopia of selfless goodwill and thriving agricultural enterprises. There's an awkward nostalgia in Schmidtke. He seems to still believe in the ideal the DVD was trying to sell. Later, over a locally brewed bock beer in the Zippelhaus, he says the stories of dissidents disappearing in Colonia Dignidad are fictions. The colony, he says, has been unfairly targeted by the left-leaning governments that followed Pinochet.
When others approach our table, he lowers his voice and avoids eye contact with them. His demeanor is puzzling, though I'd seen similarly furtive reactions from other residents. A conversation with Markus Hermann Blanck, who oversees the community's agriculture enterprises, helps explain the cautious atmosphere.
Like Anna Schnellenkamp, Blanck was picked by the colony elders to attend college. When he enrolled in the University of Concepción as a 29-year-old freshman in 2003, he had never seen a television program. A few times as a boy, he had visited the colony's restaurant tent in Bulnes, but every time his bus passed a populated area, the elders pulled the curtains shut. At school, he roomed with another resident of the colony. "We were obliged to spy and inform on each other," he says. "For example, if you went to a party or had a beer or something. Things are different here now, but sometimes you can still feel a bit of that shadow."

Blanck married another resident in 2004 and now has four children, including a 3-month-old baby. With his neatly parted hair, green polo shirt, and new-looking Wrangler jeans, he's the picture of normality; he could easily be mistaken for a successful American suburbanite. As he eats his dinner in the Zippelhaus, he tends to his 7-year-old daughter, who wears a pink Barbie T-shirt, and his 9-year-old son, whom he mildly reprimands for dribbling a soccer ball through the dining room. "These children have lives that are so different from ours," he says. "They study in schools outside. They have all the freedoms. They don't feel isolated like we did."
Those differences have planted doubts in his head about the prospects for the tourism project. The business model accepts the residents' historical circumstances—their German customs, their communal way of life. The children don't share those circumstances. They've grown up with computers. They have DirecTV. They speak with each other in Spanish and mingle with outsiders. No one will dictate what they can or cannot do.
"When they go away to study," Blanck asks, "how many of them, really, will come back?"
Before it's here, it's on the Bloomberg Terminal.
LEARN MORE