Promises, Promises
A Handy Guide To Tesla's Guidance
Its latest production shortfall joins a string of blown targets, and investors have noticed.
By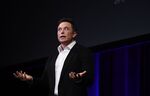 TESLA INC
-7.72
At Closing, May 18th
Tesla just missed its Model 3 output target (again).
Getting that production line cranked up -- sustainably -- is critical. But it's just one of many targets Tesla Inc. has set over the years, in part to attract periodic doses of financing. Keeping everyone excited matters: Worries about the Model 3 clearly fed into the recent sell-off in Tesla's shares and bonds.
So how have Tesla's targets fared in general? I went back through the past three year-end shareholder letters and counted up 36 objectives in their outlook sections, falling into three buckets: Financial, Operations and Sales.
Judging fulfillment is naturally a bit subjective, but seven were met unambiguously. On another six, I surmise Tesla kinda got there. The single biggest group is the 12 misses (including those Model 3 targets). The jury's still out on another 11. Here's a summary:

The details matter, so I've laid them out below, starting with the year-end 2015 letter.
2015 shareholder letter (published February 10, 2016):
Financial
"We expect to generate positive net cash flow and achieve non-GAAP profitability for the full-year 2016."

Tesla generated positive "cash flow from core operations," but that proprietary figure includes collateralized lease borrowing -- so Kinda, at best. Meanwhile, Tesla made non-GAAP operating losses, so No.

"Our cash balance at the end of 2016 should increase from the year end 2015 level."
"We plan to fund about $1.5 billion in capital expenditures without accessing any outside capital other than our existing sources that support our leasing and finished goods inventory."

Tesla spent $1.3 billion, within budget, but also: that $1.7 billion of new equity. Again, Kinda.

"Automotive gross margin should continue to increase ... By year-end, Model S gross margin should begin to approach 30% and Model X gross margin should be about 25%."

Margin did increase by the end of 2016, so Yes; but, overall, it was 25.2 percent for 2016 and 22.6 percent for the fourth quarter, so it looks like No on the other two.

"Q1 operating expenses should increase just slightly from Q4 ... for the full year total operating expenses should increase by about 20%."

Up 4.5 percent in 1Q 2016, so Yes; but up 38 percent for the year, so No.
Operations
"We plan to invest in equipment to support cell production at the Gigafactory, begin installation of Model 3 vehicle production machinery, open about 80 retail locations and service centers, and energize about 300 new Supercharger locations."

The Gigafactory started making batteries (Yes); production-line layouts were completed for the Model 3 (Yes); 55 retail locations were opened (No); 208 Supercharger locations opened (No).
Sales
"In Q1, we plan to grow deliveries 60% year on year ... and we plan to directly lease about the same percentage of cars as we did in Q4."

Deliveries were up 48 percent, so No. Leases were 9.5 percent of deliveries in 1Q 2016, up from 5 percent (so Kinda).

"We plan to deliver 80,000 to 90,000 new Model S and Model X vehicles in 2016."

Delivered about 76,000; close, but No.

"We expect our average vehicle transaction price to increase slightly during 2016."

Up 6.1 percent, mainly due to arrival of the Model X, so Yes.
2016 shareholder letter (published February 22, 2017):
Financial
"As for our energy generation and storage business ... We are on track to generate $500 [million] in cash (including growth of non-recourse project financing) by 2019 and achieve the cost synergies we committed to upon acquiring SolarCity. Specifically, we plan to reduce customer acquisition costs."

All three of these are Unknown to a large degree. The cash target pertains to 2019. Annual cost synergies from the SolarCity deal were put at $150 million, but they're tough to unpack in consolidated numbers. Meanwhile, Tesla has shifted away from leasing solar systems, but there are no details on unit costs.

" Both GAAP and non-GAAP automotive gross margin should recover in Q1 to Q3 2016 levels and then continue to expand in Q2 2017."

Non-GAAP margin recovered, but the GAAP measure didn't in 1Q 2017; vice-versa for 2Q 2017. Half-achieved, so Kinda.

"We expect to invest between $2 billion and $2.5 billion in capital expenditures ahead of the start of Model 3 production."

Invested $1.5 billion in the first half of 2017, and the target was updated in August to $2 billion in the second half; so No.
Operations
" The Model 3 and solar roof launches are on track for the second half of the year."

These two depend on how one defines the success of the launch relative to expectations.
The Model 3 did launch in July 2017. But earlier expectations of 100,000 to 200,000 units in the second half of 2017 gave way to guidance of 5,000 a week by the end of December, which Tesla also missed by a lot amid "production hell". It remains behind even its revised schedule. So, on balance, No. 
Again, the solar roof did launch, with some employees getting installations in 2Q 2017. By November's earnings call, however, Elon Musk said the solar tiles were undergoing a "validation process," and in Tesla's 2017 10-K -- filed February 2018 -- it says "installations will initially ramp slowly in the first half of 2018." Going with No.
Sales
"We expect to deliver 47,000 to 50,000 Model S and Model X vehicles combined in the first half of 2017."

Delivered about 47,100, so Yes.
2017 shareholder letter (published February 7, 2018):
I counted 10 objectives in the outlook section. By definition, most of these -- eight -- are Unknown because we're only about three months into the year. Five of these are:
"We expect energy storage products to experience significant growth, with our aim to at least triple our sales this year. We expect energy generation and storage gross margin to improve significantly."

Margin was 22 percent in 2017.

"Capital expenditures in 2018 are projected to be slightly more than 2017."

Capex was $3.4 billion in 2017.

"We expect Model S and Model X deliveries to be approximately 100,000 in total ... As our sales network continues to expand to new markets in 2018, we believe orders should continue to grow."

The deliveries target is roughly flat with 2017's total, but they fell 13 percent in the first quarter, year over year.
One target -- "Superchargers will start generating revenue in 2018" -- is a Yes by default, as Tesla is now charging a fee to some drivers.
But we already have an unequivocal No on the target du jour: hitting 2,500 Model 3s a week by the end of March -- with implications for three others:
"Quarterly operating income should turn sustainably positive at some point in 2018."
"We continue to target a weekly Model 3 production rate of ... 5,000 by the end of Q2. Also, we are focused on achieving our target of 25% gross margin for Model 3." 
"This is the year when we believe we can achieve true cost parity - producing a premium EV [electric vehicle] like the Model 3 will be no more expensive than producing an ICE [internal combustion engine] vehicle.
All of these rest on raising Model 3 output to levels where it generates significant revenue and defrays fixed costs.
Showing success on this front is also essential to raising capital, even if Tesla says it doesn't need to this year. Until recently, the patchy record on meeting guidance didn't seem to make a difference to either shareholders or bondholders. Suddenly, getting to Yes -- or even Kinda -- more often, matters.
-- "Tesla Target Tally" graphic by Elaine He
To contact the editor responsible for this story:
Mark Gongloff at mgongloff1@bloomberg.net
Before it's here, it's on the Bloomberg Terminal.
LEARN MORE