A Capita Idea
Britain's Private Army Takes a Fearsome Kicking
The pioneering model of outsourcing public services is under severe strain, as these charts show.
By and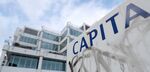 CAPITA PLC
-0.50
At Closing, June 21st
G4S PLC
-3.80
At Closing, June 21st
Getting private companies to run public services was a big Margaret Thatcher idea back in the 1980s, a mission embraced by her eventual successor as U.K. Prime Minister Tony Blair. It led to the rise of British outsourcing titans such as Capita Plc, Serco Group Plc and G4S Plc, which manage facilities ranging from prisons and Royal Air Force bases to leisure centers and car parks.
You wouldn't call them giants now. After sector scandals a few years back that included billing taxpayers for keeping track of dead offenders, we've moved on to agonizing about the companies' finances as Britain's austerity drive squeezes how much they can make from contracts. Carillion Plc's collapse and this week's monster profit warning from Capita show the danger.
There are differences in the health of these companies, of course, and how they operate. G4S is doing better than its peers. But the picture of their profit margins is largely similar, as this chart shows (even if that's only really started weighing on generous dividend payouts recently):

The mushrooming of debt relative to earnings at some firms adds to the sense of fragility:

On the balance sheet, people are taking action. Hence this week's "kitchen-sinking" by Capita's new broom CEO. Yet even if his rescue act goes well, what next? Serco boss Rupert Soames -- Winston Churchill's grandson, no less -- had perhaps an even bigger task saving that company from crisis in 2014. But its market value still languishes below one billion pounds ($1.4 billion) as it waits in hope of a proper recovery.
Having to deal with a Brexit-paralyzed British government isn't helping the outsourcing crowd. If left-wing Labour leader Jeremy Corbyn wins power on his stridently anti-privatization platform, then all bets are off.
To contact the editor responsible for this story:
Edward Evans at eevans3@bloomberg.net
Before it's here, it's on the Bloomberg Terminal.
LEARN MORE