Capita
Corbyn's Corporate Enemies Are Making His Life Too Easy
It's good that Capita is taking radical steps to fix itself, but the rot is deep among Britain's contractors.
By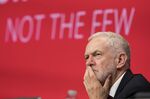 CAPITA PLC
+8.55
At Closing, February 22nd
Anyone would be forgiven for seeing similarities between British outsourcing firm Capita Plc -- whose share price has fallen 80 percent since 2016 -- and its sorry peers. After a string of profit warnings and the collapse of Carillion Plc, the once mighty U.K. support services sector has become a laughing stock and a political nightmare.
But Capita is different, apparently. "We should not be compared to the 'G4Ss and Interserves' of the world," its newly appointed CEO Jon Lewis told analysts. "We are not a blue collar firm, we are a tech-enabled, digitally focused company."
However you care to describe it, Capita is in trouble. It has taken the arrival of new management to say what's been obvious to financial markets for some time. It is too indebted relative to its earnings power, with total borrowings twice what they were in 2011. It isn't generating enough cash. Lewis has wisely announced a "kitchen-sinking", combining a profit warning, dividend suspension, asset sales and rights issue all in one go.
This is probably the right approach, considering previous efforts at more layoffs, more offshoring and more automation were just setting up Capita for a long painful grind, without really addressing the underlying balance-sheet problems. The company trades at a steep price-to-earnings discount to the sector, but if you take debt into account, its enterprise value is a pricey 17 times Ebitda.
It's still going to be a struggle to get the company back on track, and all against the most unfriendly of backdrops. Tech-enabled or not, Capita's mission is to deliver savings to public and private sector customers. That's hard in a world where governments are tightening belts to suffocation levels, and where automation is putting downward pressure on the prices you can charge.
The rot is deep. The charge sheet read out by Lewis is common in this industry: Years of under-investment, aggressive expansion and ever more complicated projects. An obsession with short-term incentives at the expense of the balance sheet and long-term growth is another feature. Capita has a leading position in its markets, but that means nothing without adequate execution and quality.
Nor is this happening in an ideological vacuum. Jeremy Corbyn, the popular leftwing leader of the opposition Labour party, is sure to seize on another chance to attack the "costly racket" of outsourcing public services -- a model so warmly embraced by his predecessors Tony Blair and Gordon Brown. And he's right to say that an infatuation with saving money for the taxpayer has led to self-harm, such as dangerously low contract bids and the transfer of risk to firms with fragile financing.
While you might disagree about whether re-nationalizing contracts is a prudent alternative, the abject mess among the outsourcers makes it increasingly difficult to argue the privatizers' case.
Capita deserves a chance to turn itself around under its new leader. But even if it succeeds, it could find its home country is a very different place to do business. And that's not even counting Brexit.
To contact the editor responsible for this story:
James Boxell at jboxell@bloomberg.net
Before it's here, it's on the Bloomberg Terminal.
LEARN MORE