Playing Lowball
Novo Nordisk's Deal Discipline Is Behind the Times
By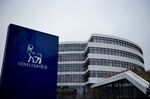 NOVO NORDISK A/S-B
+10.65
At Closing, June 21st
SANOFI
-0.60
At Closing, June 21st
If Novo Nordisk A/S is bargain-hunting, its timing is bad. 
Sanofi on Monday said it would pay $4.8 billion to buy Belgian biotech Ablynx NV, outbidding Novo Nordisk so badly that the Danish pharma giant scrapped plans to raise a lowball $3.1 billion initial bid and conceded defeat. 
Costly acquisitions and optimistic guidance about the effects of new U.S. tax laws have boosted the Nasdaq Biotech Index to its highest point since September 2015. It's just 10 percent from an all-time high. Any biotech with a sliver of buyout hope is trading at a premium. If there are any bargains left in this market, it will take a lot of hunting to find them.
The 91 percent premium Celgene Corp. paid for cell-therapy drugmaker Juno Therapeutics Inc. is one of the largest in recent history for a U.S. deal of its size. Sanofi went even bigger. Its Ablynx deal represents a 112 percent premium to the target's unaffected share price and a 48 percent premium to Novo Nordisk's bid.
Both Celgene and Sanofi have suggested they're not done dealing yet. Tax rates are getting lower and overseas cash has been set free. And other obvious potential acquirers such as Amgen Inc., Pfizer Inc. and Biogen Inc. have yet to jump into the market. Now that potential targets have seen Ablynx lever a low initial offer into a much higher bid within a few weeks, it may routinely take elevated premiums to get deals done. 
The deal flood may not continue; M&A activity largely puttered out in 2017 after a hot start, and Celgene and Sanofi are particularly motivated buyers. But there's enough optimism sloshing around to keep valuations high. 
Ablynx is the sort of company that likely commands an extra-high premium only in a buoyant market. The FDA may approve its first medicine, for a rare blood disorder, later this year. But Sanofi's deal will only likely pay off if Ablynx's camel-blood-derived "nanobody" drug platform can generate multiple treatments. Deals for such relatively unproven research "platforms" have a spotty track record. Celgene's Juno deal -- which was all about becoming a big player in cell therapies -- also has a whiff of platform pay-up. 
Novo Nordisk deserves credit for its discipline; being on the right side of a bidding war is often a mixed blessing. The company didn't get to more than $17 billion in anticipated 2017 revenue with only nominal debt by being profligate.
But Novo Nordisk's prudence may keep shutting it out of the M&A market; it has spent less on deals and licensed fewer drugs than any of its peers over the past 7 years. Its internal R&D has been productive. But the firm depends heavily on drugs that treat diabetes and hemophilia, both fiercely competitive treatment areas. 
A Novo Nordisk representative said Monday that it's still looking for other blood-disease deals. But it and others in the dry-powder club may regret waiting to test the market. Less than a month into 2018, deal volume is already at more than a quarter of 2017's total.
And nothing is going to come cheap at current valuations. 
Novo Nordisk likely doesn't want to be seen as overpaying. But it may have no choice, if it doesn't want to come home empty-handed. Its low Ablynx bid prompted Sanofi's counter-offer and may have signaled to other targets that it will always occupy the low end of the bid spectrum.
At the very least, Novo Nordisk has learned that the time to be opportunistic is during a downturn rather than a nascent biotech bull run. 
To contact the editor responsible for this story:
Mark Gongloff at mgongloff1@bloomberg.net
Before it's here, it's on the Bloomberg Terminal.
LEARN MORE