Novo Nordisk
In Drug Deals, $3.1 Billion Isn't Exactly Full-Blooded
Novo Nordisk risks getting sucked into an auction for Ablynx.
By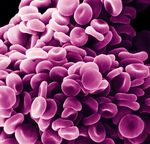 NOVO NORDISK A/S-B
+3.45
At Closing, April 24th
ABLYNX NV
+0.06
At Closing, April 24th
Novo Nordisk A/S has a fight on its hands to fulfill its ambition to buy Belgian biotech Ablynx NV. A deal would make sense for the Danish pharmaceuticals group, but Ablynx's defenses are strong and the target is rightly demanding that Novo pays more than the $3.1 billion it is dangling.
Ablynx, which listed in 2007, had a breakthrough in October with favorable late-stage trial data for caplacizumab, a treatment for the rare bleeding disorder Acquired Thrombotic Thrombocytopenic Purpura. The next step for Ablynx is to secure regulatory approval for capla, and then bring it to market.
A sales and distribution partnership with a major pharma company would make sense. Novo would be a natural choice thanks to its global haematology franchise. The Danish company has the infrastructure and expertise to obtain approvals across multiple countries in emerging markets. Add in existing sales and distribution teams and it could help capla enjoy more revenue, faster. Hence the unsolicited proposal made public on Monday.
A reasonable forecast for capla's peak sales would be about $400 million (334 million euros). Given blood drugs usually offer high margins, Novo could expect at least half of that to drop to the bottom line if it owned the treatment.
That already makes its offer, adjusting for Ablynx's small net cash position, look pretty ungenerous -- never mind the touted 60 percent premium to the target's share price before Novo's initial approach last month. Add Ablynx's small drug pipeline and attractive R&D operation and it's clear Novo can justify paying more.
The Ablynx defenses look robust too. While a partner would accelerate capla's commercialization, the company could plausibly argue that it can bring the treatment to market by itself. Rare diseases don't need the same large-scale infrastructure as more common illnesses. It has partnerships already with a host of big pharmaceutical groups, one of which might also be interested in a takeover.
The risk for Novo is that revealing its hand and trying to coax Ablynx into talks merely pushes its target into the friendly embrace of a rival. It's hard to see Novo ever being able buy Ablynx on the cheap. But its bear hug tactics risk sucking it into an auction.
To contact the editor responsible for this story:
James Boxell at jboxell@bloomberg.net
Before it's here, it's on the Bloomberg Terminal.
LEARN MORE