Broken Toys
Hasbro and Mattel Have the Tools for a Comeback
The Toys 'R' Us bankruptcy and a box-office slump are hurting -- but the toymakers have fixes.
By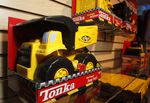 HASBRO INC
+0.16
At Closing, February 23th
While much of the retail industry is still basking in the glow of strong holiday sales, two big names in the toy business -- Hasbro Inc. and Mattel Inc. -- probably aren't feeling the joy.
One of their key partners, Toys "R" Us Inc., announced in September it was filing for bankruptcy; it likely struggled to execute on its holiday plans. The third-quarter results the big-box store reported in December didn't inspire much confidence about its Christmas sales.
Meanwhile, Bloomberg News reported this week that sales of Star Wars toys fell in 2017 compared to the previous year, even as a new movie in the franchise hit theaters in December. That is certainly concerning for Hasbro, which holds a key license for Star Wars toys. But it also suggests movie-based toys more broadly may not be quite as bankable as they once were. That could mean trouble for Mattel, which is peddling toys tied to "Cars 3" and "Justice League."
All of this undoubtedly makes for a tough moment for these titans of toymaking, which I suspect will be evident when they report quarterly earnings in the coming weeks. But here's the good news: Both companies had already started reshaping their businesses to address exactly these kinds of problems -- even if they weren't expecting them to hit so acutely and so quickly.
Take the toys with movie tie-ins, for example. This year was a surprisingly lousy one at the box office, with no shortage of high-profile flops and with movie-theater attendance at its lowest in 25 years. Surely that made it harder to sell film-related toys.
But as the chart above shows, movie-theater attendance has been trending downward for quite a while now as Netflix, Hulu, YouTube and other digital services suck up more of our leisure time.
Hasbro and Mattel aren't exactly walking away from the movies, with a new film based on a Transformers character coming this year and a Barbie feature film in the works. 
Still, as Mattel CEO Margot Georgiadis made clear at the company's investor presentation last year, one of her top priorities is adapting to a world in which the smartphone, not the silver screen, is the center of the entertainment and play universe. 
Mattel is producing more original digital content, including YouTube programming for the Barbie and Hot Wheels brands. It struck a deal with Amazon.com Inc. in 2016 to make live-action Prime Video specials based on its American Girl dolls. And the company has hired someone to boost its presence in digital gaming. 
Hasbro, too, has been taking steps in this direction. The company says it has invested $535 million in digital content since 2010, driving an estimated $1 billion in incremental sales. 
So what, then, about the Toys "R" Us bankruptcy and the related store closures Bloomberg News has reported the retailer is considering? I'd say this is a curveball for Hasbro and Mattel -- but not a wild pitch.
The toy giants have long known their key partner was besieged and have been preparing for its dwindling relevance. Both have been selling directly to consumers online and nurturing relationships with Amazon and Alibaba. 
Mattel has even said the rise of e-commerce is shaping its product-development process, thinking about how toys will catch customers' eye on a screen instead of just how enticing they'll look on a store shelf. 
Hasbro and Mattel undoubtedly have serious challenges to confront. As Gillian Tan and I have written, they'd likely be better off joining forces and tackling them together. But deal or no deal, at least they have already begun laying groundwork for change.
To contact the editor responsible for this story:
Mark Gongloff at mgongloff1@bloomberg.net
Before it's here, it's on the Bloomberg Terminal.
LEARN MORE