Natural Selection
Darwinism Will Fix the Investment Industry
The FCA's "all-in fee" is welcome, but competition with ETFs is where the real price pressure comes.
By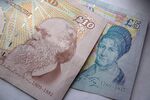 The Financial Conduct Authority concluded its two-year investigation into the U.K. asset management industry by ordering investment firms to provide customers with an "all-in fee." It's a welcome attempt to eliminate the hidden costs that undermine people's efforts to save for their old age. Far more effective than an increase in regulation, however, is the financial Darwinism already wreaking change on the industry.
The FCA move, announced Wednesday, obliges fund managers to tell investors how much they charge for managing assets, as well as how much is paid to intermediaries and an estimate of transaction costs. While knowing what the fees are is clearly important, achieving lower fees is even more essential to delivering better returns that will let pensioners retire comfortably.
British fund managers oversee almost 7 trillion pounds ($9 trillion) of assets, including more than 1 trillion pounds for U.K. retail investors and about 3 trillion pounds for institutional investors including pension funds. Almost three-quarters of the money is invested in active funds, which charge an average fee of 0.9 percent of assets under management, compared with just 0.15 percent levied on passive funds.
As things stand, customers aren't getting value for money from active funds, according to the FCA. "There is no clear relationship between charges and the gross performance of retail active funds in the U.K.," it said. "There is some evidence of a negative relationship between net returns and charges. This suggests that when choosing between active funds, investors paying higher prices for funds, on average, achieve worse performance."
The FCA calculates that, after fees, a typical low-cost passive fund would deliver almost 25 percent more in returns than an active fund over a 20-year investment horizon, assuming it matched the performance of the benchmark U.K. FTSE All-Share index. Once transaction costs are included, that outperformance of passive versus active investment soars to almost 45 percent.
Yet the growth of passive funds is already driving fees down across the industry -- and there's more to come. A survey published this week by State Street Corp. showed the vast majority of industry players expect more downward pressure on fees in coming years.
As a result, 76 percent of the funds surveyed anticipate more consolidation in the industry, as my Bloomberg News colleague Sarah Jones reported earlier this week. Mergers and acquisitions are seen as an "essential strategy" for survival, especially for smaller managers, the State Street survey showed.
Aberdeen Asset Management Plc, for example, is merging with Standard Life Plc to create the U.K.'s biggest active fund manager. Aberdeen suffered about $85 billion of net outflows in the past two years, and it has seen a drop in the fees it can charge.
In its interim report in November, the FCA highlighted that asset managers "have consistently earned substantial profits" in recent years, with an average profit margin of about 36 percent since the start of the decade. Little wonder, then, that U.K. fund management firms have outperformed the broader stock market since the financial crisis.
Those days of outperformance may be drawing to a close, and not just because of increased regulatory scrutiny. The rise of cheap exchange-traded funds continues apace; active funds will have to fight harder for market share, by lowering fees as well as proving to investors that they really can outperform their benchmarks on a consistent basis. Darwinism, not tighter rules, will produce a healthier asset management industry.
To contact the editor responsible for this story:
James Boxell at jboxell@bloomberg.net
Before it's here, it's on the Bloomberg Terminal.
LEARN MORE