U.K. Asset Managers Face Sweeping Shake Up of Fee Charges
By and
Hedge funds may face further review from British regulator

FCA cites conflicts of interest for investment consultants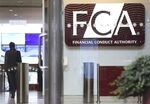 The U.K. regulator is cracking down on the 7 trillion-pound ($9 trillion) asset management industry to help weed out overcharging in a sweeping reform that goes further than onerous upcoming European regulations.
The Financial Conduct Authority said Wednesday it was backing a single "all-in-fee" for investors that includes asset-management charges, an estimate of transaction costs and intermediary fees to combat overcharging. The proposals are broader than European Union rules that are scheduled to take effect next year.
This is "the most significant review of its kind by the FCA. This is not a 'do nothing' report," Simon Turner, a partner in wealth and asset management at consultant EY, said by email. The reforms will "improve investor protection."
Interim findings published by the regulator in November found weak price competition was leading to investors paying higher fees and charges that weren't justified by returns. The changes have been met with resistance from the industry, which is already under pressure as Britain prepares to leave the European Union and cheaper index-tracking funds steal market share. 
To read more about a possible FCA hedge fund review, click here
"We need a competitive sector, attracting investment into the U.K.," FCA Chief Executive Officer Andrew Bailey said in a statement. "It's vital we help people earn a return on their savings" and better competition in the industry will lead to lower fees across the board.
Hedge Funds
The FCA will also consider looking at regulations in the hedge fund and private equity industries after respondents to its study said disclosure should cover all funds. The regulator cited "particularly opaque" private-equity fund charges.
"We haven't got any concrete plans at the moment, but it's on the radar," Mary Starks, chief economist and director of competition at the U.K. market regulator, said in reference to the hedge-fund industry. "We do think the same principles should be applied more broadly."
Increased Discipline
The FCA said it wants to "impose more discipline" on overspending and is advising that managers include an estimate of transaction costs in the all-in-fee. Under MiFID II, the EU regulations that cover everything from the platforms on which firms can trade to how they report transactions, the all-in-fee applies to investors using intermediaries to buy a fund. The FCA proposes it should be applied across the industry.
Other recommendations include strengthening fund managers' responsibility to act in the best interest of investors and requiring at least two independent directors on their boards. The agency also announced plans for a market study into investment platforms and identified conflicts of interest within the investment consultant industry. A decision on whether the industry should be investigated by the Competition and Markets Authority will be made in September, it said.
To read a Galfly column on the implication of the changes, click here
The agency also recommended that the U.K. Treasury look at bringing investment consultants into the FCA's regulatory supervision.
Asset managers initially fell in morning trading, before rebounding. Hargreaves Lansdown Plc, the U.K.'s largest investment platform, fell as much as 3.6 percent in London trading and was down 2.7 percent at 2:17 p.m. in London.
Still, the proposals won early support from parts of the industry, with passive manager Vanguard Group Inc., saying that the regulator is trying to lower the cost and complexity of investing. Aberdeen Asset Mangement CEO Martin Gilbert also said he was in "in favor" of an all-fee to include all costs.
"Every pound that investors pay in charges is a pound out of their potential returns," Sean Hagerty, Vanguard's managing director for Europe, said in a statement. "As an industry, we have an opportunity to reassure people that investing can be a force for good, and for many people, a sensible way of providing for the future."
Before it's here, it's on the Bloomberg Terminal.
LEARN MORE