Atomic Kitten
France Holds Off On Hitting the Nuclear Button
Despite Hulot's appointment, EDF is in a stronger position under the new president.
By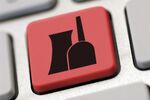 EDF
-0.11
As of 10:37 AM EDT
France Inc. is pinning its hopes on Emmanuel Macron, seduced by the new president's promises about cutting corporate tax and making it easier to sack workers. The nomination of his economy, finance and work ministers on Wednesday only stoked expectations, even though Macron still needs the legislative elections to go his way.
There was one exception: the nuclear utility Electricite de France SA. Its shares sunk 7 percent after Nicolas Hulot, a popular environmentalist and TV personality, was named minister for environmental transition, where he will oversee energy policy. Investors were spooked that Hulot's nomination could mean the state will take a harder line on EDF, maybe by reducing France's reliance on nuclear energy at a faster pace than planned. 
That's a misreading of the situation. In almost any political scenario after the parliamentary elections, state-controlled EDF will probably be better off than during the past five years under a Socialist government. 
While Hulot has criticized the cost of nuclear energy and how you deal with its waste -- he prefers wind and solar -- he's realistic about how quickly alternatives can replace the 72 percent of France's electricity that's nuclear-generated.
That's not so different from Macron's platform, which stresses the need to fight climate change by raising carbon taxes while retreating slowly from nuclear. It's also worth noting that France's new prime minister Edouard Philippe spent three years working at reactor-maker Areva SA. He says he'll be "pragmatic" about France's energy needs.
Despite Wednesday's sell-off, EDF shares have risen nearly 20 percent since the first round of the presidential vote. Macron's entourage has signaled that former president Francois Hollande's target to cut nuclear to 50 percent of French power generation by 2025 isn't achievable and could be extended by five years or more.
EDF's finances are also sounder after a 4 billion euro ($4.5 billion) share sale in early March, a decision to pay dividends in shares instead of cash, and progress on 10 billion euros of asset sales. 
Plus timing is everything in an industry with such long horizons. An ageing fleet of nuclear plants needs to be upgraded in the coming decades, with EDF predicting it will have spent 50 billion euros between 2014 to 2025.
More important than the politics is an anticipated ruling from the French atomic safety authority on whether the operational lives of EDF plants can be extended. That report, expected by the end of 2018, will truly determine the pace at which EDF decommissions its reactors. 
As an example of why timing matters, if EDF were to meet Hollande's 2025 target, Raymond James analysts reckon it would cut net earnings by 400 million euros -- 16 percent of the expected total in 2018 -- and raise provisions by 1.5 billion euros. Relaxing a target that no-one thinks can be met anyway will save EDF money.
Even if Macron loses out to the center-right Republicans in the legislative elections, EDF should be fine. The French right tends to be unabashedly pro-nuclear. If no party wins an outright majority, Macron could cobble together a coalition on energy policies.
EDF still trades at a 50 percent discount to European peers such as Spain's Iberdrola SA, Italy's Enel SA, and Germany's E.ON SE on an enterprise value-to-Ebitda basis. That's pretty well deserved given the scale of its challenges and the French state's stranglehold on its shares. Still, for the first time in a while, EDF has regained a little spark.
To contact the author of this story:
Leila Abboud in Paris at labboud@bloomberg.net
To contact the editor responsible for this story:
James Boxell at jboxell@bloomberg.net
Before it's here, it's on the Bloomberg Terminal.
LEARN MORE