Sporting-apparel retailers in the U.S. are suffering and even shuttering, as many grapple with heavy debt loads while facing increasing competition from online alternatives (a prime example: Sports Authority). But at least one corner of the health-and-wellness world continues to flourish, and that's boutique fitness studios. 
Unlike other areas of consumer spending, fitness is both fast-growing and relatively recession-proof. And the specialty chains -- from Barry's Bootcamp and Pure Barre to CorePower Yoga  -- are getting an added boost because they're directly linked to the spending power of both millennials and their successors, Generation Z.
It's no wonder, then, that this niche has attracted capital from private equity investors, who seem to have a hand in almost every major chain in the U.S. -- not as buyout candidates, but growth vehicles. The latest example? TPG Growth's purchase of a stake in Club Pilates last week.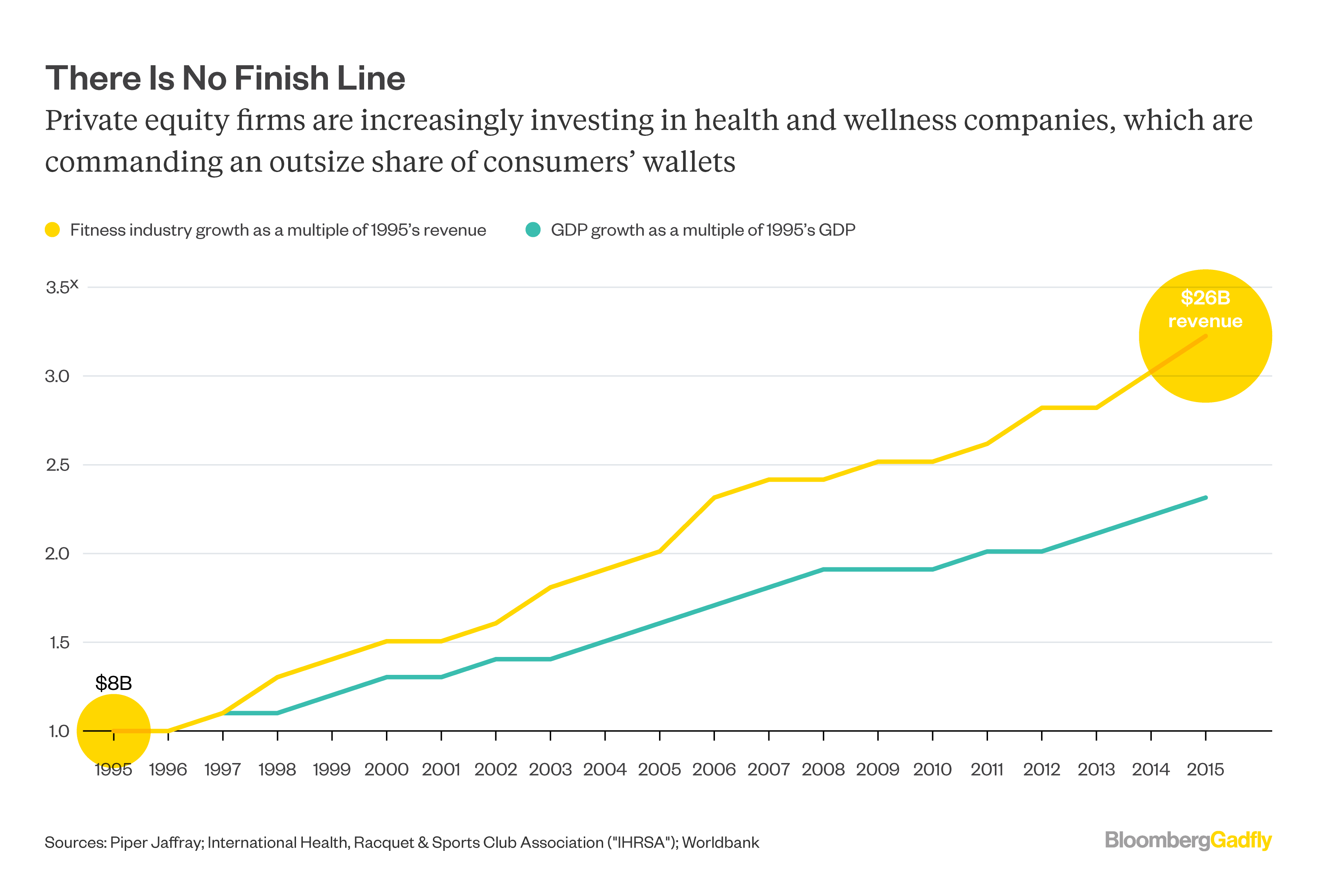 For stock pickers, it's another story: None of the  boutiques are public yet. Not even indoor-cycling sensation SoulCycle Inc., which postponed its IPO in 2015 and hasn't revived its IPO prospects. But private equity firms have the power to change that, and the incentive, too -- if they're willing to get creative.
As it stands now, the only publicly traded company of size in the fitness space is Planet Fitness Inc., a low-cost gym operator which could never be mistaken for a boutique but is something to use as a comparison. The $1.8 billion fitness chain -- backed by private equity firm TSG Consumer Partners -- has rallied nearly 30 percent since its August 2015 IPO, outperforming the benchmark S&P 500 Index .  At current levels, it's valued at almost 14 times its 2017 earnings.
It's reasonable that specialty-fitness companies should fetch a premium over a traditional chain like Planet Fitness. But that premium could stretch further if some boutiques were first combined into a larger company and then taken public. A conglomerate approach would be akin to natural-foods supplier Hain Celestial Group Inc., which shareholders have favored because of the company's  broad suite of organic products, according to Piper Jaffray managing director Brian Smith.
One potential IPO candidate candidate is Equinox Holdings Inc., which is backed by private equity firm Leonard Green & Partners. As well as SoulCycle, it owns the luxury fitness chain Equinox, budget-friendly Blink Fitness and Pure Yoga. Under one umbrella, the company would likely garner stronger support from Wall Street investors because of its diversification. Shareholders would have more confidence in the sustainability of its earnings thanks to its partial reliance on recurring membership dues at the Equinox and Blink chains. They would help offset the less-predictable revenue flows from SoulCycle, whose business model is built around drop-in classes. And the conglomerate, by being able to key off of varying consumer tastes and trends, would logically have stronger growth than a traditional health-club chain.
Another potential conglomerate could be created by private equity outfit Roark Capital. The Atlanta-based firm would need to convince fellow investors in portfolio companies like Anytime Fitness, high-intensity interval training specialist Orangetheory and blowdry chain DryBar that they should combine, and it could also include other companies on its roster such as Massage Envy.  
While it wouldn't exactly be a conglomerate, Greenwich, Connecticut-based L Catterton could attempt to combine two of its well-known brands, CorePower Yoga and Pure Barre, before taking them public or selling the larger company to another private equity firm.   The same goes for another private equity firm, North Castle Partners, which could try to convince fellow shareholders in Barry's Bootcamp and SLT (which stands for Strengthen Lengthen Tone) that the duo would be better off together.
Of course, private equity firms are in the business of seeking out optimal returns and may come to the conclusion that keeping their various companies separate is in the best interests for all involved. But for those willing to take a chance and try something new, there may be strength in numbers.
-- Elaine He assisted with charts
This column does not necessarily reflect the opinion of Bloomberg LP and its owners.
To contact the author of this story:
Gillian Tan in New York at gtan129@bloomberg.net
To contact the editor responsible for this story:
Beth Williams at bewilliams@bloomberg.net