Fashion Faux Pas
Finish Line's Stumble Is a Warning for Athleisure
In a crowded activewear market, bland isn't selling.
By
For athletes these days, it's not enough any more just to cross the finish line. They've got to look good doing it.
And that's a problem for sneaker and sportswear retailer The Finish Line Inc. Its shares dropped 15 percent Wednesday after it reported third-quarter sales and earnings that were lower than Wall Street expected and substantially cut its full-year forecasts. One big reason for the miss: Apparel sales fell a whopping 50 percent in the quarter from the year before. 
A cursory glance at the women's tops available on Finish Line's website helps explain why: The unadorned jackets -- in mostly dull blacks and grays -- and plain, over-sized tanks struggle to compete with the color splashes, wild prints, and flashy styles that are fashionable today. And Finish Line offers only about 60 different kinds of women's leggings online, compared with the 423,000 pairs available on Amazon.com.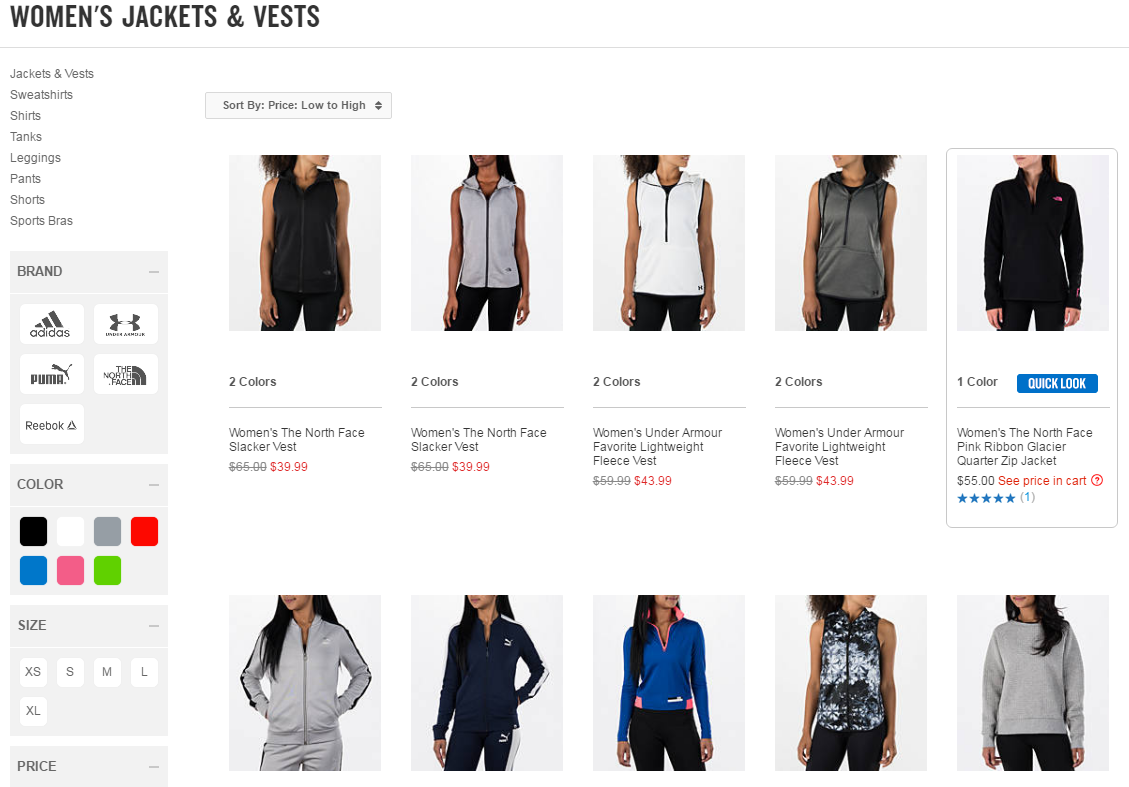 In contrast, Lululemon Athletica Inc. is selling limited-edition collections of pants and tops designed by Brazilian feather artist Janaina Milheiro. Nike Inc. offers self-lacing sneakers. And Under Armour Inc. is making trench coats and men's suits that can be worn just as well biking to work as sitting in an important meeting. 
In other words, Finish Line's competitors have a lot more excitement and style to offer. 
This should serve as a warning to other sportswear sellers, including Dick's Sporting Goods Inc. and Foot Locker Inc., riding the popular "athleisure" wave, selling leggings and crop tops that work both inside and outside the gym.
Last April, I warned the activewear trend was overstretched. The market -- estimated by research firm NPD Group at $44 billion in the U.S. alone -- is crowded. Everyone from Beyoncé to Rihanna has an activewear line. Retailers from Gucci to Wal-Mart Stores Inc. offer tights and tanks once only available at athletic stores.
Retailers have understandably been following the money: Activewear sales rose 16 percent in 2015, compared to a 2 percent gain in total apparel sales, according to NPD.
But with competition increasing, average selling prices started coming down. Promotions ensued. Athletic gear sellers such as City Sports and Sports Authority went bankrupt.
And as activewear became ubiquitous, consumers got pickier. Fashion-driven styles, such as Adidas AG's white Stan Smith trainers and jogger pants, began supplanting more athletic-oriented fare like Nike sneakers. 
Finish Line is being left behind by these trends. Though its clothing and accessories sales make up less than a tenth of its business, its apparel slump has been enough to dent its total sales, and its stock price.
Short interest in Finish Line has surged, with roughly a fifth of shares outstanding now held short, as investors bet the stock will sink further. Finish Line's stock now trades at 11.8 times estimated earnings, compared to a multiple of 16.6 for comparable companies.
Back when skinny jeans came in style, all sorts of retailers started churning them out in every size, style, and color. Eventually the trend petered out. Only the denim makers that could adjust to dynamic fashion trends stuck around, while the other fair-weather players faded away.
The same thing is now happening in activewear. Run-of-the-mill athleisure no longer cuts it. Companies that don't innovate beyond the basics will lag retailers that put time and money into developing new fabrics, textures and styles. Finish Line risks falling to the back of the pack. 
To contact the author of this story:
Shelly Banjo in New York at sbanjo@bloomberg.net
To contact the editor responsible for this story:
Mark Gongloff at mgongloff1@bloomberg.net
Before it's here, it's on the Bloomberg Terminal.
LEARN MORE