President Donald Trump's decision to pull out of the Trans-Pacific Partnership trade accord is bad (if unsurprising) news for all of Japan's automakers. There are two that face an outsized impact -- Mazda Motor Corp. and Fuji Heavy Industries Ltd., the maker of Subaru.
The pair have much in common. In operational terms, they're the best-run companies in the industry -- the only major carmakers to crack returns on invested capital above 10 percent. Production-wise, they're the most "Japanese" of Japan's carmakers, with the greatest share of global output happening on home turf. In volume terms, they're relative minnows. But what they lack in size, they make up for in customer loyalty, inspired by their meaty performance (Mazda) and sensible, outdoorsy image (Subaru).
All of that adds up to a larger-than-usual risk from the abandonment of the TPP, which would have eliminated the 2.5 percent tariff that the U.S. currently levies on Japanese passenger cars and the 25 percent it charges on imports of trucks.
As the automakers have been keen to point out in these trade-bashing times, more than 70 percent of Japanese cars sold in the U.S. are produced domestically. But that share isn't evenly spread: Toyota Motor Corp., Honda Motor Co. and Nissan Motor Co. can each produce more than a million cars a year in their U.S. plants. Subaru is stuck at about 400,000 and Mazda is on zero.
Comparing the companies' U.S. sales in excess of local production capacity with their global volumes gives a decent picture of how much they might have benefited from passage of the pact. For Toyota, Honda and Nissan, around 10 percent of 2015 sales consisted of American imports. For Mitsubishi Motors Corp., the figure is a mere 2 percent.
Mazda and Subaru are in a very different situation. About one-third of global sales by each company in 2015 consisted of exports to the U.S., making them dependent on Washington's trade relationships. Subaru, which sells four times more cars in America than Japan, is so exposed that it's often treated by the stock market as a play on the yen-dollar exchange rate.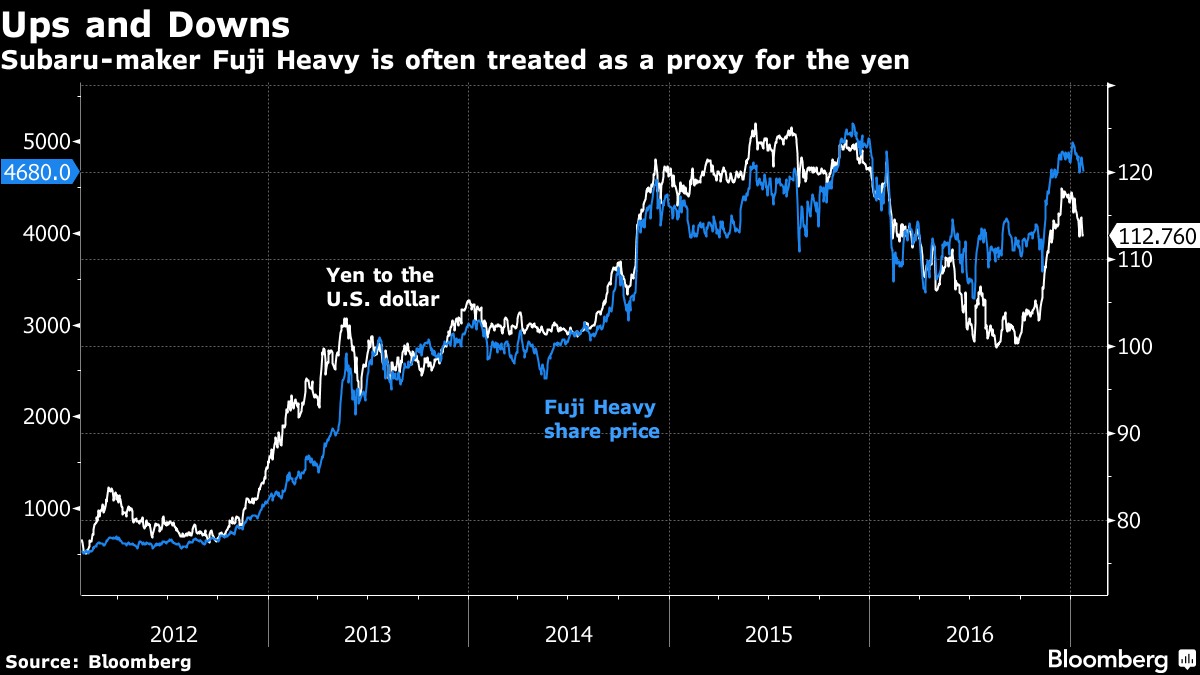 That's where the resemblance ends. While both automakers would have benefited from the reduced tariffs, the broad context of Trump's economic policies -- a crackdown on high-profile imports, combined with a stronger dollar that makes the traded goods that do get through more profitable -- looks rather favorable for Subaru, and a disaster for Mazda.
Fuji Heavy can make a claim to a place on Team Trump. Its only non-Japanese plant is in Vice-President Mike Pence's home state of Indiana, and it has just boosted capacity to 400,000 cars annually -- more than double the 200,000-odd being built a few years ago, when the lines could only turn out about 300,000 vehicles and one-third of those consisted of Camrys being built under contract for Toyota. Mazda made the opposite bet on trade, shuttering its only U.S. facility in 2012 and concentrating all of its North American production in, er, Mexico.
Subaru also had the least to gain from any removal of tariffs. Automakers have some of the slimmest net income margins you'll find -- a median of 2.1 percent for the 140 companies for which Bloomberg has data, and 5.5 percent for the six Japanese carmakers operating in the U.S. That's enough to make a 2.5 percent levy an impediment for Mazda, which had a margin of 4.5 percent in its last fiscal year. When you're making more than 10 cents on every dollar, as Subaru is, it's a lot easier to give up.
The fates of the companies have already been diverging, with Subaru posting a 5.6 percent increase in U.S. unit sales last year as Mazda's volumes fell 6.7 percent.
There are likely to be many unintended consequences of Trump's policies, but try this for irony: Mazda, the maker of one of Jeremy Clarkson's favorite cars, is likely to suffer in the U.S. over the next few years. But despite the new administration's low ratings from LGBT rights groups, it's Subaru -- which has been using the likes of Martina Navratilova to chase the lesbian dollar for two decades -- that's set to prosper.
This column does not necessarily reflect the opinion of Bloomberg LP and its owners.
Suzuki Motor Corp. announced it was stopping large-scale distribution of cars in the U.S. in 2012.
To contact the author of this story:
David Fickling in Sydney at dfickling@bloomberg.net
To contact the editor responsible for this story:
Paul Sillitoe at psillitoe@bloomberg.net