In Play
Go Ahead, Give the Media Merger Wheel a Spin
Just about every major company is in play.
By and
SPRINT CORP
-0.04
As of 12:27 PM EDT
T-MOBILE US INC
-0.25
As of 12:28 PM EDT
We're calling it: 2017 is going to be the year of media and wireless megamergers.
Randall Stephenson, the head of AT&T Inc. and soon-to-be media mogul, kicked things off in October with a $108.7 billion deal (including debt) for HBO owner Time Warner Inc. It marks the beginning of a new phase of conglomerate-building that could even rope in tech titans Apple Inc. and Netflix Inc.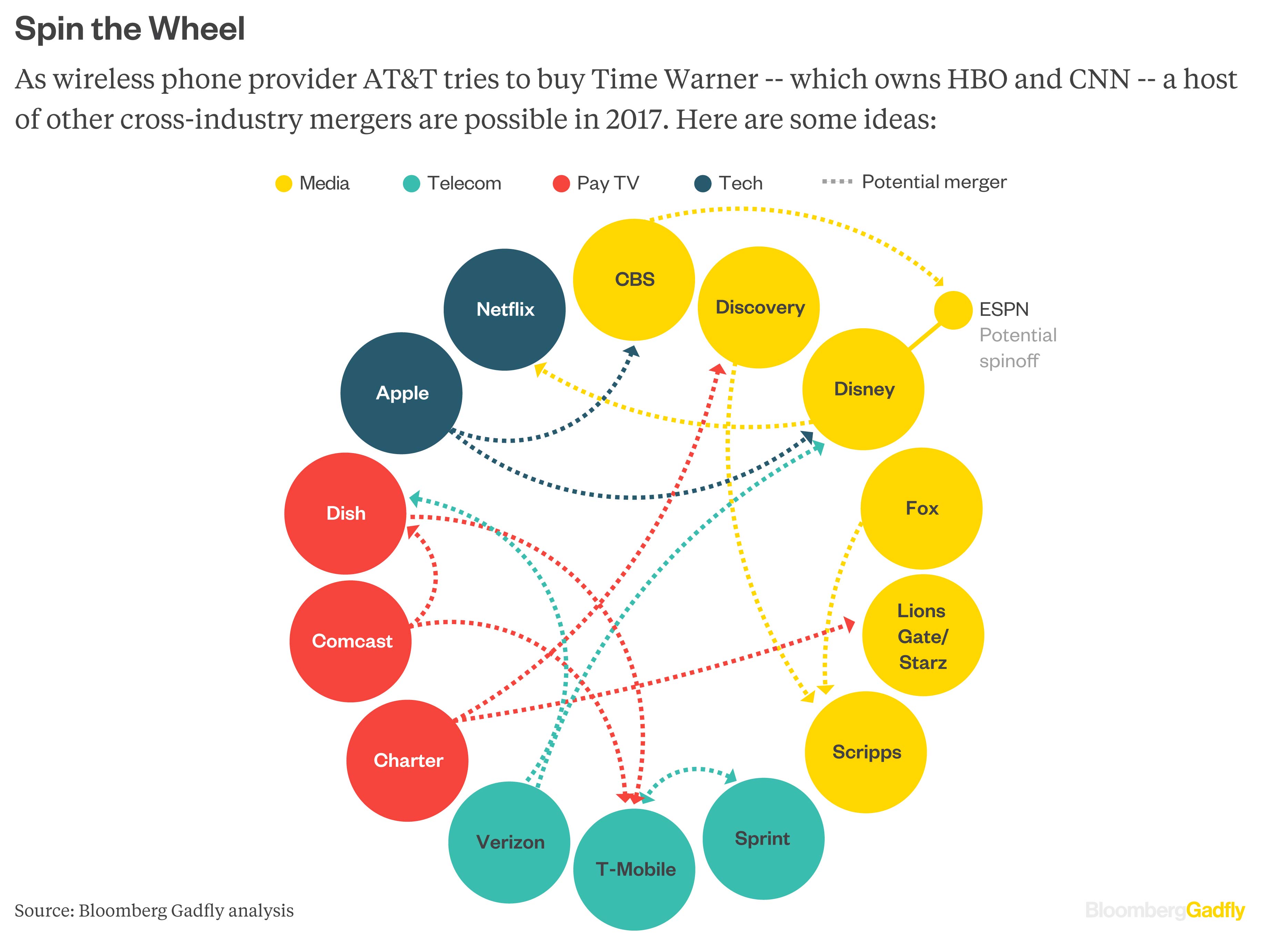 The belle of the ball will be T-Mobile US Inc., which everyone from Charlie Ergen's Dish Network Corp. to Masayoshi Son's Sprint Corp. may be dying to get their hands on. Others to watch include Comcast Corp. as well as Sumner and Shari Redstone's CBS Corp., which this month abruptly canceled talks to recombine with Viacom Inc., stirring speculation there may be better offers out there.
As is often the case with the largest transactions, the sure winners will be the bankers who get to pocket billions in fees, whereas for shareholders (and consumers), the transaction benefits may be tougher to prove out. Some of the potential hunters -- such as Charter Communications Inc. and Sprint Corp. -- already have a ton of debt, a setback at a time when acquisition targets are commanding steep prices. For example, if T-Mobile becomes the subject of a bidding war, that may put a transaction beyond Sprint's reach. 
Here's some back-of-the-envelope math that could throw a wrench in hopeful dealmakers' plans:
That said, you can probably count on bankers to find a way to grease that merger wheel, making certain transactions palatable enough to boards and shareholders even if they stretch balance sheets or don't promise immediate accretion.
So get ready for a busy 2017 because just about everyone's in play...well, except for maybe Twitter Inc. Sorry, Twitter, but you're still spinning your wheels. 
To contact the authors of this story:
Tara Lachapelle in New York at tlachapelle@bloomberg.net
Rani Molla in New York at rmolla2@bloomberg.net
To contact the editor responsible for this story:
Beth Williams at bewilliams@bloomberg.net
Before it's here, it's on the Bloomberg Terminal.
LEARN MORE