The most interesting dealmaker of 2016 wasn't quite who you'd expect. An Oklahoma native who has spent his career in the telephone business, he doesn't look the part of a soon-to-be media mogul -- a bit stiff for Hollywood, you might even say. But Randall Stephenson, with a largely unforeseen megamerger that topped the M&A charts this year, has managed to stir up both the entertainment and telecommunications industries. It's perhaps a testament to the peculiarity of 2016, if not businesses' desperation to find new ways to grow.
Back in July, 13 weeks before the AT&T Inc. chairman and CEO would wind up in the deal spotlight, his company reported some unremarkable quarterly figures. AT&T's U-verse was (and still is) losing television customers faster than subscribers are being added at its new DirecTV division, which AT&T acquired in 2015 for some $67 billion.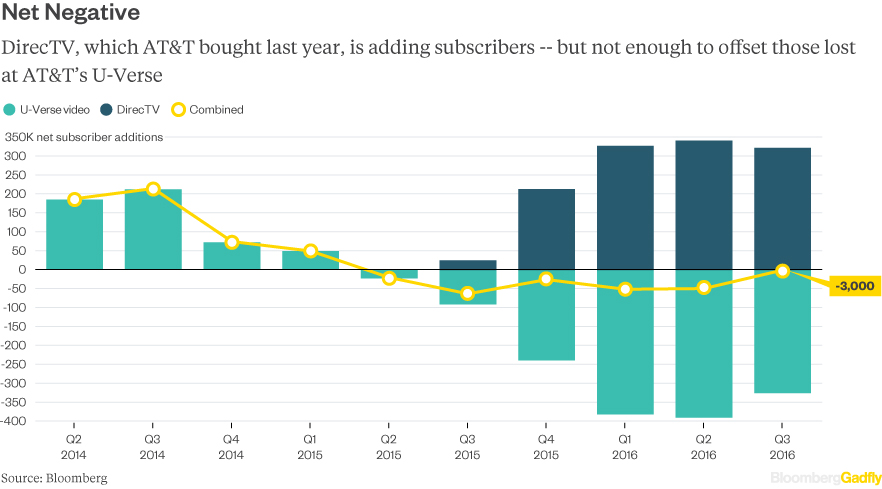 What's more, T-Mobile US Inc. -- the smaller but ostentatious pain in the neck to other wireless industry giants -- was taking customers away from AT&T by undercutting its plans with cheaper unlimited data offerings, a trend that continued through the summer. Total churn, meaning the share of prepaid and postpaid wireless customers who dropped AT&T's service, was 1.41 percent in the first nine months of the year, up from 1.35 percent during the same period of 2015.
The stock, which staged a rally after the DirecTV deal closed, slipped by about 7 percent between July and October in a sign that some shareholders were starting to become concerned. But then came the ah-ha moment. 
On Oct. 22, AT&T announced it will buy Time Warner Inc. for $108.7 billion (including debt) to add the Warner Bros. movie studio and TV networks TBS, TNT, CNN and, not least, Time Warner's crown jewel: HBO. As it seems so many deals do, this one began to come together over a meal in Martha's Vineyard when Stephenson, a long ways from AT&T's headquarters in Dallas, met Hollywood executive Peter Chernin. One thing led to another, and operation "Lily-Rabbit" was on.
For Josh Duitz, a portfolio manager at Alpine Woods Capital Investors, which oversaw $3.5 billion as of last December including AT&T shares, the plan to buy Time Warner reveals an interesting strategy by Stephenson -- even if it doesn't make AT&T an immediate "buy" given the risks to the deal getting done:
"It shows they have a vision for the future. It's a way for AT&T to differentiate itself. What AT&T was missing was the content. It will no longer just be competing on price and network." 
While AT&T's stock has recovered in recent weeks, many are still unsure about the transaction. How beneficial is it for a wireless provider to own the video content its customers watch via its data plans? Will the deal create value for AT&T and better position it for the dawn of 5G, or will it make the company unwieldy? How does Stephenson, 56, get on with Hollywood folks? And how serious is President-elect Donald Trump about blocking the merger? (For what it's worth, I say he's not.)
These are all fair questions. But there's one underlying aspect of AT&T-Time Warner to appreciate: Of all the mega-deals we've seen since the merger boom began in 2014, this is one of few that's about attaining real growth rather than implementing extreme cost-cutting to create a facade of growth. Whether it's executed the way bulls envision is another story, but Time Warner brings with it a strong team, such as Richard Plepler, who runs HBO and has said the channel's model is "building addicts" to shows such as "Game of Thrones." Stephenson's role when it comes to Time Warner may be less direct oversight than ensuring the business gets the resources it needs to continue being successful, as well as circumventing inevitable culture clashes.
Even though the deal faces challenges -- from crossing the finish line to a years-long integration process and proving this creates a better value proposition for customers -- it's certainly shaken up the industry and effectively puts just about all the content companies in play. Should the merger clear all hurdles, AT&T will end up looking more like Comcast Corp., which bought NBCUniversal years ago and is itself looking to enter the wireless space (potentially with a takeover of T-Mobile). What will Verizon do? Assuming it still plans to go forward with its takeover of  Yahoo! Inc., it probably won't stop there as far as deals are concerned.
Some will say this is just another big, dumb deal. But the truth is, we may not know until we see it in action, because there are no other companies offering TV distribution, mobile distribution plus content -- not even Comcast is yet. But if what investors were looking for from Stephenson was a bigger vision for AT&T and something to get excited about, he's certainly delivered. 
--Gadfly's Rani Molla contributed graphics.
This column does not necessarily reflect the opinion of Bloomberg LP and its owners.
To contact the author of this story:
Tara Lachapelle in New York at tlachapelle@bloomberg.net
To contact the editor responsible for this story:
Beth Williams at bewilliams@bloomberg.net