Apple Inc. for years was a seemingly impossible combination of rapidly climbing sales and fat profits. Now, revenue is no longer growing quickly and may never resume its former pace. Investors have slowly come to grips with that new reality.
What's less talked about is the change to the earnings part of the equation.
While Apple continues to swim in profits, generating more net income than any company in the world, it's wringing less from each dollar of sales. The company's operating margin -- or the share remaining after paying to make its products and run the business -- was 27.8 percent in the past 12 months, the lowest in seven years.
Apple is even becoming less profitable relative to other corporate giants. At this point in 2012, the year its operating margin peaked, Apple ranked fifth by that measure among U.S. companies with at least $20 billion in annual revenue, according to data compiled by Bloomberg. Now the company stands 13th, a rung below McDonald's -- a fast food chain, rather than a technology colossus that sells chunks of glass and circuits for $800.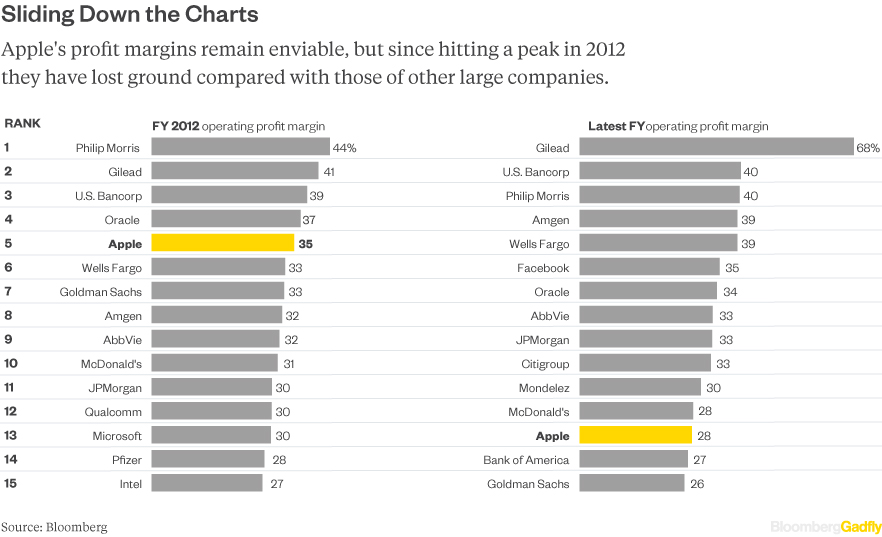 There are two significant reasons for Apple's ebbing profitiability: 
1) Competition: The iPhone maker can't charge enough to offset the rising costs of making increasingly sophisticated handsets. Most likely this is because of stiff competition from Samsung (pre-exploding Galaxy Note) and others. Bernstein Research analyst Toni Sacconaghi estimates iPhone gross margins have dropped 14 percentage points in the last five years and are likely to decline further.
Rapidly increasing sales of much higher gross margin products such as games, app downloads and Apple Music haven't been enough to compensate for the erosion of iPhone profitability. It will be interesting to see what happens to gross margins with the next version of the iPhone, which looks set to use expensive materials such as a new type of ultra-high resolution screen.
2) Expenses: As a percentage of revenue, Apple's operating costs are now the highest since 2010. That's largely because of spending for research and development-- presumably for Apple's not-so-secret car project, and other things we don't know about.
R&D spending has more than doubled in the past three years, while Apple's sales have increased 25 percent over the same period. The R&D tab was 4.7 percent of the company's revenue in the fiscal year ended in September, the highest share since 2004.
That would be fine if Apple were spending that money wisely to develop its next hit products. So is it? No one knows. On Apple's earnings call last week, CEO Tim Cook was asked to explain why R&D spending has grown far more quickly than revenue. Cook gave his typical not-really-an-answer, which amounted to saying some of the spending is to come up with new products that aren't on sale yet. That's essentially the dictionary definition of R&D expenditure. Super helpful.
Cook's "trust us" answer might have been fine a year or two ago. After all, Apple does have a proven track record of developing blockbuster products. But there has been a change in perception. The company no longer gets the benefit of the doubt that once allowed executives to spend freely, without question, in search of the next moneyspinning technology.
Most companies, of course, would kill to have Apple's 28 percent operating profit margin. But once profitability starts to shrink, where does it stop? The big question for years was whether Apple would become just another technology hardware company like Dell Inc., selling commodity products for slim returns.
Apple has seemed immune from that worst-case scenario, but maybe a reversion back to some sort of hardware mean is coming eventually. If it isn't much of a growth company, and it also becomes less profitable over time, then the plot starts to fall apart for the incredible Apple story. 
-- with chart assistance from Rani Molla
This column does not necessarily reflect the opinion of Bloomberg LP and its owners.
To contact the author of this story:
Shira Ovide in New York at sovide@bloomberg.net
To contact the editor responsible for this story:
Matthew Brooker at mbrooker1@bloomberg.net