Investors have been feeling better about Apple Inc. these days. The company's stock price had climbed 31 percent since closing at a two-year low in May. Expectations changed to reflect the realization that Apple's go-go days are behind it, at least for now. Apple's less-supercharged new reality felt ... fine.
Well, we might want to hold off on that determination for another six months or so. Some one-time oddities are making it too difficult to define what Apple's new normal looks like. 
But first, an important reminder of how much Apple's condition has changed in just one year. For seemingly forever, the company had defied gravity. Apple was already gargantuan, and yet its annual sales rose by at least 7 percent -- and often much more -- for 13 consecutive years. Yes, let that sink in. Net income was 33 times higher in fiscal 2015 than in 2002.
That's the past. Now, year-over-year revenue has declined for three consecutive quarters, including a 9 percent dip in the three months ended Sept. 24. Wall Street has expected revenue to edge down a tad in the December quarter, too, although Apple issued a forecast on Tuesday that calls for an increase. 
If Apple's sales do fall for four consecutive quarters, it would be the first time that has happened since 2001. Do you even remember 2001? Net income for Apple's fiscal year ended Sept. 24 also fell 14 percent from a year earlier, although it continues to generate by far the biggest profits among S&P 500 companies.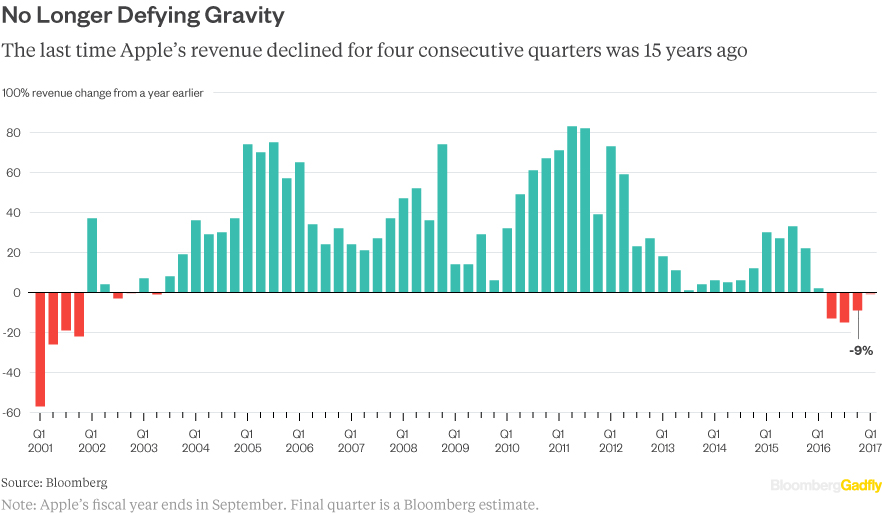 This new reality for Apple sank in slowly with investors. They have started to put Apple's lost year behind them and are looking ahead to the next possibly very cool new iPhone or other excitements. Apple is still defying gravity, but its orbit is perhaps closer to Earth than it once was.
One thing that's becoming clearer is that it's too soon to make that call. 
Apple shares fell in after-hours trading Tuesday, perhaps because a lower-than-expected average sale price for iPhones made traders think the new higher priced iPhone 7 line didn't get off to a good start.  Or the decline may be due to disappointment that Apple's forecast for the December quarter wasn't much better than Wall Street estimates even though it should be easy for the company to grow again. 
The trouble is, it may not be until the spring that we get a picture of people's appetite for the latest iPhone models without distortions from phone company promotions, Apple's timing for stocking store shelves, an extra week in the holiday quarter and other one-time factors. Apple executives said repeatedly on Tuesday that the company can't meet demand for the new iPhone 7, especially for the extra luxury, larger-screen iPhone 7 Plus.
That's all making it tough to assess Apple's health. Nevertheless, the company's stock gyrations of late show how antsy investors feel about the company's prospects. And they're right to feel that way. 
Apple remains essentially the same animal it was 12 months ago just as revenue growth started to disappear. The company relies on the iPhone for about 60 percent of its sales, and yet it's hard to see iPhone growth resuming once lofty levels. Unit sales of iPhones, Macs and iPads have each declined for at least three consecutive quarters.
Overall sales of smartphones globally are barely growing, and the hoped-for next big markets -- India, for example -- may be even harder for Apple to crack than China was. People are waiting longer to upgrade smartphones of all stripes, a trend that first infected the PC and tablet markets and badly hurt sellers of those devices. The iPhone 7 may have sold better than feared, yet it can't shake those broader trends. The 10th anniversary iPhone model -- on which many dreams are pinned -- can't, either.
Whatever the next big thing might be for Apple beyond the iPhone -- an operating system for cars, wearable devices like the Apple Watch, virtual reality, music and TV production -- they are too far off to lift the company back to its familiar lunar orbit anytime soon, and maybe they never will. CEO Tim Cook was asked the existential question on Tuesday's earnings call: Does the company have a vision for the next big growth driver after the iPhone? Cook didn't answer directly, opting for Apple's usual secrecy. 
Apple's party days are over, and the company -- and its investors -- still can't figure out how bad the hangover is. 
-- with chart assistance from Rani Molla
This column does not necessarily reflect the opinion of Bloomberg LP and its owners.
To contact the author of this story:
Shira Ovide in New York at sovide@bloomberg.net
To contact the editor responsible for this story:
Daniel Niemi at dniemi1@bloomberg.net