Fifty is the new 30 when it comes to bond maturities.
Spain is selling 50-year bonds. France just sold notes coming due in five decades last month, as did Belgium. Italy is reportedly thinking about it. The U.S. and every other developed nation should consider doing likewise.
After all, what do they have to lose? It's a long time to borrow, a lifetime in fact, but these countries are paying practically nothing for the privilege. It's sort of shocking that more developed nations haven't sold more ultra-long-dated debt, especially with record-low interest rates.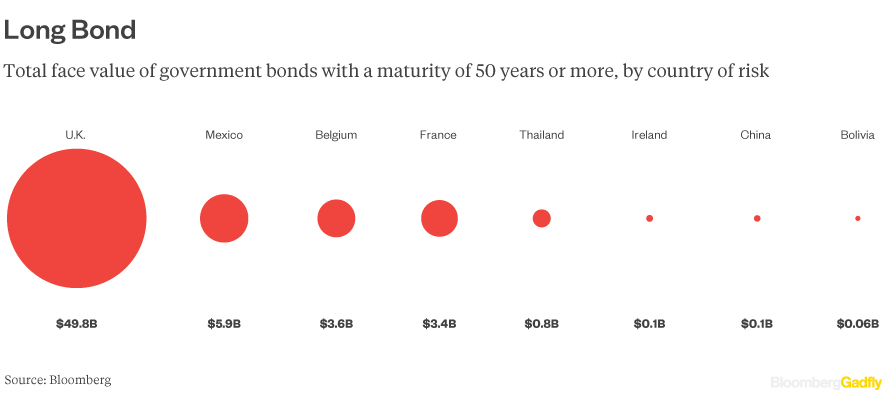 They should. They could use the proceeds to finance projects that may actually help spur true growth, like building and fixing roads and cleaning polluted rivers.
There's plenty of demand for fifty-something debt. It appeals to life insurers, pensions and other institutions that match long-term obligations with assets that pay a reliable rate over a prolonged period. While they're not getting much yield, they are at least assured of something.
And that's why France, for example, only had to offer a paltry coupon of about 1.8 percent to borrow 3 billion euros until 2066. That's kind of amazing, especially considering that the average yield on French 10-year bonds has been more than double that over the past two decades. These are rock-bottom rates, especially if governments have faith that inflation will re-emerge at some point.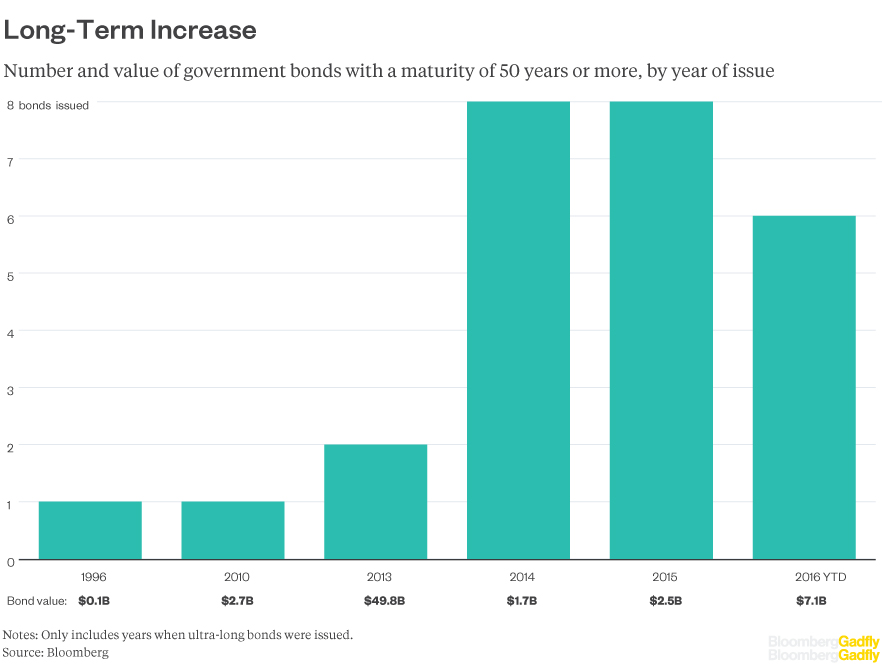 Granted, the idea of a 50-year bond is sort of scary, particularly for investors. It's difficult to imagine the world that far in the future. If inflation accelerates and the buyers of these notes try to sell, they may end up with negative real rates of return at best and huge losses at worst. These bonds don't trade widely, so buyers have to commit to them for decades.
Indeed, the average maturity of sovereign debt globally has lengthened to an average 9.5 years from 7.8 years in 2006, which makes the notes more vulnerable to losses should benchmark borrowing costs rise.
This market of ultra-long government bonds is still relatively small, at about $63.9 billion of such debt outstanding, according to data compiled by Bloomberg. It will keep growing, possibly substantially. Analysts could and will bemoan the growth of such debt, saying that the addition of long-dated leverage makes the world more fragile by locking in obligations and reducing flexibility. Perhaps they're right. But for now the advantages of selling this debt for developed countries far outweigh the risks.
This column does not necessarily reflect the opinion of Bloomberg LP and its owners.
To contact the authors of this story:
Lisa Abramowicz in New York at labramowicz@bloomberg.net
Rani Molla in New York at rmolla2@bloomberg.net
To contact the editor responsible for this story:
Daniel Niemi at dniemi1@bloomberg.net