Europe's Ultra-Long Debt Trend Builds With 50-Year Spanish Bond
Nation follows France, Belgium in selling bonds due in 2066

Deal is a `generational opportunity': Cantor Fitzgerald
The trend for ultra-long European bond sales is gathering pace.
Spain is the latest euro-region sovereign to sell 50-year bonds, with an issue via banks that priced Wednesday. It follows half-century deals last month from France and Belgium as countries take advantage of historically low interest rates to issue ultra-long debt. Italy's debt agency said in a statement Tuesday that it was "evaluating" demand for a possible 50-year offering.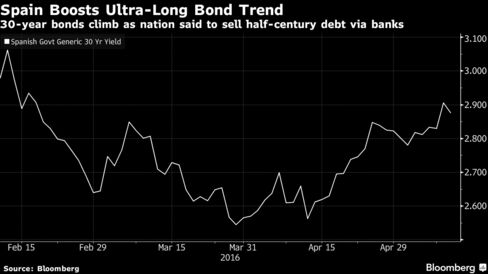 Investor interest in multi-decade debt has swelled as the European Central Bank's quantitative-easing plan crushes yields on shorter-dated securities -- though the risk of losses has also grown. The 3 billion-euro ($3.4 billion) bond, Spain's first 50-year offering since September 2014, was said to have attracted more than 10.5 billion euros of orders.
"Debt-management offices are taking a generational opportunity to issue very, very long debt at yield levels that are way below historic averages," said Owen Callan, a Dublin-based fixed-income strategist at Cantor Fitzgerald LP. "We had Belgium a couple of weeks ago and France do it as well. It's just really the market, given the demand for yield out there."
The effective duration of euro-area government debt -- a measure of its volatility -- surged on May 3 to a record high of 7.50, according to Bank of America Merrill Lynch data going back to 1996. That translates into a 7.50 percent decline in price for every one percentage-point increase in yields.
Front Running
The timing of the Spanish sale highlights the competition among euro-zone nations to tap investors for longer-term offerings.
"It looks like Spain 'front-ran' Italy with a 50-year bond," said David Schnautz, a London-based rates strategist at Commerzbank AG. "The rule of thumb is: the further an issuer goes out the curve, the smaller its investor base. Therefore, the issuer needs to be sure that its investor base will get involved, otherwise such long deals can struggle massively."
Spain's 30-year bond rallied, pushing the yield down four basis points, or 0.04 percentage point, to 2.87 percent as of the 5 p.m. London close. It climbed eight basis points on Tuesday. That compares with as high as 7.67 percent in 2012, during the euro debt crisis. The yield on the nation's two-year notes was little changed at minus 0.04 percent.
Political Crisis
Selling ultra-long bonds in a year when Spain hasn't even had an elected government shows the power of the ECB's QE to support debt markets. Following inconclusive elections in December, Spaniards will head to the voting booths for the second time in six months on June 26 with opinion polls showing that, once again, no party is likely to win a majority.
The deal comes in a busy week of issuance for Europe. Portuguese bonds outperformed most of their euro-area peers on Wednesday after the nation exceeded its target at a sale of 10-year securities. Germany also sold two-year notes, while Italy offers debt on Thursday.
Before it's here, it's on the Bloomberg Terminal.
LEARN MORE