Trump Jars Hamptons Anew With Economic Picks Including Paulson
'I'm amazed that they're willing to put their names with him'

Alibaba's Evans muses on John Paulson running the Treasury
Barely 24 hours after Donald Trump listed them as economic advisers, John Paulson and Howard Lorber mingled at a hospital benefit in the Hamptons on Saturday night. Word of their new roles had spread through the air conditioned tents. The pair were enthused.
"Donald has an economic policy that would dramatically stimulate U.S. growth," Paulson said, predicting Trump will unveil details in a speech Monday. "I'll certainly be watching it on TV."
"I don't want to pre-empt what he's going to say," Lorber said of the planned Detroit Economic Club address. "Anything I can do personally to give him my thoughts, I will."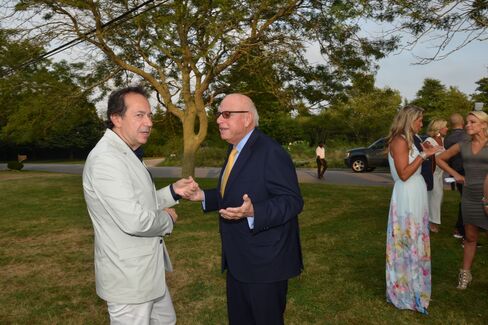 The Republican presidential candidate's Friday announcement of 13 predominantly rich men who will shape his economic platform fueled another weekend of chatter across the Hamptons, the wealthy vacation enclave where summer galas are at their peak. Surprise was a popular emotion -- sometimes reflecting disappointment at local regulars signing up with the polarizing candidate, or alternately, comfort that he's enlisting help from the financial world.
"These are guys who have good reputations," said venture capitalist and Hillary Clinton backer Alan Patricof at a dinner party Friday for Steinway, the piano maker owned by Paulson's investment firm. "I'm amazed that they're willing to put their names with him. That's my shock."
J. David Luce who runs a fund out of Florida, was glad to hear Trump is talking with people like Paulson, who shot to fame as a hedge-fund manager with his wildly profitable bet against U.S. housing in 2007.
"I worked at Lehman, I had a lot of my wealth wiped out," Luce said. Now, "we are in a fiscal crisis. This president has driven our debt up to unimaginable levels. We don't have to worry about politics, we should be worrying about economics for the next two or three years."
Clinton Connections
Lorber runs Vector Group, a holding company of real estate and tobacco interests. He's also chairman of the Southampton Hospital Foundation, which hosted the Saturday event. He said he met Paulson through the 92nd Street Y in Manhattan, then called him when the hospital was starting a campaign. Paulson and his wife gave $5 million to build the Jenny and John Paulson Emergency Department.
Political views are mixed and passionate in the Hamptons, and no conversation or fundraiser is safe from veering into the election. Asked at Sunday's Piaget Hamptons Cup polo match benefiting the Robin Hood Foundation which Olympic event she'll be watching, Amanda Fuhrman shot back, "Hillary versus Trump."
At the Steinway event, a high-definition player piano called the Spirio was set up in a barn owned by Joan and George Hornig. Nearby family photographs included one of Bill Clinton with Joan. She noted Hillary Clinton had worn some of her jewelry to private parties during the Democratic National Convention.
Wrong Constituency
J. Michael Evans, president of Alibaba, had taken a shine to the Spirio, which can cost more than $100,000 and is able to play music reverse-engineered from recordings by Rachmaninoff to Billy Joel. "I want to sell this to the Chinese, online," he said.
Asked about Paulson's work for Trump, Evans asked: "He's running for Treasury secretary?"
But seriously, he said, "It's always good to have anybody who's running for office who consults professionals. That's a smart thing to do."
Allison Morrow, who retired from a Wall Street career that included stints at JPMorgan and Lehman Brothers, doesn't think the list of Trump economic advisers is going to help the candidate.
"They're not his constituency," she said at the hospital benefit. "I guess if Trump wants to get the elite part of the Republican party, it's possible, but the best thing going for Trump is middle America, and that's not John Paulson."
Before it's here, it's on the Bloomberg Terminal.
LEARN MORE