Openness to Same-Sex Marriage Rejected in Republican Platform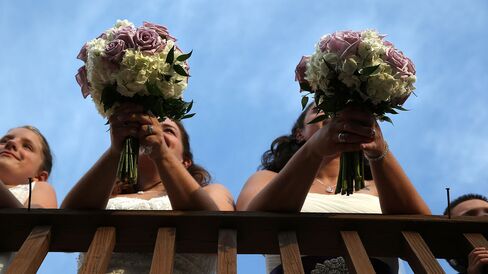 Gay committee member says party must evolve on issue

Vote reinforces traditional party view on key social issue
Republicans rejected from their platform language that would've acknowledged "a diversity of opinion within our party" on same-sex marriage, in a victory for social conservatives.
Roughly 20 delegates on the 112-member platform committee, meeting in Cleveland on Monday night, raised their hands to vote for the amendment from Rachel Hoff, a delegate from the District of Columbia who's openly gay.
Hoff said a majority of Republicans of "millennial" age support same-sex marriage, as do 64 percent of young evangelical Republicans. If the party wants a future, it should be mindful of those statistics and evolve, she said.
"We are your daughters, we are your sons, your friends, your neighbors, your colleagues, the couple that sits next to you in church," Hoff said, her voice wavering. "Freedom means freedom for everyone, including gays and lesbians."

Firm Control
The vote shows social conservatives remain firmly in control of the party's platform, being drafted in advance of the party's convention, which starts July 18 in Cleveland. Presumptive Republican presidential nominee Donald Trump has said he supports traditional marriage, and even after the U.S. Supreme Court legalized gay marriage nationwide in 2015.
Wyoming Senator John Barrasso, who leads the committee, and Oklahoma Governor Mary Fallin, a co-chairwoman, told reporters after the vote that Hoff was still welcome in the party and that its members simply reinforced a longstanding tradition in support of marriage between a man and woman.
"What you saw was a spirited discussion and a spirited debate, which shows you that this is a party with people from all around the country who come, debate their issues, fight for their beliefs and are then are voted upon," Barrasso said.
Ann Dickerson, a delegate from New York, also talked about the need to attract people to the party who support gay marriage and "and not cause people to flee."
The platform committee is scheduled to finish work on the document Tuesday, and the Rules Committee meets starting Thursday. Anti-Trump delegates are trying change party rules so that delegates who are bound by election results to back Trump can "vote their conscience" in Cleveland.
Critics of the effort say that plan lacks the votes it needs and would thwart the will of about 13.3 million people who voted for Trump in the party's primaries and caucuses.
Before it's here, it's on the Bloomberg Terminal.
LEARN MORE