Puerto Rico Plotting Bond-Market Return After Its Record Default
Water agency looking to raise $900 million in debt sale

'The market is tough at this moment,' finance official says
Puerto Rico just defaulted on about $1 billion due to bondholders, has declared its debts too crushing to pay and is about to undergo an unprecedented financial takeover by the U.S. government. So what's next on the agenda? Finding investors willing to lend it $900 million.
The Puerto Rico Aqueduct & Sewer Authority wants to issue the debt through a new agency to finance construction work delayed by the government's fiscal crisis. As an inducement to skeptics, the agency would give investors first claim on revenue it collects from water and sewer bills, according to Efrain Acosta, the director of finance for the utility. It may also exchange an additional $1.1 billion of securities for its outstanding bonds to investors willing to accept less than they're owed.
"The market is tough at this moment," Acosta said in an interview. "But we have to go forward with our plan and see if we can get new money to pay our contractors and try to restart our construction plan."
Puerto Rico faces considerable obstacles, even in a market where rock-bottom yields have left buyers willing to take on more risk for bigger returns. The U.S. territory hasn't sold bonds since it borrowed $3.5 billion in March 2014, a deal that was supposed to give it time to arrest the financial decline, and a planned $750 million offering by the water utility last year was subsequently shelved. Moreover, it's unclear how a federal oversight board, which hasn't been appointed yet, will treat bondholders as the island seeks to cut its debt.
"The whole situation's kind of confusing," said Daniel Solender, who oversees $19 billion, including Puerto Rico securities, as head of municipals at Lord Abbett & Co. in Jersey City, New Jersey. "On the one hand, they're defaulting on bonds and they're declaring moratoriums and then they want to have market access for a new issue."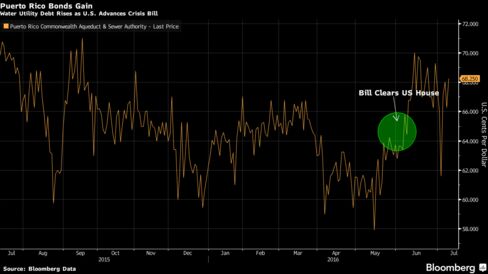 With an economy mired in recession, Puerto Rico has been defaulting on a growing share of its $70 billion debt, which Governor Alejandro Garcia Padilla says can't be paid without draconian budget cuts that would fall heavily on the island's 3.5 million residents.
After Puerto Rico made little progress in talks with creditors, President Barack Obama on June 30 enacted a law that will give a seven-member board power to review budgets and any debt restructuring. The next day, the island defaulted on nearly half of $2 billion of principal and interest that was due, marking the biggest payment failure ever in the U.S. municipal-bond market. The water utility, known as Prasa, negotiated with creditors to delay $12.7 million that it was supposed to pay. On Tuesday, S&P Global Ratings downgraded Prasa's bonds to as low as D, designating a default.
"Prasa's role and link with the commonwealth and the commonwealth's financial distress have caused a weakening in Prasa's financial risk profile, as evidenced by its diminished liquidity and large accounts payable," Theodore Chapman, an S&P analyst in Dallas, wrote in a report.
Other distressed borrowers, such as Detroit and Jefferson County, Alabama, have been able to return to the bond market, but only after going through bankruptcy to wipe out some of their debts.
Puerto Rico doesn't have recourse to Chapter 9 and its crisis is far from resolved. The federal board will help the commonwealth end chronic budget deficits, monitor any borrowings and will be able to force reluctant creditors to accept a deal in court. Obama has until Sept. 15 to form the panel.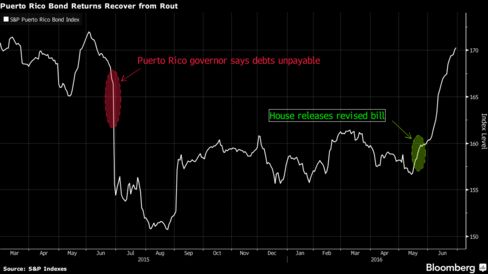 The move to help rescue Puerto Rico has been welcomed by most bondholders because it promises to resolve the crisis. Prasa debt maturing July 2042, the utility's most actively traded, changed hands Monday at an average price of about 67 cents on the dollar, up from 62.7 cents at the start of 2016, data compiled by Bloomberg show. The yield was about 8.4 percent.
The bill passed by the legislature that would allow Prasa to issue debt has yet to be sent to Garcia Padilla for his signature. Any deal would probably happen after the board is in place, Prasa's Acosta said. To get cash in the meantime, the utility may try to sell notes that would be repaid after the bonds are sold.
In addition to selling new debt, the utility would offer investors a chance to exchange their securities at a 15 percent loss, Acosta said. The new bonds would be backed by a pledge of as much as 20 percent of the utility's revenue, he said. Prasa has about $4.7 billion of debt.
The Puerto Rico Electric Power Authority in December reached a similar agreement, with creditors accepting a loss in exchange for securities with stronger legal protections. It may be possible for Prasa to do the same, said Matt Dalton, chief executive officer of Rye Brook, New York-based Belle Haven Investments, which oversees $5 billion of municipal bonds, including insured Puerto Rico debt.
"If it's iron clad, it's locked up and it's attractive, at the right price you can pull people out of the shadows," Dalton said.
Whether that's possible may depend largely on the oversight board. Investors will probably want to know how it's going to treat bondholders first, said Molly Shellhorn, a senior research analyst in Chicago at Nuveen Asset Management, which holds $120 billion of municipal debt, including insured Puerto Rico securities.
"I just have a hard time seeing that go forward outside the oversight board," Shellhorn said.
Before it's here, it's on the Bloomberg Terminal.
LEARN MORE