Come Together
Sanders in Talks to Deliver Clinton Endorsement Before Convention
The Vermont senator had pressured by Democrats to endorse the party's presumptive presidential nominee.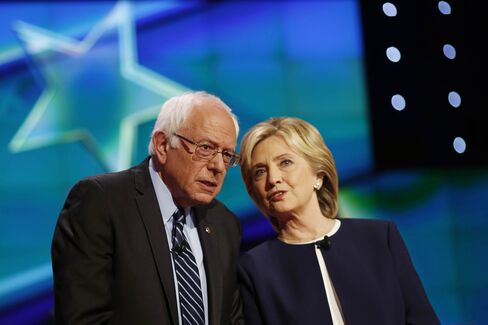 Aides to Bernie Sanders are negotiating with Hillary Clinton's campaign on an endorsement from the Vermont senator before the Democratic convention that would be a major step toward unifying the party for the general election battle against Republican Donald Trump.
QuickTake Electing a U.S. President
"That's a process we're working on that could lead to an endorsement before the convention," Sanders spokesman Michael Briggs told Bloomberg Politics. Clinton press secretary Brian Fallon declined to comment.
The two campaigns have discussed the possibility of an endorsement event next week in New Hampshire, a person familiar with the planning told Bloomberg.
Though Clinton clinched the Democratic nomination weeks ago, Sanders never conceded defeat and has stayed in the race to influence the party's agenda and to push Clinton to the left. The campaigns have been in talks since the two candidates met last month in Washington.
Clinton on Wednesday offered a modified proposal to make college more affordable that won Sanders's endorsement and will appeal to the young voters that overwhelmingly supported his primary campaign. A draft of the Democratic Party platform, which will be set at the convention later this month in Philadelphia, also reflects Sanders's priorities on a variety of issues from regulation and taxes to support for a $15 minimum wage.
Sanders has been under pressure from his Democratic colleagues in Congress to rally his supporters behind Clinton after a drawn out and contentious primary fight.
—Jennifer Epstein contributed to this report.
Before it's here, it's on the Bloomberg Terminal.
LEARN MORE