U.S. Supreme Court Backs Gun Curbs in Domestic-Violence Case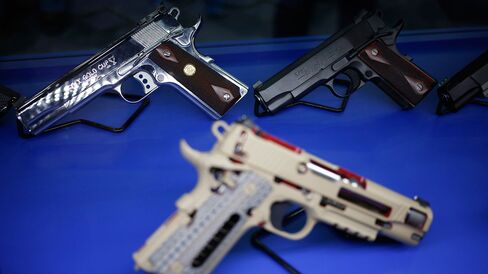 Ruling allows ban for people convicted of reckless conduct

Thomas asked first questions in a decade during argument
The U.S. Supreme Court backed the broad application of a federal law barring firearm possession by people convicted of misdemeanor domestic violence, ruling it could be used against two men convicted under a Maine law.
The justices voted 6-2 in the case, which drew attention in February when Justice Clarence Thomas asked questions during arguments for the first time in a decade. Thomas dissented from Monday's decision.
The ruling is a defeat for William E. Armstrong III, who was convicted of assaulting his wife in 2002 and 2008, and Stephen L. Voisine, who was convicted of assaulting his girlfriend in 2003 and 2005.
Their lawyers argued that those convictions weren't sufficient to trigger the federal firearms ban because prosecutors weren't required to show intentional force. Maine's domestic violence law also allows convictions for reckless conduct.
Writing for the majority, Justice Elena Kagan said that when Congress enacted the law in 1996, the domestic-violence laws in most states covered reckless actions as well as intentional violence.
"Congress must have known it was sweeping in some persons who had engaged in reckless conduct," she wrote. "Indeed, that was part of the point: to apply firearms restrictions to those abusers, along with all others, whom the states' ordinary misdemeanor assault laws covered."
Second Amendment
Thomas's questions during the Feb. 29 argument centered on an issue the Supreme Court had declined to take up in the case: whether the law violated the constitutional right to bear arms.
His dissenting opinion said those Second Amendment concerns were one reason for interpreting the federal law narrowly.
The high court ruling "leaves the right to keep and bear arms up to the discretion of federal, state and local prosecutors," Thomas wrote.
Justice Sonia Sotomayor also dissented, though she didn't join the part of Thomas' opinion that discussed the Second Amendment.
The case is Voisine v. United States, 14-10154.
(Adds excerpts from opinions starting in sixth paragraph.)
Before it's here, it's on the Bloomberg Terminal.
LEARN MORE