Equal Rights
Hillary Clinton Marches in New York's Gay Pride Parade
The presumptive Democratic presidential nominee is no stranger to the city's annual celebration.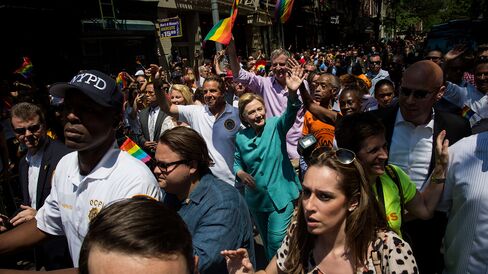 Hillary Clinton, presumptive Democratic nominee for president, on Sunday marched the final few blocks of New York's annual gay pride parade through throngs of cheering supporters packed along iconic Christopher Street.
"Hillary! Hillary!" crowds chanted as she walked slowly to shake hands and pose for photos, flanked by New York Governor Andrew Cuomo and New York City Mayor Bill de Blasio. An entourage of dozens, including other elected officials, campaign aides and Secret Service agents, surrounded her, and around them were dozens of reporters and photographers trying to get a glimpse of her teal suit and blonde hair.
Clinton exited her van at Seventh Avenue, half a block west of the Stonewall Inn, site of the 1969 uprising that sparked the modern LGBT rights movement. President Barack Obama this week declared the area a national monument.
At Bleecker Street Clinton stopped as an announcer declared that "the next president of the United States" had arrived. White confetti billowed through the air.
Before Clinton joined the parade, marchers carried banners with photos of the 49 people who died in this month's Orlando, Florida, nightclub shooting. Dozens of motorcycles revved and a pickup truck blared "Empire State of Mind" just ahead of Cuomo and his longtime girlfriend, Sandra Lee. De Blasio marched with wife Chirlane McCray. Both couples waited for Clinton's arrival before walking the final four blocks of the parade. The Reverend Al Sharpton walked on her left side and Cuomo walked to her right. De Blasio, who has a frosty relationship with Cuomo, walked behind Clinton.
Clinton first marched in New York's pride parade in 2000, during her first Senate campaign, and again six years later as she ran for re-election. Last year, daughter Chelsea Clinton led the campaign's contingent in the parade.
Sunday is the first anniversary of the Supreme Court's rulings in favor of same-sex marriage in United States v. Windsor and Obergefell v. Hodges. Edie Windsor, the lead plaintiff in one of the cases, endorsed Clinton on Sunday, saying "Hillary is the president who will fight to get us there. Because she knows what I know: Love trumps hate, the United States Constitution endures and justice will ultimately prevail."
Clinton's campaign marked the weekend -- one in which a number of cities, including San Francisco and Chicago as well as New York, held parades -- with a series of pro-LGBT posts on social media. Clinton displayed her campaign logo on Twitter and Facebook in the colors of the rainbow flag to symbolize the gay community.
"Every LGBT American deserves to live, work, and marry free from discrimination or violence," said a tweet from the Clinton campaign on Sunday accompanying a video highlighting same-sex relationships.
Before it's here, it's on the Bloomberg Terminal.
LEARN MORE