Money Matters
Trump's Cash-Starved Campaign Seeks Top Donors in New York
One day after his campaign released dismal fundraising numbers for the month of May, Trump held a fundraiser at New York's Le Cirque restaurant.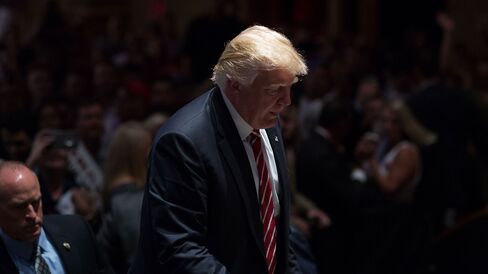 Donald Trump courted some of Wall Street's biggest donors on Tuesday to kick-start a fundraising effort that is lagging far behind Hillary Clinton's.
Among the major donors spotted heading into the dinner, at Manhattan's Le Cirque restaurant, was the Long Island hedge-fund manager Robert Mercer. Mercer is the biggest spender so far in the 2016 election cycle and hasn't publicly disclosed whether he would support Trump's presidential bid. Previously, he put $13.5 million behind Texas Senator Ted Cruz, Trump's closest rival for the Republican nomination before he dropped out.
Also on hand were billionaire financiers Carl Icahn and John Paulson. Other familiar faces from the Republican fundraising circuit included former U.S. ambassador to Belgium Bruce Gelb; Woody Johnson, the owner of the New York Jets; and the investment manager Anthony Scaramucci.
Trump spent about two hours at the event, and spoke for almost half an hour while guests dined on ricotta ravioli, roast branzini, and sirloin. His entourage included most of his immediate family and Paul Manafort, his campaign chairman.
With about 60 guests at $50,000 a seat, the event probably raised around $3 million, Scaramucci said in a brief interview as he left. Combined with a breakfast planned for Wednesday morning, Scaramucci said the two events would probably bring in a total of $5 million to $7 million for Trump's joint fundraising committee, which benefits his campaign, the Republican National Committee, and state party coffers.
With his first major New York fundraiser, Trump is working to catch up to Clinton's money machine after mostly relying on free media attention and his own fortune to fund his Republican primary victories.
The urgency of that task became apparent on Monday, when the campaigns disclosed their financial reports for May. Despite declaring early that month that he would begin soliciting donations, Trump raised only $3.1 million in all of May -- about what Clinton raises in three days. He started June with $1.3 million on hand and little support from outside groups known as super-political action committees. Clinton had $42.5 million on hand and more than $50 million in the main super-PAC that backs her.
Trump recently helped raise $12 million during a recent multi-state fundraising swing, he said Tuesday in an interview on Fox News. But Clinton has had more than a year's head start at building a donor base.
Although Trump is a billionaire real-estate developer and reality-TV star who made his career in Manhattan, he's struggled to make inroads among the city's donor class. Virtually all the city's top Republican donors had picked other candidates who have since dropped out—especially former Florida Governor Jeb Bush, Florida Senator Marco Rubio, and Wisconsin Governor Scott Walker.
Even Peter Kalikow, who says he's been friends with Trump for more than 40 years and who helped organize Tuesday's dinner, supported another candidate in the Republican primary, Ohio Governor John Kasich.
Until now, Trump has done little to court the party's benefactors. Last year, he called candidates who depended on rich donors "puppets," and he pledged to crack down on a loophole that allows some investment managers to pay a low tax rate on their earnings, saying "the hedge fund guys are getting away with murder."
Some are unlikely to come around to Trump. Paul Singer, the New York hedge-fund manager who is among the top Republican donors in the country, spent millions of dollars on an advertising campaign against Trump during the latter part of the Republican primary season. Since then, he's remained staunchly in the anti-Trump camp. Last week, a person with knowledge of his plans said he intended to sit out the Republican convention in Cleveland next month.
Gelb, a veteran Republican fundraiser and former executive at Clairol and Bristol-Myers Squibb, dismissed concerns about Trump's finances. "Hillary has got a mountain of money, and the Republican party does not," he said after the dinner. "My feeling is, it's not the money that's getting him votes, it's what he has to say."
Gelb, a top fundraiser for George H.W. Bush's presidential campaign, said his $50,000 Trump ticket was the biggest contribution he's ever made to a candidate. "The more I see him, I'm convinced its what America needs at this time."
At Tuesday's dinner, hedge-fund managers and real-estate titans mingled next to a two-story chilled glass tower displaying the restaurant's wines, before heading to the dining room paneled in polished Macassar ebony.
Kalikow, a prominent real-estate developer, says he now supports Trump because he knows he's a great negotiator from years of doing deals together. "It's kind of fun for me," he said in an interview before the event, "to be at a point in life where you have a president you know, and you know can do the job firsthand."
Kalikow's wasn't the only boldface name on hand Tuesday whose business and social life had overlapped with Trump's over the years. Icahn struck a deal with Trump decades ago during the bankruptcy of the Trump Taj Mahal casino in Atlantic City. Bo Dietl, a media personality and former New York City police detective, said he'd known Trump for 35 years.
"Lemme tell you something, if I had a million dollars, I would give him a million dollars," Dietl said. "I need this country to get straightened out."
Before it's here, it's on the Bloomberg Terminal.
LEARN MORE