Anger Management
Violence at Trump Rallies Shows No Sign of Abating
As the presumptive Republican nominee seeks to attract moderate and independent voters, Trump's campaign stops remain a flashpoint for unrest.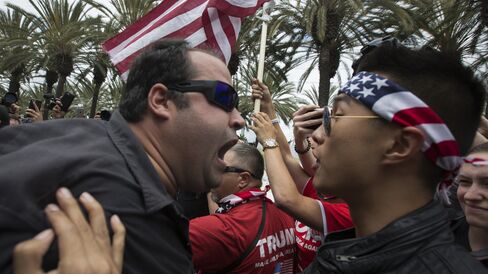 A few days before Donald Trump was set to hold a rally last week in Dallas, Michael Short messaged the Republican presidential nominee's campaign.
"I told them that I was going to bring a gun," said Short, a libertarian-leaning conservative who is part of the Second Amendment advocacy group Don't Comply.
Short never heard back, but on Thursday afternoon -- six days after the nation's deadliest mass shooting in Orlando -- he and about twelve of the group's members arrived at the rally with guns and a riot-gear glass shield.
"We feel like in the wake of the Orlando shooting, we've been warning the public that they need to protect themselves," said Short, who is still deciding whether to vote for Trump or libertarian presidential candidate Gary Johnson. "What's happening with Trump rallies -- I mean, I see it on social media. There's blood. Did you see what happened the other week in San Jose? So when he said he was coming to Dallas, we're advocating for people to protect themselves."
The violence and angry rhetoric at Trump's well attended rallies has not abated since the billionaire became the presumptive Republican presidential nominee. In part, that's because the candidate continues to rev up his most ardent supporters and taunt his foes at a time when he desperately needs to appeal to independent and moderate voters.
In Albuquerque last month, local businesses near Trump's rally closed early in an effort to help with parking and safety concerns. Protesters cracked the glass windows at the front entrance of the Albuquerque Convention Center, where Trump spoke.
Trump frequently chides protesters who seek to disrupt his rallies by shouting for authorities to "get 'em out" before sometimes adding "run home to mommy." In fact, even before the candidate begins speaking, a tongue-in-cheek audio-recording plays before each rally instructing attendees to "not hurt the protester," but to instead chant "Trump, Trump, Trump" and point to those seeking to disrupt the proceedings so as to notify authorities of their location.
"There is no safer place to be than a Trump rally," Trump frequently says after protesters disrupt him on-stage.
At his stop in Albuquerque, Trump's aides had to call local authorities to ask for a police escort for the press charter bus, which was parked near protesters who were throwing rocks and bottles at police horses.
In San Jose the following week, some protesters burned an American flag, beat a Trump piñata, chucked eggs and punched Trump supporters. For his part, Trump wasted little time going after the protesters in language that seemed designed to ensure the violence would continue. "Many of the thugs that attacked the peaceful Trump supporters in San Jose were illegals. They burned the American flag and laughed at police," Trump wrote on Twitter.
Trump was forced to postpone a rally in Chicago in March because of massive protests there, though he is expected to return in several weeks. Aides to the presumptive Republican presidential nominee even considered a campaign stop in Orlando this week, though ultimately decided against doing so.
Heightened Tensions
Earlier rallies during the launch of his campaign featured a more carnival-like atmosphere. In Sarasota last November, supporters paraded around with an elephant and Trump offered rides to kids in his personal helicopter.
Not anymore. In Atlanta last week, a senior Trump aide had to personally call the director of a local newsroom after a physical altercation between a lower-level staffer and a local cameraman.
Local authorities in Dallas shut down several blocks surrounding the venue where Trump spoke and were carefully tracking Short and his group on walkie-talkies, monitoring their every move to make sure no incidents occurred with protesters.
The next night in Houston, police briefly detained a man after finding a pistol in his car on the fourth floor garage near where Trump was speaking.
And on Sunday in Phoenix, protesters put a massive white hood over a giant inflatable Trump caricature with the sign: "Make America Hate Again."
Trump's campaign is currently enduring growing pains as it looks to pivot from a primary campaign to a general election match-up against likely Democratic presidential candidate Hillary Clinton. A Bloomberg Politics poll last week had Trump trailing Clinton by 12 percentage points nationally.
Staffers are divided about whether Trump can use the same type of strategy that propelled his stunning victory in the primary as a general election tactic -- particularly when he needs to win over independent voters who are more drawn to his economic message than his racial rhetoric on issue like immigration, and playground-style taunts that incite and galvanize his supporters at rallies.
At several campaign events across the country, vendors sell typical "Make America Great Again" memorabilia, such as the red trucker hats. But pop-up street stands that are unaffiliated with the campaign are selling everything from Trump condoms to T-shirts with "Trump That Bitch" blasted on the back of the shirts.
Tim Mulhair, 23, of Cypress, Texas, wore one such shirt at the rally in suburban-Houston. He said that he has supported Trump since the beginning of his campaign because he thinks Trump will "not be owned by businesses." He first tried to attend a Trump rally on March 11 in Chicago, where he was attending North Central College to study political science, but the violence prompted Trump to cancel the event.
"My friends and I were getting shoved by the protestors and I didn't feel safe," he said. "They were threatening me. They've been making us out to look like the Hitler Youth -- like we're all racist and violent, we're not."
Undeterred, Mulhair drove about two-hours several weeks later to South Bend, Ind., on May 1 where he purchased the "Trump That Bitch" T-shirt. On the front of the shirt: "Hillary Sucks But Not Like Monica."
"It's not sexist," Mulhair said. "It's focused on one woman -- Hillary Clinton. You know what, with what she's been involved in by starting all those wars? I don't really care about her dignity."
Before it's here, it's on the Bloomberg Terminal.
LEARN MORE