Republicans Fill Crucial Posts Ahead of Potentially Hectic Convention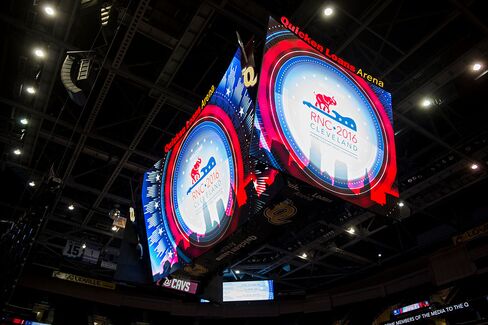 The Republican National Committee has found someone to do what could be an intensely challenging job in July: serve as chair of the Rules Committee at the party's convention in Cleveland.
Former Utah Congresswoman Enid Mickelsen will oversee the committee that's responsible for reviewing and modifying the party's rules for the convention and the party's operations going forward. The panel includes 112 members, two coming from each state and territory.
Mickelson accepted the post amid reports this week of some delegates planning to block Donald Trump's nomination. If such efforts gain traction, decisions made by the Rules Committee during meetings before the convention could have a big impact on how things play out.
"Enid Mickelsen is a proven leader who brings a track record of excellence and fair-mindedness to this committee," Republican National Committee Chairman Reince Priebus said in a statement. "Chairing the Rules Committee is an important responsibility, and I know Enid and the rest of the committee are going to do an outstanding job writing the rules which will govern the Republican Party for the next few years."
Mickelsen, in a statement issued by the RNC, said she'd seek to "craft a set of rules that will best serve our party both now and in the future."
At the 2012 convention, Mitt Romney stopped to give Mickelsen a hug on his way to the stage to deliver his speech. This year, Romney has emerged as vocal critic of Trump, and as someone who has sought to block the billionaire's nomination.
Ron Kaufman, a longtime RNC committeeman from Massachusetts who is a Romney confidant, will serve as co-chair of the Rules Committee.
Earlier this year, Kaufman told Bloomberg Politics that party officials "have to make sure the RNC runs the convention by the rules, openly, honestly and transparently. And making sure people understand the rules, so it's clear that we're doing it by the book."

Like Romney, Mickelsen is Mormon. Trump has had an awkward relationship with some Mormons because of his harsh criticism of Romney, who was the first from that faith to win a major party's presidential nomination.
"Did he choke? Did this guy choke? He's a choke artist," Trump said during a March event in Salt Lake City. "Are you sure he's a Mormon? Are we sure?"
Romney's Mormon faith is well-documented. He has a home in Utah, a state known for its large proportion of Mormons.
Trump was beaten badly by Senator Ted Cruz of Texas in Utah's March 22 caucuses and some early general election polling has suggested that presumptive Democratic nominee Hillary Clinton could have a chance of being competitive there. Utah has traditionally been a Republican-leaning state in presidential elections.
Mickelsen represented Utah in the U.S. House of Representatives in 1995 and 1996, according to her RNC biography. A former litigation attorney with a Salt Lake City firm, she's also a former chairman of the Utah Republican Party and is currently the state's National Committeewoman to the RNC.
For five years, Mickelsen hosted a radio talk show in Salt Lake City called "The Enid Greene Show" (Greene is her maiden name) and continues to appear as a frequent commentator on television and radio, her biography says.

The RNC also announced Friday that Haley Barbour, a former national party chairman and Mississippi governor, will serve as chairman of the Committee on Permanent Organization. That panel will meet at the beginning of the convention to review the slate of officers selected by Priebus and make recommendations to the convention.
Before it's here, it's on the Bloomberg Terminal.
LEARN MORE