Obama Expands Role of U.S. Forces in Afghanistan Fighting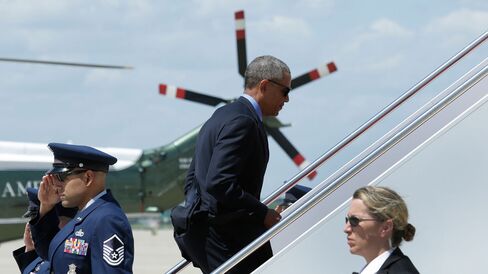 U.S. forces to have more authority to accompany Afghan troops

American military role increases in air, ground missions
U.S. forces will have a broader mission to target groups including the Taliban in Afghanistan, aiding their Afghan counterparts not only in training and advising but also accompanying them on the ground and in the air, an administration official said.
President Barack Obama authorized an expanded U.S. military role that allows for troops to provide Afghan forces with "close" air support against hostile targets, said the official, who spoke on condition of anonymity to discuss action that hasn't been formally announced.
The action expands the U.S. mission in Afghanistan but doesn't authorize a new military mission, the person said. The move illustrates U.S. concern about the abilities of Afghan forces to hold their own in the counterterrorism fight on their soil and runs counter to Obama's plans to reduce troop commitments.
Obama, who ran for a second term on a platform that included ending U.S. involvement in wars in Afghanistan and Iraq, decided in October 2015 to delay a planned drawdown and maintain 9,800 U.S. troops in Afghanistan through 2016. The expanded U.S. role comes less than a month after a U.S. drone strike in Pakistan killed Taliban leader Mullah Akhtar Mohammad Mansour. Obama said that action sent "a clear signal to the Taliban and others that we're going to protect our people" because Mansour and the Taliban had been "specifically targeting U.S. personnel and troops inside of Afghanistan."
No Direct Combat
Obama, speaking at a press conference in Hanoi on May 23, said the U.S. wasn't returning to direct combat in Afghanistan.
"We are not reentering the day-to-day combat operations that are currently being conducted by Afghan security forces," he said. "Our job is to help Afghanistan secure its own country, not to have our men and women in uniform engage in that fight for them."
The U.S. had failed to make headway on peace talks with the Taliban since Mansour took control of the group last year, forcing Obama to alter plans for removing most American troops from Afghanistan by the end of his term. Mansour's death gives hope that more moderate Taliban commanders will be able to reach a deal to end a conflict that has cost the U.S. almost $700 billion and killed more than 2,200 American troops.
'We Welcome Decision'
The Afghan government welcomed the change, saying its forces need the help in rooting out Taliban insurgents.
"With no doubt, our Afghan forces indefinitely need air and ground support from our American ally, along with assistance on intelligence," Shah Hussain Murtazawi, a deputy spokesman to Afghan President Ashraf Ghani, said by phone on Friday. "Afghanistan doesn't support the reduction of U.S. troops in the country, and their broadened presence is helpful and necessary in combating terrorism."
The Taliban said the U.S. change is futile. The U.S. is officially fighting al-Qaeda and Islamic State in its mission in Afghanistan.
"With the U.S.'s new decision to broaden their military role against us, they'll only waste their money, and will suffer extremely with more deaths in the country," Zabihullah Mujahed, the Taliban's main spokesman, said by phone. "They couldn't harm us with their modern weapons, military vehicles and more than 100,000 soldiers a few years ago, so the new announcement is pointless. It's better for the U.S. to leave the country, us and the Afghan government alone. We remain resilient and will fight until all foreign forces leave the country."
Reuters reported the news earlier.
Before it's here, it's on the Bloomberg Terminal.
LEARN MORE