David Koch Won't Fund Trump Coronation in Cleveland
The billionaire was one of the biggest backers of the 2012 convention.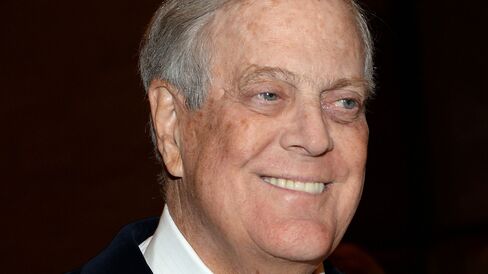 David Koch, one of the biggest backers of the 2012 Republican National Convention, won't support the party's July gathering in Cleveland, where Donald Trump is expected to be named the presidential nominee.
Neither David nor his brother Charles will contribute to the convention's host committee this year, said Kenneth Spain, a spokesman for their company, Koch Industries, on Friday. The billionaires are among the country's biggest and most influential political funders, and have made no secret of their distaste for Trump's policies.
After earlier declining to comment on the reason, Spain said in an e-mail late Friday that "Trump was not a factor in the decision," and said that the decision not to fund the convention had been made before Trump was the presumptive nominee.
"The nice thing is, I don't want or need their money or support," Trump said in a statement to Bloomberg Politics on Friday. "They were very upset when the people they were supporting were soundly defeated by yours truly, but I think the American public will be happy to know that the Koch brothers will not have influence over a Trump administration or the lives of the American people."
The Kochs oversee a donor network that plans to spend about $450 million on conservative causes this year. This week, Charles Koch told USA Today that Trump campaign staff plan to meet with Koch officials in the coming days to find potential areas of common ground. But in the interview, Charles Koch said that the candidate would have to shift his stance on a number of policies, such as free trade, to win his support. And he said Trump's recent comments about a judge's Mexican heritage were "unacceptable."
The Kochs may have reasons beyond Trump to back away from the convention. In the past couple of years, they've made efforts to present a less partisan image and work with liberal groups on issues like criminal justice reform.
David Koch, 76, gave $1 million to support the convention in Tampa, Florida, four years ago, making him one of the top individual supporters, and he also attended as a delegate from New York. He isn't a delegate this year and doesn't plan on attending the convention, Spain said.
Trump's overall impact on convention fundraising has been "minimal," said Emily Lauer, a spokeswoman for the host committee. She said $57 million of the $64 million needed is already committed, mostly from large corporate sponsors and local groups. That includes $50 million of cash commitments, about 85 percent of which is already in the bank, she said. In 2012, the Tampa host committee raised about $57 million in all.
One corporation reneged on a funding commitment after Trump became the presumptive nominee a few weeks ago, Lauer said. She said she can't identify the company.
Neither the Kochs nor their political network endorsed or funded anyone in the Republican presidential primary, but network officials did offer members a list of six candidates it deemed worthy of support. Trump was not among them.
"They were backing other candidates, total puppets for them," Trump said in his statement. "So I fully understand their unhappiness and why they wouldn't want to be involved with me."
Before it's here, it's on the Bloomberg Terminal.
LEARN MORE