Trump Says Muslim Judge Might Be as Biased as 'Mexican' Curiel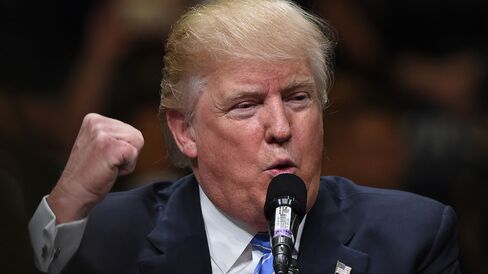 Republican talks about Trump U. suit, cost of allied defense

Candidate defends linking jurist's rulings to Mexican heritage
Donald Trump broadened his assertion that a Mexican-American judge is too biased to preside over a fraud lawsuit against his defunct real estate school, saying that a hypothetical Muslim judge may be similarly disqualified.
The Republican Party's presumptive presidential nominee has criticized San Diego federal court judge Gonzalo Curiel for handing down rulings in the case against Trump University that Trump considers unfair. Trump has said Curiel's rulings are retribution for the candidate's pledge to build a wall along the U.S.-Mexico border if elected in November.
QuickTake Electing a U.S. President
Political allies have distanced themselves from those remarks while adversaries have called them racist.
"What if it was a Muslim judge?" John Dickerson, the host of CBS News' "Face the Nation," asked Trump on Sunday. Trump has proposed a temporary ban of all Muslim immigration into the U.S. because of war and instability in the Middle East and the potential for terrorist attacks.
Unfair Treatment
"Would you also feel like they wouldn't be able to treat you fairly because of that policy of yours?" Dickerson asked.
"That would be possible, absolutely," Trump answered.
When pressed about a U.S. tradition of not judging people by their heritage or nationality, Trump told Dickerson: "I'm not talking about tradition, I'm talking about common sense, OK?"
In a separate pre-recorded interview, also televised on Sunday, Trump told CNN news anchor Jake Tapper that Curiel had been unfair.
"But he's an American," Tapper said of the Indiana-born jurist. "If you're saying he cannot do his job because of his race, is that not the definition of racism?"
"No, he's proud of his heritage," Trump said. "We're building a wall. He's a Mexican."
'Inexcusable' Remarks
Trump's suggestions of judicial bias have drawn criticism from legal scholars and from Republicans including House Speaker Paul Ryan and Senate Majority Leader Mitch McConnell. Both Ryan and McConnell have endorsed Trump for president.
Former House Speaker Newt Gingrich, who's been discussed as a possible running mate for Trump, said on "Fox News Sunday" that Trump's criticism of Curiel's heritage was "inexcusable." Democratic Presidential front-runner Hillary Clinton said on Saturday that "Judge Curiel is as much of an American as I am. And he's as much of an American as Donald Trump is."
The interviews were broadcast three days after Clinton called Trump temperamentally unfit and too unstable to be entrusted with the presidency.
"You can't have that success without good temperament," the Republican told Tapper, citing his success in real estate development, television -- where he starred in NBC's "The Apprentice" -- and now politics. "I have a temperament that is totally under control."
Tapper asked the candidate about prior statements that seemed to support a nuclear-armed Japan as a deterrent to potential North Korean or Chinese aggression.
Compelled to Pay
Trump said that while the U.S. is bound to defend Japan in the event of an attack, the reverse isn't true.
"That's where the nukes come in," Tapper prompted. "That's up to them," Trump replied, adding that the U.S. had to be prepared to walk away from agreements that are costing it billions of dollars. Reminded that he was talking about major U.S. allies, Trump said, "it has to work both ways."
American allies including Japan, Germany and Saudi Arabia should be compelled to pay in full for American military protection, Trump said.
"We're providing a tremendous service," Trump told Tapper, adding the U.S. -- the world's largest economy -- "is stone-cold broke."
The billionaire's demands to renegotiate alliances threaten to up-end decades of U.S. military and diplomatic strategy. While the U.S. spends billions of dollars basing troops and equipment overseas, that has historically been part of a trade-off that allows American power to be projected abroad.
Before it's here, it's on the Bloomberg Terminal.
LEARN MORE